Graduate History Student Union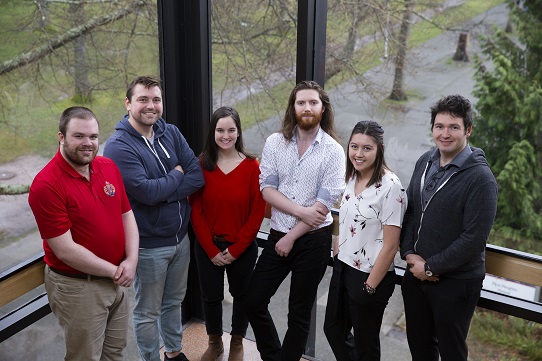 The GHSU is an organization of graduate students in the Department of History at the University of Victoria.
Its mandate includes:
Promoting and representing graduate student interests within the Department of History.
Providing a forum for discussion of issues and concerns of graduate history students.
Promoting the work of graduate history students through lectures, workshops, and publications.
Promoting inter-student relationships, and fostering a community spirit within the department.
Publishing The Graduate History Review, our annual graduate history journal.
GHSU Executive 2016-17
| Position | Name |
| --- | --- |
| President | Blake Butler |
| Vice President | Stevan Bozanich |
| Treasurer | Liang Han |
| Secretary | Paige Fehr |
| Events Coordinator | Kalin Bullman |
| GSS Representative | Carla Osborne |
| GHR Editors | Deborah Deacon and Kaitlin Findlay |
| First year representative | Paige Thombs |
| CUPE representative & Shop Steward | Vacant |
Questions? Contact us at ghsu@uvic.ca.
New to Victoria?
If you're an incoming student and you have questions about the city, the program, accommodations, or things of that nature, email us and we'll get back to you: ghsu@uvic.ca.  There are dozens of us, and we may be able to help!
General advice
Your UVic bus pass lets you go just about anywhere in Victoria. For detailed information see http://www.busonline.ca. Local transit can take you as far as Sooke, Sidney, and the BC ferry terminal at Swartz Bay. But be warned, buses usually don't run past 12 at night, except on some more popular routes on Friday and Saturday (namely the 4, 14, and 6). 
To visit Vancouver, take the number 70 bus (from downtown on Douglas) to the ferry. It costs between 10 and 15 dollars to walk on the ferry. In total it takes about 4 hours to get from city to city. http://www.bcferries.com Once at Tsawwassen you can board a bus that will take you to the Bridgeport SkyTrain station. From there it's relatively easy and quick to both downtown and Vancouver International Airport (YVR)
There's plenty to explore in and around Victoria. It's well worth taking a break from school and work to get to know the city and the island.
Things to do
Outdoor activities
Biking: the Galloping Goose Trail, Mt. Work.
Hiking: Mt. Finlayson/Goldstream, Mt. Doug, Mt. Work, Mackenzie Bight, Mystic Vale, East Sooke Park.
Beaches in Victoria: Gyro Beach, Willows Beach. In Sooke: China Beach, French Beach, Sooke Potholes.Parks: Beacon Hill, Elk Lake, Thetis Lake.
There are lots of opportunities for day and overnight trips from the Victoria region, and Vancouver and Seattle are only a ferry ride away. Saltspring and the Gulf Islands are well worth visiting, as is Lake Cowichan. For ambitious hikers and campers, Strathcona Provincial Park offers excellent multi-day hiking and spectacular views.
Biking
Victoria is a relatively bike-conscious city. There are services available to support cyclists, and the various municipalities are gradually adding more bicycle lanes to major routes. There are maps available that show you convenient and relatively safe biking routes within the city. 
Spokes is a bicycle bursary program run by the university that lends out bicycles to university students in the hopes of encouraging cycling for commuting and recreation. The application forms can be found online and there is an email address to contact if anyone would like to volunteer to work on bikes. It is a great way to learn some bike maintenance skills and practice on bikes that aren't your own! http://web.uvic.ca/uvbikes/spokes.html 
Recyclistas is a used bike cooperative that provides the regular sales and service for bikes as well as offering opportunities for bike education and community programing. The folks at the shop set up at UVic outside the SUB from time to time to help people with quick bike repairs on the cheap and at the shop they offer a variety of rates for people who would like to work on their own projects with differing levels of help from the staff. You can also volunteer to help fix bikes in exchange for credit for shop time or parts. They are also the hub of the cycling community in Victoria, throwing great parties throughout the year and promoting cycling-related community events such as the monthly Midnight Mystery Ride (meet at 10:30 pm at Centennial Square the second Friday of every month for a bicycle adventure) and Bike Polo (a pick-up sport held every Wednesday at 7:30 at 1240 Gladstone Ave., just behind the Fernwood Community Centre). Check out their events calendar for updates. http://www.recyclistas.ca
The Greater Victoria Cycling Coalition is a municipal organization that helps to promote cycling and provide info to cyclists about the resources in their community. Check their site out for info on shops near you, cycling laws, events, and anything else you are wondering about regarding bikes in victoria. They also have great maps of the city and outlying areas that identify roads with bike lanes, good routes for commuting, the locations of the steepest hills, complicated intersections, secret bike cut-through and recreational bike paths. http://gvcc.bc.ca/rides/recreational-rides/
Local attractions
Moss Street Market (at the corner of Moss and Fairfield): a local farmers market that's worth a look. Saturdays 10 to 2, May to October.
A listing of farmers markets in Victoria and the surrounding area.
Royal BC Museum and IMAX theatre.
Movies at Cinecenta (on campus): the cheapest place in town, and the best place to look for independent and foreign films.
Places to eat and drink
Smith's Pub (777 Courtney): good comfortable place to meet a few friends for a drink.Hernandez (736 View or 1600 Bay): cheap and tasty burritos and other Mexican fare.
Cafe Mexico (1425 Store): great Mexican food.La Fogata Latina (749 View St, in the arcade)
Eugene's Greek Restaurant (1990 Fort or 3-3960 Shelbourne): good souvlaki.
Penny Farthing Pub (2228 Oak Bay), The Irish Times (1200 Government), and The Stickey Wicket Pub (919 Douglas): all owned by the Victoria Pub Company, they feature similar British-inspired menus and carry a selection of imported beers (which is rare for Victoria with its strong micro-brewing scene!). Food and drink are expensive, but of decent quality.
Sushi: some of our favourites are Tamami Sushi (505 Fisgard), Sen Zushi (940 Fort - delicious, but a little pricey), and Fujiya (3624 Shelbourne).
The Joint (1219 Wharf): a local favourite, they serve a variety of pizza and are open late.
Rosie's Diner (253 Cook): great 1950s-style place in the popular Cook St Village
Prima Strada (Cook St Village):
The Reef (533 Yates St): good selection of unique Caribbean-style food. Nice island feel and comfortable ambiance.
Ferris' Oyster Bar (536 Yates St): good oysters and drinks upstairs, popular food downstairs.
Pink Bicycle (1008 Blanshard): Best big messy burgers in town. Something special, you've not had a burger like this. Possibility of line-up, testament to its quality.
Rebar (50 Bastion Square): vegan and vegetarian food in the middle of downtown.
Logan's Pub (1821 Cook): delightfully trashy, often with live music.
Spinnaker's (308 Catherine, across the blue bridge in Vic West): a slightly more upscale brewpub. They have great beer and good food, located just the other side of Victoria Harbour.
Qoola (Uptown Shopping Centre): amazing frozen yoghurt. Be warned: they charge by the weight!
Breakfast (really popular meal-time in Victoria!)
Willies' Bakery (537 Johnson St): Try Willie's for an unexpectedly original take on your breakfast favourite. Banana-bread Frenchtoast? GHSU approved.
Shine Café (1548 Fort St, also at Johnson and Blanshard St): One of the best selections and quality of eggs benedict in town.  Make sure you arrive early or willing to wait – like most breakfast places in Victoria, the line's often out the door! 
Blue Fox (919 Fort St), John's Place (723 Pandora)
Floyd's Dinner (866 Yates St): Victoria's "favourite" breakfast places, all downtown. All of a greasy-spoon nature with long line-ups on Saturday mornings.
Groceries
Thrifty's (various locations): has decently priced produce, much of it local and organic.Safeway (various locations): slightly more expensive, but has a great selection of "ethnic foods" and anything out of the ordinary.
Fairway Markets (various locations): great selection of local produce at reasonable prices, but other items can be more expensive and the selection is not great.
Peppers (3829 Cadboro Bay, along the number 11 bus route): high-end upscale grocery store located in residentially-dominated Cadboro Bay
For Good Measure (3831 Cadboro Bay, along the number 11 bus route): bulk food store with everything you can possibly imagine.
Real Canadian Superstore (Langford): if you have a car or know someone with a car, this is a great place to stock up on bulk items.
Osman Halal (Mediterranean Place, 2618 Quadra): one of the only places in town to get Halal food products.
Books
New
Bolen Books (Hillside Mall)
Munro Books (1108 Government)
UVic Bookstore
Used
Russell Books (734 Fort – there is also another location on View, one block over)
AbeBooks.com
SUB TEXT (in the student union building)
Shopping
The Bay Centre (downtown on Douglas)
Mayfair Mall (3147 Douglas Street)
Tillicum Mall (3170 Tillicum)
Hillside Mall (1644 Hillside Avenue)
Information compiled by Simon Nantais, Nick Melchin, Grant Burns, Lisa Pasolli, Stephen Harrison and Tylor Richards.
Stephen Fielding

BA, Honours (University of Winnipeg), MA (Simon Fraser University).

Publications: http://uvic.academia.edu/StephenFielding

Supervisor: Dr. Jordan Stanger-Ross.

Comprehensive fields: Canada, Migration and Ethnicity, Gender.

Dissertation: "Sporting Multiculturalism: Postwar European Immigrants and the Grassroots Making of Canadian Diversity."​

My research uses the history of sport to illuminate the formation of ethnic groups, the construction and contestation of gender norms, and the exchanges—both competitive and cooperative—that have characterized cosmopolitanism in Canada.

Megan Harvey

BA Honours, Anthropology (McGill University).

Supervisor: Dr. John S. Lutz.

Dissertation: Indigenous-state relations; Narrative, language, and power in social practice; Intersections of Anthropology and History; Community-based research.

My research seeks to historicize Indigenous engagements with the 'Land Question,' in B.C., focusing especially on the narrative dimension of Indigenous-state relations. I am interested in the historical and ongoing social dynamics of language, narrative and power in encounters between indigenous peoples and the state. I explore how these dynamics are made visible in indigenous approaches to recent treaty negotiations and in the rare archival instances of indigenous peoples speaking on their own behalf. My work will also reconsider how scholars methodologically make sense of and make use of sources that reflect the voices of marginalized people

Christa Hunfeld

BA, Honours (Dalhousie University), MA, History (University of Victoria).

Supervisor: Dr. Andrea McKenzie.

Dissertation: "Half Sciences": Gendering Ancient Knowledge in Pre-Modern England.

I am curious why women were increasingly targeted as ideal audiences for works of judicial astrology, dream interpretation and physiognomy in late seventeenth- and eighteenth-century England. In the early seventeenth century, associations between women and divinatory practices could lead to witchcraft associations, yet by the eighteenth century, there was a definitive shift, as such subjects were increasingly viewed as innocuous (if vulgar and superstitious). In the course of tracing the fate and fortunes of ancient occult sciences, my project examines the period's shift in the status and perceived nature of divinatory knowledge, with a focus on this question: does knowledge have gender?

Jim Kempling

BA Honours Economics & Political Science (Royal Military College), MPA (University of Victoria), MA History (University of Victoria)

Publications:  www.birthofaregiment.com

Supervisor: Dr. David Zimmerman

Dissertation:  A City Goes to War – Victoria 1914-1925

In 1922, Joseph Joffre, Marechal of France, unveiled a plaque in St Andrew's Presbyterian Church in Victoria with the names of twenty-nine men from that congregation who died in World War One out of over two hundred who had served.  Today, when the loss of a single soldier in Afghanistan can bring out provincial and city officials, pipe bands with muffled drums, and a casket borne through the streets on a gun carriage, the impact of that loss is difficult to imagine.

I expect initially to examine the public discourse of the immediate pre-war period and consider how it changed over the course of the war and in the immediate post war period.  What factors led to the high rate of enlistment early in the war?  Did a depressed economy mean that recruits were drawn from the unemployed?  Did concerns about German warships in the Pacific drawn men to the newly formed Navy?  What of the United States?  Did Victoria draw recruits from across the border?  How did the treatment of First Nations, Chinese and other groups impact recruiting?  It is no mistake that Joffre's plaque is mounted on the wall of a church.   What role did the churches play in inspiring young men to go to war?  Were the churches active in the peace movement earlier in the century?  If so, how and why did that change?  How did the city respond to returning wounded and veterans after the war?

Patricia Kidd

BA, History in Art (University of Victoria), MA, History (University of Victoria); Professional Specialization Certificate (CRM) 2007.

Supervisor: Dr. Simon Devereaux.

Dissertation: "The Origins of Marketing: Illustrated Advertising in Late Eighteenth Century London."

I have spent most of my life in the study of historical material culture. I have taught numerous lecture series on the topics of the decorative arts, historical interior design, and cultural history through various galleries, museums and educational institutions in Victoria. I am currently the Adjunct Curator of Decorative Arts at the Art Gallery of Greater Victoria. I am married with two sons, in whom I take even greater delight than in my research.

Sarah Lebel Van Vugt

BA Honours, (Double Major) History and French, York University (Glendon College);  MA, History, York University.

Comprehensive fields: Canada, Women/Gender, America.

Supervisor: Dr. Lynne S. Marks.

Dissertation: "Beauty and Bombs: Visual Culture and Canada's Female War Workers, 1939-1945."

My research explores the ways that gender, labour, beauty and the body interacted on the Canadian home front during the Second World War.  I examine visual representations in print media that used the glamourized image of the female war worker to sell everything from feminine products to national identity. I also deal with war worker beauty pageants. I'm interested in gender and sexuality studies, cultural history, and feminist history. Visuality is central to my work.

Derek Murray

MA, History (Guelph); BAH, History/Philosophy (Guelph)

Website: http://uvic.academia.edu/DerekMurray

Supervisor: Dr. Eric Sager

Comprehensive fields: Canada, Digital, Race/Gender/Empire

Dissertation: "Shaping Rural Landscapes: Settlers and their Local Environments in the Upper Ottawa Valley, 1850-1910."

My research is on the close-knit relationships among people and their local environments in nineteenth-century Canada. I am interested in the ways people interacted with landscapes, and the subsequent generation of a meaningful connection with a particular idea of "place" in regions of rural Canada. My dissertation looks at the settlement of the community of Brudenell, on the Ottawa and Opeongo Colonization Road, as a way of understanding these processes.

I am also interested in the theory and practice of university teaching. I spend a good deal of my time investigating curriculum development and instructional methods. I am the Teaching Assistant Consultant for the History Department and I have taught courses on antislavery in the Atlantic World, and race and ethnicity in Canada. I am currently enrolled in the Learning and Teaching in Higher Education certificate program.

Justine Semmens

BA, (University of Calgary); MA (University of Calgary)

Supervisor: Dr. Sara Beam.

Comprehensive fields: Europe 1500-1800, Britain 1500-1800, History of Religion

Dissertation: "The shifting dynamics of sexual deviance in early modern France."

My research considers the intimate relationships between sexual crime, religion and the state in France from 1550 to 1650. Emerging primarily from a forensic study of the criminal archives of the parliament of Paris, my project seeks to understand the criteria that French courts used to define sexual deviance, how these definitions changed over time, and what these changes might indicate about how people used morality as a tool to shape the modern state.
Stevan Bozanich

B.A., History (University of British Columbia)

Supervisor: Serhy Yekelchyk

Thesis: No official title; The appropriation of the Balkan bandit (hajduk) by paramilitaries in 1990s Yugoslavia.

I do not have a temporal focus for my research as I am most interested in the Balkans as a region more broadly, and the former Yugoslavia more specifically. My thesis reflects this. During Yugoslavia's civil war of the 1990s, various paramilitary units attempted to draw cultural and ideological parallels between themselves and the hajduk bandits of the 16-19th centuries. My thesis follows Hobsbawm's notions of "invented traditions," modern nationalist myth-making, and the prestige of banditry in popular culture. I explore the ways in which Yugoslavia's paramilitaries adopted the political, cultural and social traditions of the hajduci to create a sense of purpose and unity, to mobilise the populace around nationalist mythology, and to engender themselves as modern national heroes. I interrogate the ways in which ethnic traditions can be used for nationalist mobilization in post-socialist state collapse by focusing on the importance of the brigand myth in Balkan culture. In future research I hope to delve deeper into the former Yugoslavia, its collapse, and the cause for the immense loss of life from the civil war there. By undertaking such research, I hope to undermine the mechanisms which make it possible for such instances of violence to occur. For me this begins with nationalist mobilization and cultural appropriation.

Jeremy Buddenhagen

BA,History (University of Victoria)

Supervisor: Dr. John Lutz

Thesis: Policing in British Columbia: 1820-1900

My thesis seeks to weave together the First Nations and European narrative on policing. Rather than highlighting the differences between the two legal cultures I plan to explore the similarities and examine how a collaborative work environment grew out of the security issues. I was primarily focused on intelligence and military history in my undergrad. I plan to work on the military history of First Nations in my PhD and always have a strong interest in British Columbian history.

Brent Cantarutti

BA, Political Science (Co-op) and History (University of Victoria)

Supervisor: Dr. Penny Bryden

Thesis/MRP: Currently untitled. The focus of my research project is the Columbia River Treaty.

My interest in the Columbia River Treaty centers on its historical impact and its current political implications. The impact of the Treaty on the West Kootenay region of British Columbia, where I was raised, provides an interesting example of the effects of public policy on communities and various levels of government. Moreover, the negotiation of the Treaty highlights the operation of intergovernmental relations between various orders of government and their agents.

My broader research and academic interests include: Canadian political history, governmental institutions and public policy, federalism, labour history, political economy, and political/historical theory.

Cara Doty

BA, Liberal Arts (w/Specialty in History) (The Evergreen State College)

Supervisor: Andrea McKenzie

Thesis: Mistresses of Rebel Leaders in the Long Eighteenth Century

I have a background in the history of the Romantics of nineteenth-century France as well as educational reforms of nineteenth-century England, and have extensive experience with interdisciplinary approaches to cultural history. For my Thesis, I am looking at the ostensibly powerful yet targeted women that held the occupation of 'mistress' from Cromwell to just after the Jacobite rising of 1745. I aim to explore portrayals of these women as well as the positions they held as favorites and as scapegoat targets for rebel leaders such as the Duke of Monmouth or Bonnie Prince Charlie.

Katrina Flanders

BA, History (University of Victoria)

Supervisor: Serhy Yekelchyk

Thesis: Post-Communist Russian National Identity as Defined by Russian Blockbuster Film

My background differs greatly from my current interests, as I studied Medieval History at Uvic, which relies heavily upon primary source documentation and a broad range of interdisciplinary approaches to cultural history. After a trip overseas, I came to love Russian history and culture, and made it my goal to further examine its nuances using my experience in interdisciplinary approaches. For my Thesis, I am looking at how post-communist Russia has struggled to define their identity since the end of the USSR. My goal is to examine mass media of Russian society, particularly blockbuster films. By analyzing patterns and portrayals of Russian identity, I aim to understand how these representations mesh with the population at large.

Ezekiel Gow

BA, History (University of Alberta) 

Supervisor: Elizabeth Vibert 

Thesis: No official title, The Establishment of the HBC's Fort Langley: a culture of fear and control on the banks of the Fraser River, 1827-1830. 

My work focuses on the the early years of the HBC's Fort Langley. I use the surviving Hudson's Bay Company Post Journals (1827-30) to examine the struggles of the HBC contingent to live, labour, and love in their new trading post. I postulate that the HBC at Fort Langley used a culture of fear and control to create, through the actions of HBC servant labourers, a 'Europeanized' space on the banks of the Fraser River. Through entries in the Post Journal I plan to examine the lives of Fort Langley 'servant labourers' to understand how they contributed to and possibly resisted these attempts at control. 

Tiffany Gunton

BA with Distinction, History (University of Victoria)

Thesis: No official title; Critical analysis of the manuscript "Of Constitution" by Scottish philosopher Thomas Reid (1710-1796)

Supervisor: Dr. Paul Wood

I am completing a non-traditional MA thesis that will involve: a transcription of a manuscript hand written by Thomas Reid; a scholarly annotation of the elements in the manuscript that need explanation; and a scholarly introduction which sets the manuscript in its context of the Scottish Enlightenment and Reid's philosophical work.

The manuscript "Of Constitution" is significant because it can be seen as embodying four major themes in Reid's philosophy: the methodological unity of natural and moral philosophy; moral philosophy grounded on the science of the mind; the distinction between 'physics' and natural theology; and his answer to scepticism.

Meghan Kort

BA, History and Political Science (University of Northern BC)

Supervisor: Dr. Sara Beam

Thesis: The Girls Who Spoke For God: Girlhood Vocation in Seventeenth-Century France

I am a second year MA student specializing in early modern French history. My primary research interests are girls' education, and church history in pre-modern Europe. For my research, I use a wide variety of sources including nuns' biographies and hagiographies, educational treatises, children's bibles, school plays, poems, and convent records. My thesis examines girls' ability to discern and prove their religious vocations in collaboration with their communities. After completing my thesis, I plan to continue this project with a PhD. 

Noah Miller

BA Honours - First Class, Law & Society (University of Calgary)

Supervisor: Dr. Simon Devereaux

Thesis: Tentatively titled "Courtroom Politics: The 'Bootstrapping' of Expert Witnesses in English Insanity Trials, 1760-1843"

My interests lie primarily with the history of law, medicine, and mental illness. These themes collide in my thesis, in which I examine the extent to which lawyers, judges, and defendants facilitated (or limited) 'expert' medical participation in trials pertaining to 'insanity' for extra-legal reasons in the context of Georgian and Victorian England. Put plainly, I aim to explore the extent to which medical and legal practitioners used the courtroom (and one another) to advance their personal and professional agendas.

My secondary interests include historical theory and the history of ideas, particularly those of the German philosopher Friedrich Nietzsche.

Ivan Watson

BA, History and Political Science (University of Victoria)

Supervisor: Dr. Eric Sager

Thesis: From self-reliance to national social movement: a hundred years of community impact with United Way Centraide Canada

Ivan is currently pursuing a Master's degree in History at the University of Victoria (UVic). Previously, he completed a Bachelor's degree in Political Science specialising in Canadian politics and International Relations, also at UVic. A long-time leadership volunteer and former national board director with United Way Centraide Canada, his current research interests include the evolution of Canada's not-for-profit and charitable sector and the history of the United Way movement in anticipation of its centennial in 2017. Ivan also holds certificates of Public Relations and E-Business and Online Marketing from the University of Toronto. Throughout his career, he has specialized in marketing, communications, brand development and media relations for a variety of organizations including the European Union's Committee of the Regions, the Canadian federal and British Columbia provincial governments, Pacific Institute for Climate Solutions and the Greater Victoria Harbour Authority. For the past several years, he has written a popular history column for Tweed Magazine and as a freelance journalist his articles have appeared in many local and regional publications.
The Graduate History Review (formerly Preteritus), is a journal that features the work of emerging scholars working in all areas of history.
Check out the Graduate History Review online!