Undergraduate Students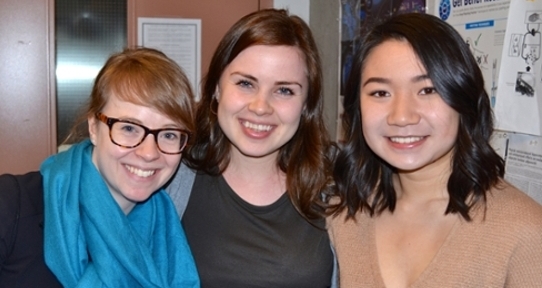 Students interested in conducting their honours research project or a directed studies project in the lab should contact Dr. Christie for more information. 
Previous Undergraduate Research Projects
Aoife Collins. Neuroinflammation In Hippocampus Following Concusion In Awake Juvenile Rat Model. (2016)
Francesca Bell Peters. Glycogen Synthetase Kinase-3β Activity Following Repeat-Mild Traumatic Brain Injury. (2016)
Christine Chiu. Depression And The Brain: Mild Unpredictable Stress Alters Antioxidant And Adiponectin Levels In The Hippocampus. (2016)
Aaron Truesdell. Minocycline Treatment Rescues Decreased Dendritic Complexity In A Murine Model Of Fragile X Syndrome. (2015)
Karthik Gopalakrishnan. Quantification Of The Mitogen Activated Protein Kinase Pathway In The Dentate Gyrus At Different Time Points Following Mild Traumatic Brain Injury. (2015)
James Dunbar. Revealing The Developmental Profile For Glutathione In Key Brain Areas In Comparison To The Profile Of A Rodent Model Of Fetal Alcohol Spectrum Disorders. (2015)
Laila Drabkin. Keeping Your Eye On The Ball: Investigating The Role Of The Neurotracker In Detecting Mild Traumatic Brain Injury In Youth Athletes. (2015)
Julie Munich. Fetal Alcohol Spectrum Disorder And Odour Memory: A Rodent Model Of Prenatal Ethanol Exposure. (2015)
Ashley Burbidge.  Stress Impairs Long-Term Potentiation In The Lateral Perforant Pathway Of The Dentate Gyrus In Mice. 
Kayla Feragen.The Vancouver Island Concussion Project: Dynamic Vision Testing With The NeuroTracker In Pediatric Athletes. 
Russ Gothard.Glycogenolysis Inhibition Vie Intraventricular Administration of 2.0mM 1,4-dideoxy-1,4,imino-D-arabitinol Does Not Affect Long-Term Potentiation in the Dentate Gyrus of the Rat in vivo.
Rhian Green. A Study of Dendritic Spine Density and Morphological Phenotype in the Dentate Gyrus of FMR1 Knockout and Wildtype Mice From a C57BL/6 Background. 
Aimee Kernick. Examination of the Role of Glycogen in Synaptic Plasticity of the Adult Rat Dentate Gyrus Through DAB Inhibition of Glycogen Phosphorylase.
Molly Neil.The Induction of Long-Term Potentiation Through GABAa Receptor Blockade by Bicuuline in the Rat Dentate Gyrus in vitro.
Lee Thompson. Adult Neurogenesis is Downregulated in NR2A Knockout Mice. 
Kris Youakim. Dose-Dependent Effects of Ethanol on the Induction of Long Term Potentiation in the Dentate Gyrus.