Vikes honour top performers
- Kelley O'Gradey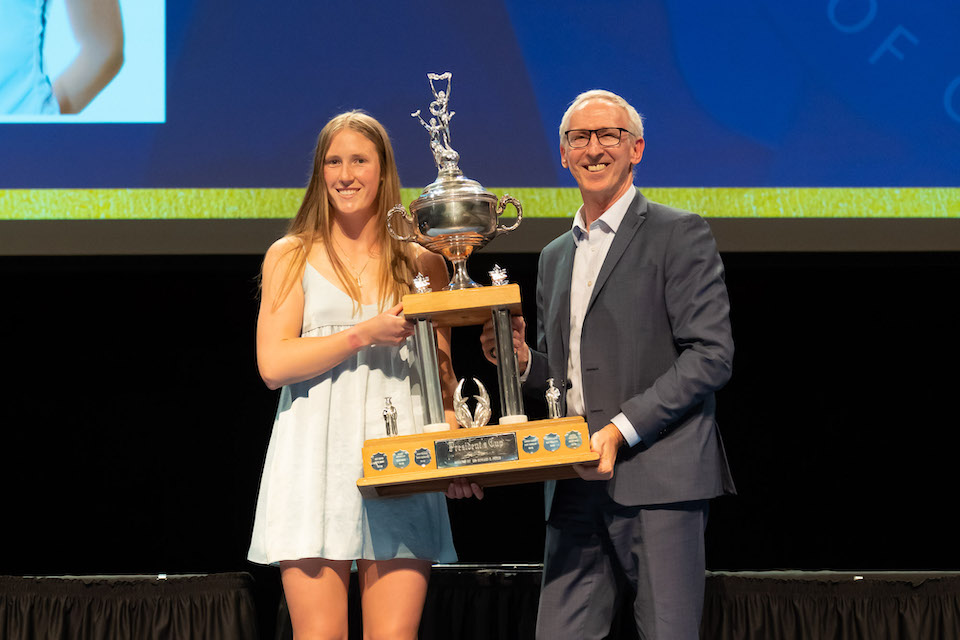 A field hockey star and a sharp shooting point guard were among the major student-athlete award winners recognized at the annual Vikes Celebration of Champions on Apr. 5 at the University of Victoria's Farquhar Auditorium.

Fifth-year women's field hockey captain Anna Mollenhauer took home the evening's top honours, winning both the prestigious President's Cup and the Female Athlete of the Year award. The President's Cup is given annually to the outstanding student-athlete in fourth or fifth year who best combines scholastic achievement and athletic ability. A Victoria product, Mollenhauer made history this season as the first three-time U SPORTS Women's Field Hockey Player of the Year recipient, helping her team win its fourth consecutive U SPORTS championship banner while taking home tournament MVP honours.

On the men's side, third-year men's basketball player and hometown hero Diego Maffia snagged Male Athlete of the Year honours. Maffia had an outstanding 2022-23 season leading the men's basketball program to its 17th Canada West banner, where he was named Canada West Player of the Year. A prolific shooter, Maffia led the country in scoring, garnering him U SPORTS First Team All-Canadian status. 

Amongst an exceptional Vikes rookie class, cross country and track standout Jaxon Kuchar came out on top, winning the Robert T. Wallace Shield Male Rookie of the Year award. Named to the Canada West Cross Country All-Rookie team, Kuchar was later selected to represent Team Canada at the U20 Junior World Cross Country Championships in Bathurst, Australia.  

An all-around athlete, rugby's Carissa Norsten took home the Robert T. Wallace Shield Female Rookie of the Year award following an outstanding first season with the Vikes. A member of the Rugby Canada Maple Leaf's development program, Norsten was named rugby fifteens Canada West Rookie of the Year and U SPORTS Rookie of the Year. She parlayed that same success into the rugby sevens season, getting named a Canada West First Team All-star and Canadian University Championship All-star.

Adam Miller of the men's rowing team was named the winner of the Chancellors Award, which is presented annually to a student-athlete that provides leadership and vision exemplifying the team's goals. Earlier this year, Miller received the Tony Zasada award, which goes to a graduating athlete of the men's rowing program that had made a significant impact on the team. Miller's was key in spearheading a men's rowing fundraising committee, resulting in four new endowments totalling $100,000.00 in value.

Details about the major award winners and highlights of the evening are featured on the Vikes website.
Photos