Transformational reconciliation through exhibitions
- John Threlfall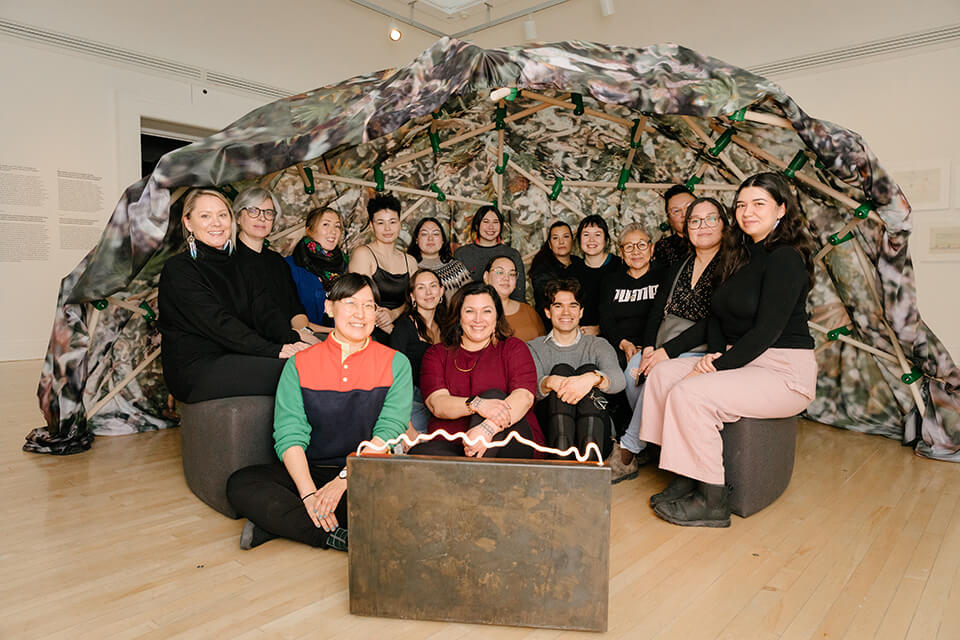 If it wasn't for a hurricane, the life of globally renowned Inuk and Nunatsiavut art historian and curator Dr. Heather Igloliorte would have taken an entirely different turn.
Back in 2003, she had just graduated with a Bachelor of Fine Arts from the Nova Scotia College of Art and Design (major: fine art, minor: art history) and intended to pursue an MFA with the intention of becoming a practicing artist.
Then came the plot twist: Hurricane Juan blew in from the Atlantic and blew out Halifax's power grid—including the traffic lights—resulting in a car accident that left Igloliorte seriously injured and requiring a year of painful physiotherapy. "I had muscle damage from my neck to my shin . . . but particularly in my shoulder and arm, so I didn't know if I'd ever be able to paint again," she recalls.
Thanks to that BFA minor, however, Igloliorte was able to switch her focus to art history while she was in recovery. That's when she first began exploring the history of Inuit art, which soon inspired her to pursue a master's degree.
"I learned for the first time how much of Canadian Inuit art history had been written by non-Inuit," she says. "Although there were thousands of exhibitions and articles and catalogues and books about Inuit art, almost none of it had been written by Inuit . . .. I came to realize that there was so much work to be done and felt I needed to contribute to that."
A well-deserved global reputation
Igloliorte was announced on Nov. 16 as UVic's inaugural Canada Research Excellence Chair in Decolonial and Transformational Indigenous Art Practices—an $8-million research chair funded through the Canada Excellence Research Chairs program and administered by the Social Sciences and Humanities Research Council on behalf of Canada's federal granting agencies. Read the UVic news release.
Canada's first Inuk art historian to hold a doctoral degree, Igloliorte has developed a well-deserved reputation as an internationally renowned curator whose work has positioned circumpolar Indigenous arts and knowledge at the centre of global exhibition practices.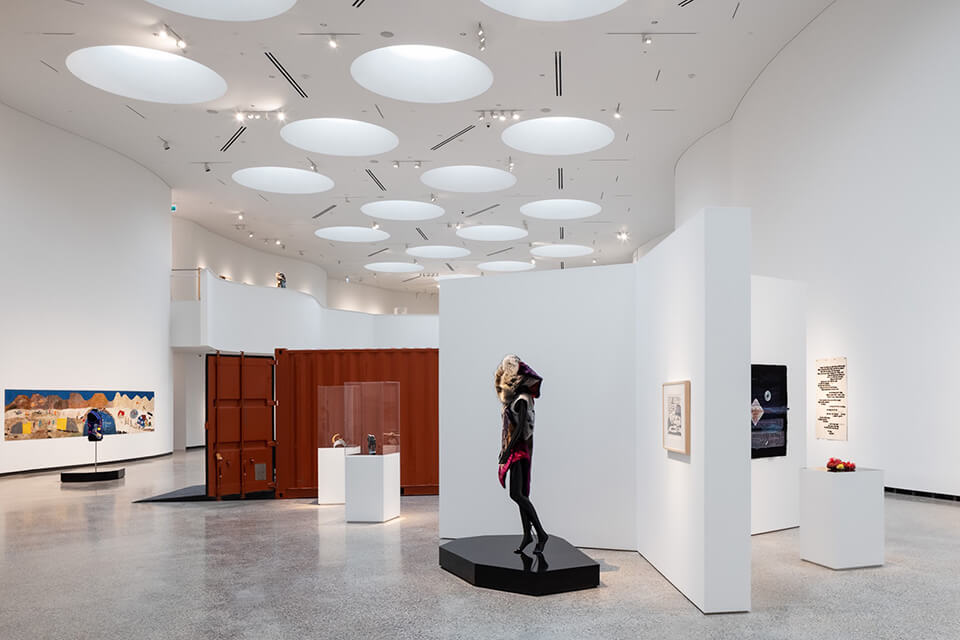 Her many accomplishments as an independent curator and scholar include holding the Tier 1 University Research Chair in Circumpolar Indigenous Arts at Concordia University; co-directing the Indigenous Futures Research Centre; directing the nation-wide Inuit Futures in Arts Leadership: Pilimmaksarniq / Pijariuqsarniq Project; co-curating a ground-breaking survey of contemporary Inuit art as the inaugural exhibition of the Winnipeg Art Gallery-Qaumajuq Inuit art centre; and co-curating a program of northern Canadian Indigenous-made 360° films, ARCTIC XR, in conjunction with the Sami Pavilion during the 2023 edition of the Venice Biennale.
By focusing on decolonizing institutions and foregrounding Indigenous knowledge, perspectives and creativity—while challenging colonialist understandings of resilience, health, resources and technologies—Igloliorte has created or co-created more than 30 curatorial projects throughout her career. Indeed, her first major exhibition—2008's oral history project "We Were So Far Away:" The Inuit Experience of Residential Schools for Ottawa's Legacy of Hope Foundation—is still in circulation across Canada today.
"That exhibit really sparked my interest in curatorial practice and what it can do for people who are from rural, remote and northern communities. Unlike in cities in southern Canada, a lot of places throughout the North—not just Inuit communities—don't have access to conventional art galleries, don't have southern Canada-style museums, and don't necessarily have easy access to post-secondary programs to learn about being a curator or a museum professional. But we figured out how to make that exhibition tour throughout the North, so that the primary stakeholders in the project—Residential School Survivors and their families—could see their stories shared."

- Dr. Heather Igloliorte, inaugural Canada Research Excellence Chair in Decolonial and Transformational Indigenous Art Practices
Since that first major exhibition, the joy of Igloliorte's career has been supporting community members to find innovative ways to share their stories and achieve success on their own terms. "I think big institutions in the south can also learn a lot from the resourcefulness of northerners," she says.
Igloliorte's multifaceted and interdisciplinary work aligns with UVic's commitment to ʔetal nəwəl | ÁTOL,NEUEL, as well as its commitment to the United Nations Sustainable Development Goals focused on quality education, decent work, economic growth, reduced inequalities and peace and justice.
Decolonizing and transforming
Now based in UVic's Faculty of Fine Arts as the Canada Research Excellence Chair in Decolonial and Transformational Indigenous Art Practice, the prestigious, eight-year position will advance reconciliation through the transformative power of art and innovative exhibition practices, and support a new generation of students, researchers, educators, curators and artists to drive change through artistic practice.
"I am really excited about the eight years to come," says Igloliorte. "I feel really humbled by the trust that has been put in me to take this funding and to do good with it."
Part of that good will include creating more capacity for diverse arts opportunities and leadership.
"A big part of what I want to do with this position is to bring more Indigenous Peoples into spaces that weren't designed for them—but that they absolutely deserve to be in. How do we change the structures to make the institutions better and more welcoming and more inclusive? This new role is going to amplify things that we've been wanting to do for a long time."

- Dr. Heather Igloliorte
More than just decolonizing physical spaces, however, Igloliorte is equally passionate about extending the artistic reach of technology.
"Another pillar of this project is digital literacy and media arts skill sets," she says. "Just like the lack of access to museums and galleries in the North, Indigenous people don't necessarily have access to the same cutting-edge technologies that others do."
On a practical level, Igloliorte says that means removing barriers and putting innovative media arts tools—like augmented reality and extended reality—into the hands of people through the creation of an Indigenous research-creation focused media arts lab. "They can experiment and see if they're interested in bringing their current practices into a media art space . . .. The potential is there for people to grow in really exciting directions."
A perfect home at UVic
For Igloliorte, there's no better place to be based than UVic and the Faculty of Fine Arts.
Already home to notable Indigenous artists like Kwagiulth/Salish/Settler Witness Blanket creator and UVic Impact Chair Carey Newman, Métis poet Gregory Scofield and Navajo futurist Danielle Geller, the Faculty of Fine Arts also hosts the Audain Professorship in Contemporary Art Practice of the Pacific Northwest. This long-running, donor-funded, limited-term position has been held by such internationally acclaimed Indigenous artists as Rebecca Belmore, Michael Nicol Yahgulanaas and Rande Cook (among others), and is currently held by Kanienke'haka performance artist Lindsay Katsitsakatste Delaronde.
"What an amazing environment!" exclaims Igloliorte enthusiastically. "I can't believe there are over 70 Indigenous faculty members here at UVic. I don't know that there's anywhere else in the country like it."
Igloliorte is excited to join UVic's Department of Visual Arts alongside the likes of Newman and globally recognized digital artists Kelly Richardson and Paul Walde.
"It seems like a great fit," she says, noting current faculty work around technology, climate change, the environment, media arts and decolonization. "There is so much work that overlaps with—and will help to expand—the potential of what this research chair should be. I think we're going to do a lot of good work together."
The CERC program, jointly administered by the Canadian Institutes of Health Research (CIHR), Natural Sciences and Engineering Research Council (NSERC), and Social Sciences and Humanities Research Council (SSHRC), supports world-renowned researchers and their teams to establish ambitious research programs at Canadian universities.
Photos
In this story
Keywords: arts, community, Indigenous, international, sustainability, administrative, student life, colonialism, computers, research, government, sustainable development goals, funding, SDGS
People: Heather Igloliorte