Legacy gift supports research on land, oceans and stars
- Sarah Tarnopolsky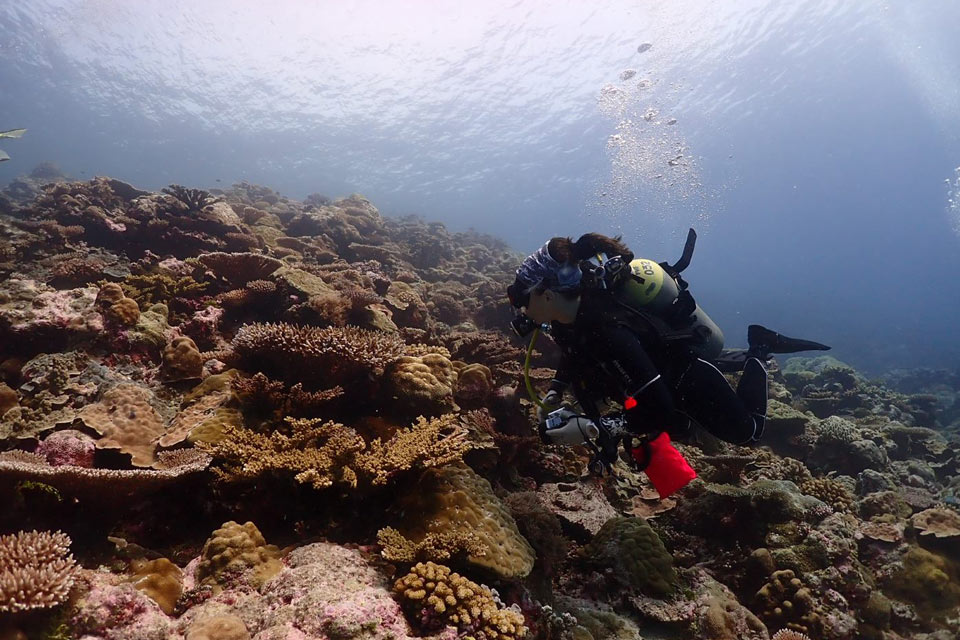 An unexpected and substantial legacy gift from the estate of renowned Calgarian and philanthropist Margaret (Marmie) Hess is supporting graduate and post-doctoral researchers at the University of Victoria across the sciences. The gift created a $2 million endowment to fund two graduate student awards, with the remaining $500,000 funding research grants for post-doctoral fellows.
Marmie Hess was a great art lover, collector, philanthropist and volunteer throughout her long life. After she passed away in 2016, her legacy continued through the distribution of her substantial estate, which included bequests of important collections of art to the University of Lethbridge and University of British Columbia's Museum of Anthropology. The generous $2.5 million gift to support research at UVic reflects Hess's lesser-known strong personal interest in earth and ocean sciences.
With no prior connection to UVic, Hess's gift was largely based on UVic's reputation for innovative and impactful research in marine and land ecosystems and climate action. UVic's research strengths in these areas contributed to it ranking as one of the top universities in the world for advancing and living up to the commitments of the United Nations Sustainable Development Goals, particularly in the SDGs of climate action, life below water and life on land.
"We're so grateful to Marmie Hess and the executors of her will for facilitating this generous gift," says Lisa Kalynchuk, vice-president of research and innovation. "It enhances our ability to recruit and retain bright stars in a competitive environment and provides a significant investment in post-doctoral talent to advance research in grand questions of science and global challenges such as climate change."
Five post-doctoral research grants awarded
In 2022, the Dr. Margaret "Marmie" Perkins Hess Research Grants in Earth, Ocean, Astronomy and Environmental Sciences were awarded to five post-doctoral fellows joining UVic research programs related to climate change, seismology, astronomy, sustainability and renewable energy. The post-doctoral fellows funded were Dr. Jolie Lam (civil engineering), Dr. Federico Sestito (physics and astronomy), Dr. Alexandre Milovanoff (civil engineering), Dr. Sarah Jaye Oliva (earth and ocean sciences) and Dr. Matthew Ramirez (biology).
Investment in early career researchers to build the capacity of the next generation is a key outcome identified in the university's research and creative works strategy Aspiration 2030. "Post-doctoral fellowships provide a critical stepping stone in a researcher's career," says Fraser Hof, associate vice-president research. "Post-doctoral fellows bring advanced expertise to our research teams and have the experience and time to dive deeply into research questions. A philanthropic investment in post-doctoral fellows is a win-win for UVic researchers and our larger community, and directly advances our work in creating a better world through curiosity, engagement, and innovation."
First two (of many) graduate fellows grateful for opportunity
The first two recipients of the Dr. Margaret "Marmie" Perkins Hess Grad Fellowships in Earth, Ocean, Astronomy and Environmental Sciences were Shoshanah Byrne-Mamahit and Daisy Buzzoni. Byrne-Mamahit says the fellowship allowed her to finish her master's degree debt-free and launch directly into her PhD in physics and astronomy in January 2023. Daisy Buzzoni is working towards her PhD in UVic researcher Julia Baum's marine ecology and climate change lab. Buzzoni's research addresses coral's resistance and resilience to mass bleaching events (the largest global cause of coral mortality) caused by marine heatwaves.
I am extremely grateful to be one of the first recipients of the Dr. Marmie Perkins Hess Fellowship—the legacy of an intrepid explorer and a trailblazer for female higher education in Canada. This is an especially meaningful award for me as someone who is both an immigrant to Canada, trying to familiarize myself with Canadian history and culture, and a passionate advocate for the advancement of women in STEM."

—Daisy Buzzoni
More about Marmie Hess—art enthusiast, philanthropist and community benefactor 
Born in Calgary in 1916, Margaret Perkins Hess studied at the universities of Alberta, Toronto and Iowa. She worked as an art history teacher and an adjunct professor at the University of Alberta and University of Calgary. She was made an Officer of the Order of Canada in 1993 for her contributions to the body of knowledge of Canadian Indigenous art and to community generally.
Learn about the impact of the Marmie Hess research grants.
For information about leaving a gift to UVic in your will, contact legacy giving.
Photos
In this story
Keywords: philanthropy, research, oceans, ecology, astronomy
People: Marmie Hess