All in on science
- Nicole Crozier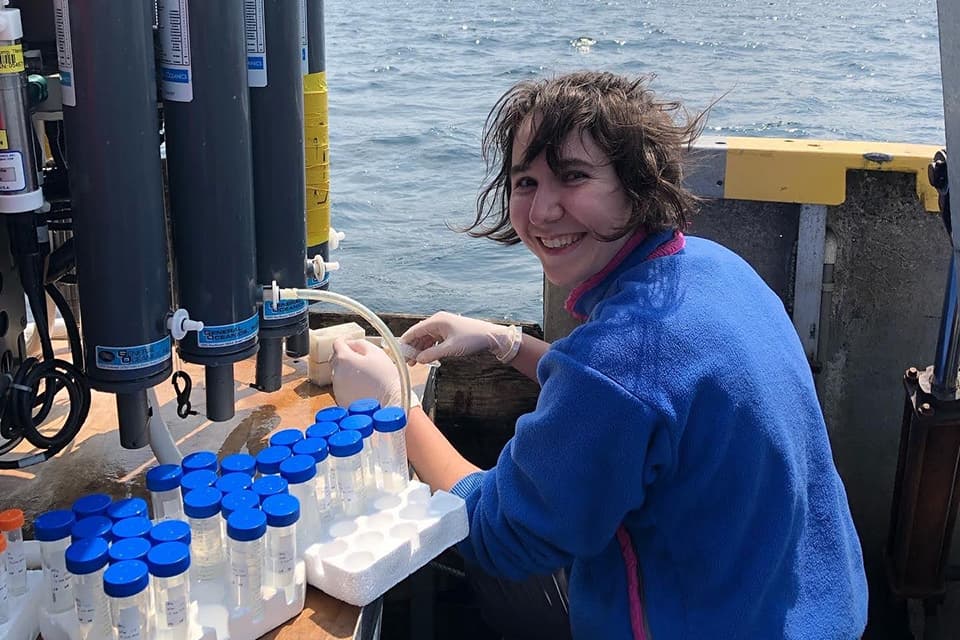 Saying that someone's science degree was full of science feels a bit obvious, but for Meghan Molnar, it really is the best way to describe her UVic experience.
Now graduating with a BSc with combined honours in Chemistry and Ocean Sciences, Molnar spent her five years at UVic studying science in the classroom, doing science research in the lab and on the water, and filling her extra-curricular time working with Let's Talk Science, a science outreach organization on campus.
"Both my parents work in science education, so I grew up surrounded by science," she says. "I always saw science as something accessible, not scary. Even as a small kid, I enjoyed being by the ocean and sticking my hands in tidepools all the time to see what I could find."
Molnar was one of the first students to enroll in the combined Chemistry and Ocean Sciences program and says it has been the perfect fit, merging her interests in chemistry and physics through an environmental lens.
"This degree has allowed me to spend a lot of time outside conducting field work, which I've loved. I've also learned that I love coding, which we often use in our research to process huge volumes of data," she explains enthusiastically.
A plethora of research experiences
Molnar is graduating no stranger to research, having completed four co-op terms—each in a different research lab—as well as an honours project. Most of her opportunities came as a result of sending a cold email to someone whose research she found interesting.
She spent one summer at home in Saskatoon working for a professor at the University of Saskatchewan conducting a literature review on microplastics and Raman spectroscopy (a type of chemical analysis), and another summer in Victoria conducting pure environmental chemistry in the lab of Heather Buckley, a UVic civil engineering professor and green chemist.
Molnar has also worked with earth and ocean sciences professor Jay Cullen, studying ocean geochemistry with a focus on tracking radioactive isotopes from the Fukushima nuclear power plant disaster. She completed her honours project with Roberta Hamme, investigating productivity in Saanich Inlet in the summer months, which she will continue this fall with the aim of publishing her research.
Most recently, she spent her last co-op term getting her first taste of research in a government setting, working as an oceanographic research technician with the Department of Fisheries and Oceans' Institute of Ocean Science.
"I've always been a bit of a jack-of-all-trades and a dabbler," she says. "Working in different labs has kept it interesting and has been valuable in trying to figure out what to do next."
As a member of Cullen's lab, Molnar had the opportunity to travel to the Arctic on the Sir Wilfred Laurier, a Canadian Coast Guard ship. She spent three weeks on the boat, travelling from Victoria, through the North Pacific, to the top of Alaska. Along the way, she collected and analyzed water samples to determine the concentrations of different isotopes in different regions.
"I had the best time on the Laurier. The environment of field work is super intensive, and you're working really hard all the time, but you're always doing everything together. You get to know your crewmates really fast. It was fun to see the diversity of projects and learn what other people on the boat were up to. Plus, the whole trip was absolutely beautiful."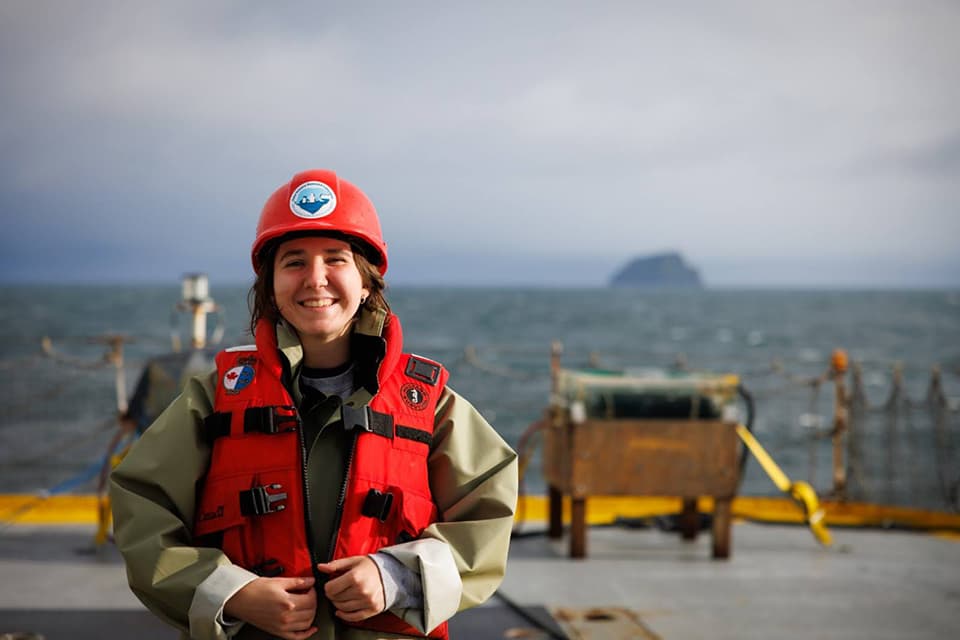 A passion for science outreach
Outside of studying and working in research labs, Molnar spent a considerable amount of time throughout her degree doing outreach through Let's Talk Science. She started volunteering with the organization in her first year, visiting local K-12 classrooms and sharing fun science experiments and activities. In 2021, she was hired as the group's local outreach coordinator to manage the organization's volunteers and coordinate classroom visits across Greater Victoria.
"I got so much out of my Let's Talk Science role in terms of experience and skill building. When I started as the local outreach coordinator, I didn't have the skills for many of the tasks I was responsible for—responding to teachers, managing volunteers, sending newsletters, creating budgets, booking rooms, and so on. I learned on the job very quickly."
Molnar's role in Let's Talk Science took her to Quadra Island for multi-day outreach blitz, and to Vancouver for a regional conference last spring. She planned several different on-campus events for local middle and high school students, which involved working with Heather Buckley for a safe drinking water symposium and partnering with UVic's Fish Sounds Project for a symposium focused on bio/ocean acoustics.
She also had opportunity to be a part of the team planning UVic's first in-person Science Rendezvous event, which brought more than 1000 community members to campus and was awarded the 2022 COVID Creative Award by the national Science Rendezvous organization.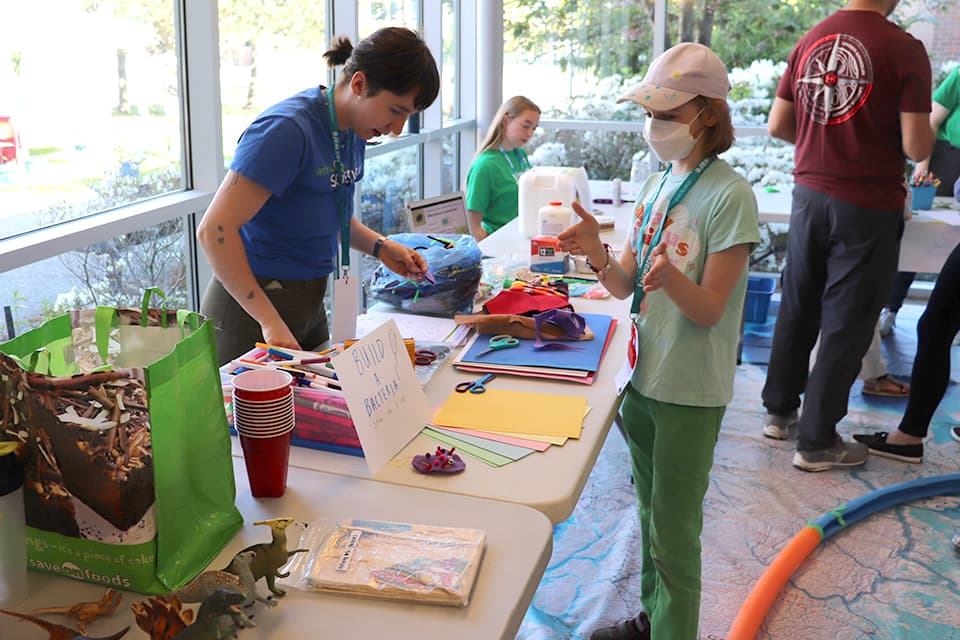 "Working on Science Rendezvous made me feel more a part of the university community," Molnar says. "I was still a student, but I was having meetings with all these university employees. It was cool to feel like I was a part of helping plan something so big — something I wouldn't have had the resources or time to do on my own."
Molnar has done a lot of amazing things during her time at UVic, yet when asked about what she'll remember most, she immediately starts talking about the "painstaking hours" she spent in labs, problem-solving, working through frustration and scrambling to get the work done with her peers.
"It sounds silly to say you'll miss the hard parts about a Science degree, but those are sometimes also the fun parts. I think I'll miss that the most."
Photos
In this story
Keywords: convocation, oceans, chemistry
People: Meghan Molnar