Historian of Ukraine thrust into public role by war
- Philip Cox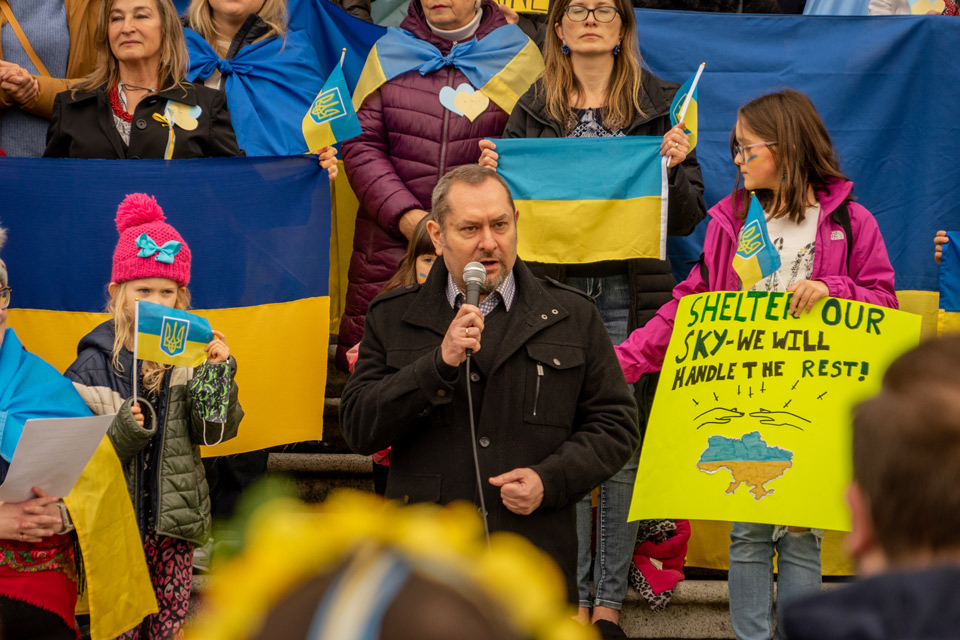 When Russian missiles struck Ukraine in the early hours of February 24, 2022, UVic historian and professor of Slavic studies Serhy Yekelchyk was watching the news in his kitchen in Victoria, waiting anxiously for his parents to call from their family home in Kyiv, as they did every morning.
He recalled stories his mother had told him of the Nazi invasion in 1941, when communications were cut off and ad hoc communication networks were built between families, who would relay news about the life or death of their loved ones.
He thought of Syria, whose city centres and residential areas Russia had bombed indiscriminately in 2015. He thought of Chechnya, 1999. 
He wondered when his parents would call well into the afternoon until, finally, they did.
"One of the ironies of war in the 21st century is that communications continue," Yekelchyk states. "Even in the besieged cities of Kharkiv and Mariupol, the latter of which is basically destroyed, there is cell phone service. In Kyiv, the internet connection was never lost."
This constant, global connectivity has enabled Yekelchyk not only to stay in contact with his family back home throughout the invasion, but also to defend against their nation's invaders by rallying support and countering disinformation from here in Canada with his pen, his voice and his vast knowledge of Ukrainian history.
"I am a historian and a citizen, really, of two nations," he says with an accent that friends here might say is Ukrainian and family there might say is Canadian.
Thrust onto the public stage
Internationally, Serhy Yekelchyk is recognized as an esteemed scholar, public intellectual and advocate for democracy in Ukraine.
Since February, he has fact-checked for the New York Times, interviewed for CNN and written for BBC History, the Wall Street Journal and Politico—all while speaking at conferences and fundraisers and offering expert commentary for media outlets around the world.
He has begun working with PEN Canada, the local arm of a world-wide organization of writers who advance freedom of speech, oppose censorship and support the rights of intellectuals who are targeted for political ends.
In March, an impromptu public teach-in at UVic about the crisis featuring Yekelchyk and fellow UVic public policy scholar Tamara Krawchenko attracted more than 650 participants from across North and South America in less than 24 hours.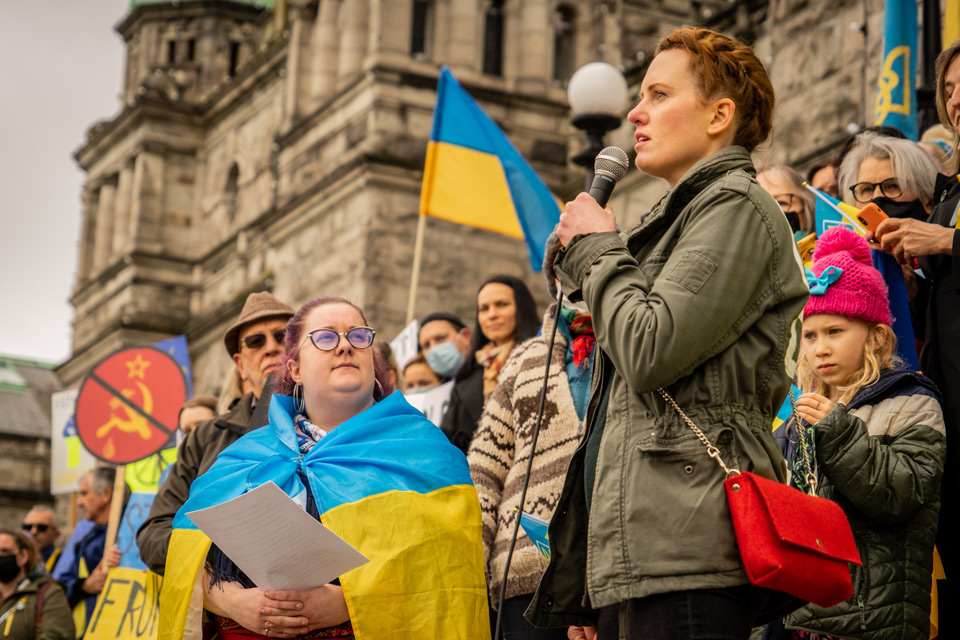 Last month, he regretfully declined an invitation to speak at the World Economic Forum in Davos, Switzerland, because his calendar was already full up.
For most researchers, this might be the defining moment of their career. For Yekelchyk, it is a matter of duty.
"I am an introvert, actually. I love solitary work in the archive. But there is no choice. This is my contribution to the defense of Ukraine and I am happy to do it."
The war, he notes, has been ongoing for almost a decade. It is only the relatively recent escalation and full-scale invasion that has made it seem new to some Western audiences.
Yekelchyk has been researching this conflict long enough to have become a specialist on the matter. His book, Ukraine: What Everyone Needs to Know, published by Oxford University Press, is currently used as a textbook on the Ukraine/Russia conflict at Cambridge. Serhii Plokhy, the director of the Ukrainian Research Institute at Harvard, recommends it as "an ABC of the current conflict and the war, written by a very good historian."
"Yes, this is a defining moment of my career, but I've lived through several defining moments now," Yekelchyk says with a gentle laugh. "The collapse of the Soviet Union, the Orange revolution of 2004/5, the Maidan revolution of 2014, the war in the Donbas since 2014 and now the full-scale Russian invasion, which started in February. This has all led to much media attention for me, because of Ukraine's increasing strategic importance to the West."
Living memories
When the war ends, Yekelchyk would like nothing more than to return to hiking with his spouse and son in the mountains, tinkering with woodwork in his garden and building small fires by the ocean in his spare time.
The area of Victoria where he now lives is remarkably similar to his hometown in central Kyiv, with mountains and forests and a high riverbank overlooking a wide body of water nearby.
Yekelchyk describes Kyiv as a city of parks, sandy beaches and small islands peppering the Dnieper watershed, which flows through the centre of the city. It is a place steeped in history, he says, which shaped both his childhood and his life's work.
"My dad would take me for walks in a local park that had memorial plaques to rival princes who lived in the ninth century. When I was just learning to read, I would try to decipher the font on these plaques. So this history was a part of my everyday life," he recalls.
Another part of his everyday life as a child was constant reminders of the second World War—traces of trenches in many of the city's neighborhoods, unexploded bombs and ammunition unearthed by children digging in their backyards or in forests nearby.
Visits to his mother's family often included strolls through the park developed after the war around Babyn Yar, a ravine near their home where the Nazis massacred 33,771 Jews in 1941—now a major Holocaust memorial.
"Like for many Europeans, World War II is not fully 'history' for Ukrainians. It is also living memory," Yekelchyk explains. "Every family has its stories. Everybody has grandparents who either fought during the war or lived under the Nazi occupation. So that war is always present."
One family story that had been kept secret from his aunt and mother when they were children concerned a young Jewish girl whom their illiterate, religious mother had hidden from the Nazis for a few days in her wardrobe, and whom Yekelchyk's mother recalls seeing alive after the war.
Among his classmates, Yekelchyk was one of the few students who knew both of his grandfathers—one a Red Army private during the war and another a colonel. It was far more common for children his age to know only faded photographs of fallen soldiers.
'Why was there so much death and destruction in our land? Why we could only speak of it in the way the state wanted?' These were the type of questions that I grew up thinking about. It took me a long time to realize how important all these thoughts and experiences were for me." 

—Historian and Slavic studies professor Serhy Yekelchyk

Yesterday, today
In February, Russian rockets pounded the neighborhood east of Kyiv where Yekelchyk and his spouse, Olga Pressitch—a poet and language instructor who also teaches Slavic studies at UVic—had lived after getting married as undergraduates in the late 1980s.
Ukrainian air defenses that covered the central region of the city were mobilized over its eastern bank, showering explosive debris on late Soviet housing blocks that had once stood as signs of progress, before decades of economic stagnation turned them into symbols of isolation and neglect.
Most people living there today were young adults when they bought their homes in the early 70s and remained there through retirement into old age, leaving few in a position to flee the destruction brought about by the Russian onslaught.
The Russian government calls its invasion 'de-nazification,' despite Ukraine having a Jewish president and no members of the extreme right represented in its parliament, unlike in many other European countries.
"De-nazification, to Mr. Putin, refers to us—to the West," Yekelchyk explains. "He sees Ukrainians as Nazis because they have democracy and they are fighting for the ideals of the West, which represents a threat to his regime. In Mr. Putin's mythological version of 'Nazism,' everyone against his authoritarian rule is a 'Nazi.'"
Though the war front has moved south-east from Kyiv, military checkpoints cloister the city's centre and keep key areas cordoned off from most civilians. The subway system that once carried Yekelchyk to the beach with his friends is now locked down for government use. Its stations, among the deepest in the world, were designed as nuclear shelters, equipped with retractable heavy metal doors meant to withstand a nuclear attack.
"Kyiv's subways were built in the 1960s, when everyone was expecting nuclear war with the Americans," Yekelchyk states. "We never thought we would see them put into action, except for testing. But they've been put into action now—and, of course, it's not the Americans who are attacking us."
Democracy today, democracy tomorrow
Although Ukraine has an ancient past, it is still a young nation-state that has transformed itself radically since the collapse of the Soviet Union. In the last 20 years, it has undergone two major popular democratic revolutions and embarked on a nationwide process of decolonization most visible in the elimination of cultural signs from the Soviet empire, including the replacement of colonial street names and the removal of monuments to imperial Russian figureheads.
Like most Ukrainians, Yekelchyk's identity as a citizen of Ukraine was formed during this post-Soviet period and galvanized by the twin revolutions, which rejected ethnic nationalisms and crony imperialisms in favour of the rule of law, economic freedom, anti-corruption enforcement and democratically elected leadership.
"Ukraine today recognizes the previously suppressed diversity of its heritage and celebrates the cultural contributions of non-ethnic Ukrainian groups such as the Jews, Greeks, Poles and Crimean Tatars," Yekelchyk says. "It doesn't really matter where you come from, as long as you believe in the notion of self-organized society determining the life of the country."
It is within this context that Yekelchyk learned to engage with the media and translate his academic expertise for a general audience, offering evidence-based perspectives on the country's recent communist past, the wars and atrocities it has endured, the cultural and historical transformations that have followed since, and now the current invasion by Russia.
Professors and writers play an important role in Ukraine as public intellectuals. They are often the stars of Ukrainian television because the media approaches us constantly for commentary about current events. This tells you something—that Ukrainian society is in an active search for truth and justice and for a better life for ourselves and our children."

—Historian and Slavic studies professor Serhy Yekelchyk
Looking forward
Because travel to Ukraine is restricted for the foreseeable future, Yekelchyk will continue his work on the conflict with Russia from Canada, offering his expertise where possible and writing what he describes as increasingly in-depth, reflective articles as the war drags on.
He has a third article for BBC History in the works, alongside a second edition of his book Ukraine: Birth of a Modern Nation, and a third edition of Ukraine: What Everybody Needs to Know.
At UVic, he is helping to launch a new emergency fund for Ukrainian students, which will offer doctoral fellowships for students currently enrolled in Ukrainian universities and provide them with an office space and faculty mentor on campus.
More than anything, Yekelchyk looks forward to a time when the invasion ends, things go back to normal, and he can return to his quiet life as a historian and professor of Slavic studies.
"I was on a study leave that I had to end in February because I was giving interviews and speaking at events all the time," Yekelchyk says. "I had an elaborate agenda to finish several book manuscripts, which for now are waiting to be completed when my duty as a citizen of Ukraine is done."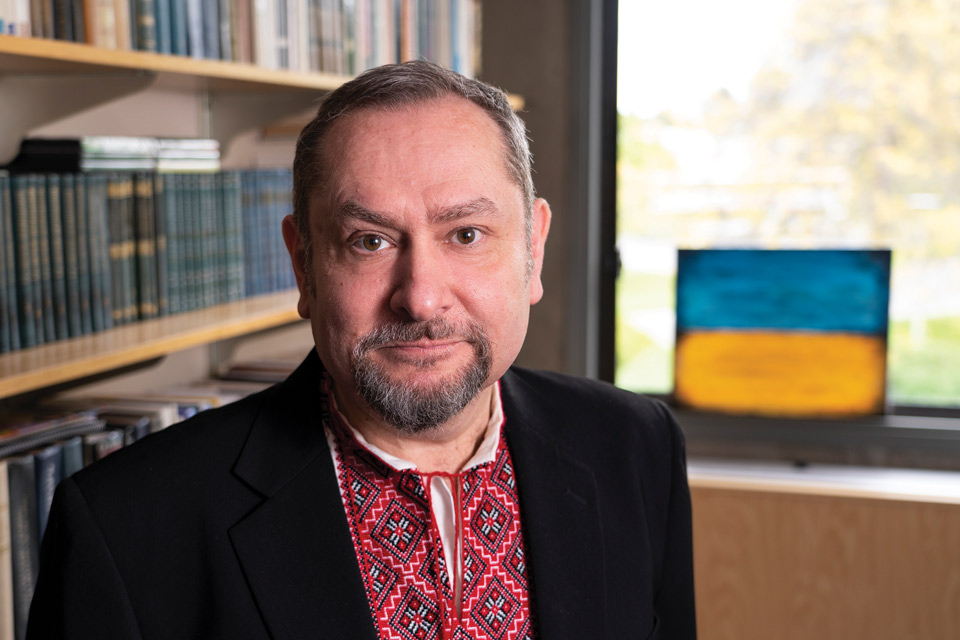 Photos
In this story
Keywords: war, history, international
People: Serhy Yekelchyk
Publication: The Ring