Upgrades to transit hub this summer
- University of Victoria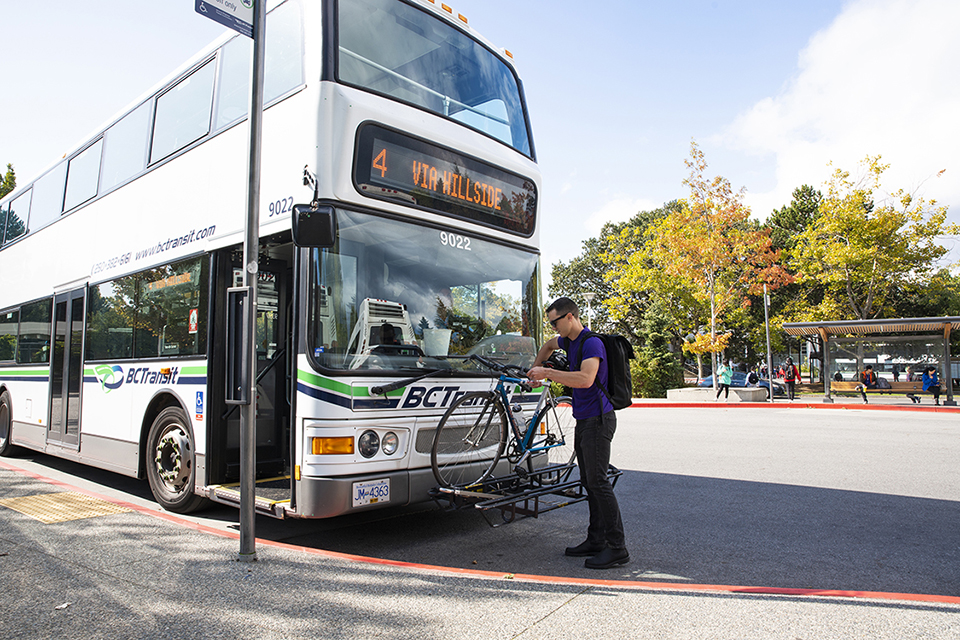 Upgrades coming to transit hub this summer
The UVic transit exchange in front of the UVic Bookstore will be upgraded over the summer months. In partnership with BC Transit, UVic is planning a refresh to the existing aging infrastructure to be consistent with the 2014 upgrades next to the Student Union Building. 
The campus transit exchange is a vital transportation hub in Greater Victoria and serves UVic students, faculty, staff and the broader community. "These transit exchange upgrades will enhance the customer experience for riders travelling to and from UVic, which is one of the busiest transit hubs in the Victoria region," says Erinn Pinkerton, president and CEO of BC Transit. "Having convenient and easily accessible transit exchanges is important to foster communities and neighbourhoods where people can live, work and play without completely relying on vehicles."
Planning for a safe and updated transit exchange
Construction will take place over the summer, with completion in early September before the fall term begins. During this period, temporary bus stops will be set up near the transit exchange, with signage posted at closed stops to identify where the new, temporary stops are located. Bus stops next to the Student Union Building will remain open during construction. 
The project also includes upgrades to current transit stops on Ring Road to accommodate two buses lengthwise and to refresh the bus shelters. In total, BC Transit will refurbish and enhance nine bus bays, six bus shelters and two layover bays. These upgrades will enhance pedestrian safety and comfort, and include: 
Replacement of existing bus shelters

 

Upgraded lighting, signage and landscaping, including paved walkways and median plantings
Replacement and repair of concrete bus pads and asphalt

 

Improved pedestrian movement and circulation near the UVic Bookstore stairs

 

Realigned crosswalk locations to improve sight lines for bus operators and pedestrians and reduce crossing times
New bike lane on Finnerty Road and storage facilities
"UVic is pleased to be partnering with BC Transit to upgrade the north side of our bus exchange to improve safety and access for the many students, staff and faculty who commute by bus to campus," says Mike Wilson, director of the Office of Campus Planning and Sustainability. "These upgrades also align with improvements to the employee transit pass program—which will see the cost of monthly transit passes reduced to $35 per month in September."

—Mike Wilson 
As part of the construction work, nine trees are being removed from the site. Three of these trees are bylaw protected, which required a permit from the District of Saanich and will be replaced at a 3:1 ratio. The remaining six trees will be replaced at a 1:1 ratio. All trees being removed are within the upgraded exchange area and are not able to be retained. The university is committed to protecting and managing the ecological diversity of the natural areas on campus.
UVic is the second largest transit hub in Victoria, with more than 17,000 trips made to campus by bus every day in the fall and winter semesters. 
The Government of Canada is investing just under $1.8 million in this project and the Government of British Columbia is providing over $1.7 million. The University of Victoria and the Victoria Regional Transit Commission are contributing a combined total of over $1 million.
For more information, visit the Campus Planning and BC Transit websites.
Photos
In this story
Keywords: community, administrative, student life, transportation, sustainability
People: Mike Wilson