The freelance life
- John Threlfall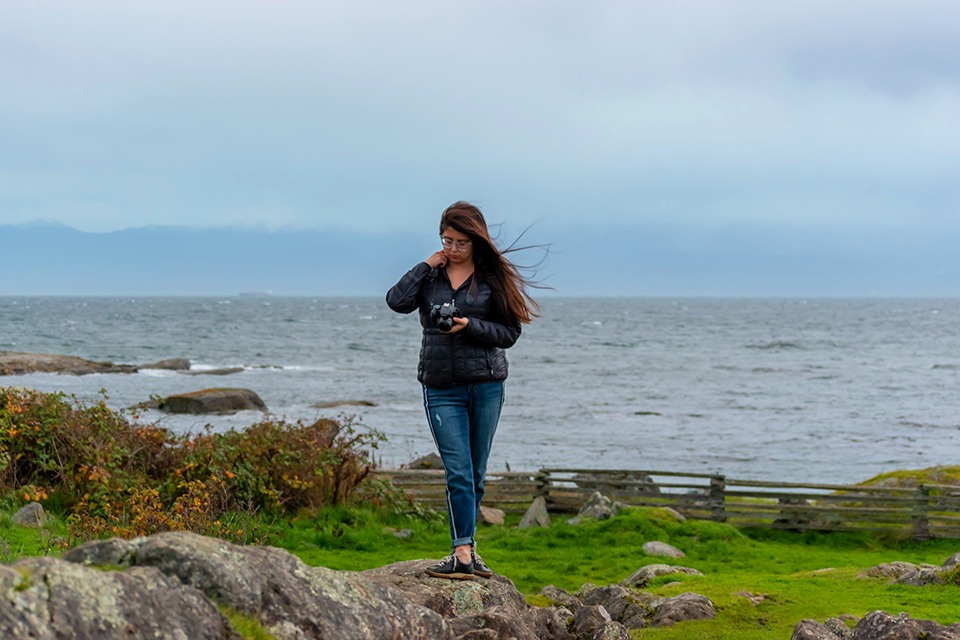 Given the 24-hour global news cycle, we're living in a time of rapid media consumption, but freelance writer Jenessa Joy Klukas is finding success by keeping her focus tight and building relationships one story at a time.
A recent Department of Writing graduate, Klukas, BFA '21, finished the final year of her degree by interning at independent media outlet The Tyee as part of the Indigenous Reporters Program with Journalists for Human Rights (JHR), followed by a short posting at the equally independent IndigiNews as an education and child-welfare reporter.
Now freelancing for a variety of outlets—including expanding her work with The Tyee and IndigiNews, but also publishing with the likes of the Watershed Sentinel—Klukas has had no trouble keeping busy. "It's been very steady since I graduated last year, but I'm enjoying the freedom that comes with freelancing: it allows me to take on stories I'm really passionate about," she says.
Of Xaxli'p and Métis descent, Klukas grew up on the land of the Haisla Nation in Kitimat before moving to Victoria and transferring from nearby Camosun College into UVic's Writing department, where she focused on creative nonfiction. She's managed to develop her own beat by focusing on stories about child welfare, education and Indigenous issues, and has also maintained ties with JHR through their Indigenous Media Collaborative.
"Because of these connections, stories are finding me a lot faster than I was anticipating—specifically in terms of Indigenous stories," she says. "I find I get a lot of outreach on those." Case in point? Her recent Watershed Sentinel story about Tea Creek Farm—an Indigenous-led, culturally-safe, land-based Indigenous food sovereignty and trades-training initiative located near Gitwangak in Gitxsan Territory (near Hazelton). The group reached out to her for coverage.
"Agriculture isn't something I've really written about before, but because it was specifically Indigenous agriculture in a specific location—northern BC, near where I grew up—they felt I was the right person to contact," she explains.
Another similar story focused on cultivating kelp resurgence in W̱SÁNEĆ waters via a partnership between the SȾÁUTW̱ (Tsawout) First Nation and the Cascadia Seaweed commercial farm. And Klukas is currently researching a story about how asthma is affected by climate change, specifically looking at the impact of wildfires. "With our changing climate, we're seeing a real uptake in wildfires and it's having a significant impact on people's health," she notes. "I'll be taking a deeper look at how ceremonial burning can have a positive effect on wildfires."
Klukas is grateful for the support of JHR's Indigenous Media Collaborative to develop stories like these. "It's a funded initiative that allows journalists to take the time to invest in stories," she says. IMC's reporters are focused on solutions-based journalism and can pitch any media outlet as they develop their concepts into whatever shape best suits the story, be that a one-shot, longform or a series. "Since it's funded, they help guide you through the process of getting your stories out into the world."
Given the societal changes that coincided with her degree studies—including reconciliation, COVID, the rise of recent social-justice movements and the continuing climate crisis—Klukas feels the time is right for her to tell stories that matter.
"I came into journalism at a good time to have my voice heard. In Canada, we're at a point in history where people are more accepting about creating space for Indigenous voices—which, in the past, didn't happen very often."

—UVic writing grad and journalist Jenessa Joy Klukas
Klukas pauses and offers a wry laugh. "Of course, that doesn't mean everyone is always receptive to it."
This deepening of voices is indicative of a cultural shift that she's proud to be part of. "I would have really valued seeing Indigenous voices in journalism when I was a teenager—that representation would have meant a lot to me—so I'm totally willing and available to write stories on Indigenous matters," she says. "It's incredibly valuable to have Indigenous voices in the media space, not only for the average person to hear but also for Indigenous youth."
But Klukas does admit that there's a fine line between representation and tokenism in mainstream media. "Indigenous people shouldn't be delegated to write only Indigenous stories if it's part of a beat they're not wanting to take on. As with any journalist, I always consider if this is the right story for me—I mean, I'm happy to cover Indigenous stories, but it's important to have boundaries."
Boundaries are especially important for her when writing about sensitive issues, like Indigenous child welfare. "It's a passionate topic for me, so I don't think I'll ever stop writing about it—but it can be difficult to not feel overwhelmed," she says. "There's a heaviness that comes with it that can be emotionally draining. But that's one of my favourite things about freelancing, spacing those stories out with a variety of topics: it helps me take care of my mental health."
Another way Klukas keeps herself in balance is by having at least one creative project on the go, whether that's "dabbling" in fiction via short stories or screenplays. "It's important to have something for myself, just to keep flexing my creative muscles."
While she's still relatively new to the world of freelancing, Klukas feels she's found her niche. "It takes a lot of initiative to be a freelancer, and it's a constant process of learning something every day. That's something the Writing program taught me: it's important to pitch everywhere, send those emails in and just follow up. It can be scary—some days I feel very confident, while other days I have total impostor syndrome—but that's very normal… writing is a very secluded endeavour, so it's easy to fall into the 'why am I doing this?' mindset."
Klukas finds success by giving her attention to one story at a time.
"I'm very proud of the work I do, and I'm really happy with the trajectory my career is taking, but I try to keep the focus on each story," she says. "In journalism, sometimes you write for quota, sometimes you write for money… there are always going to be pieces you'll like more than others, but I feel most successful when there's a story I'm really proud of: building relationships is one of my favourite parts of journalism."
Photos
In this story
Keywords: alumni, education, indigenous, youth, writing
Publication: The Torch