Constantly curious
- Jenny Manzer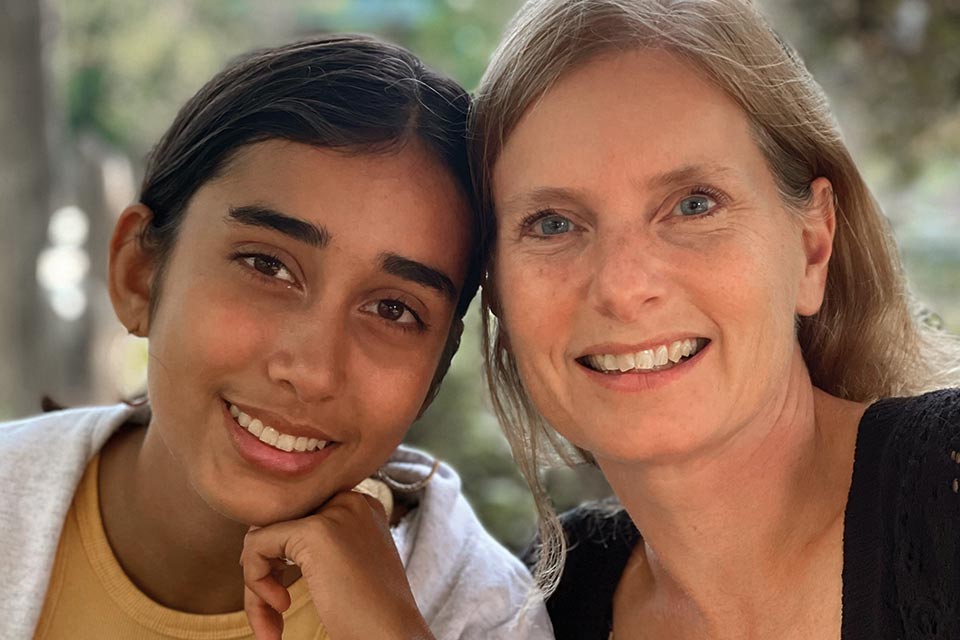 Alumna Tanya Lloyd Kyi (BA '96) is a superstar children's author—keeping the focus on fun and trusting in her young readers' innate curiosity about the world.
Tanya Lloyd Kyi has written more than 30 works for children—including picture books, science non-fiction, young-adult novels and middle-grade mysteries. Her book This is Your Brain on Stereotypes: How Science Is Tackling Unconscious Bias, illustrated by Drew Shannon, was embraced by teachers and librarians and received a positive review in the New York Times books section.
"With amiable authority, Tanya Lloyd Kyi explains how natural it is for humans to 'sort and label the world around us,' and what dire consequences can occur when we put people into categories that weaken their social standing, as witnessed by the horrors of Nazi Germany," wrote Times reviewer Abby McGanney Nolan.
Yet, even after all this success, Lloyd Kyi is forthright about how difficult the writing life can be. She says for those debating between being a writer, or something else—the something else is likely easier.
"It's not the most talented writers in the class who become professional writers, it's the ones who are absolutely unwilling to stop writing," says Lloyd Kyi, speaking from her Vancouver home. Tenacity is the number-one quality needed to be a successful children's writer, she says, followed by some kind of writing talent and the ability to collaborate.
That said, Lloyd Kyi loves her job, and is thrilled to share her passion by teaching children's writing at the University of British Columbia. Kyi was raised in Creston, in BC's Kootenay region, and did not grow up thinking that writing was a viable career. But then, a teacher-librarian started a small writing group and shared the book Runaway: Diary of a Street Kid by Evelyn Lau with Lloyd Kyi. It showed her the power of storytelling.
Lloyd Kyi (then Lloyd) went on to study at UVic's writing program with a double-major in English, focusing on professional writing and publishing in the co-op program. "I didn't know I wanted to become a children's writer when I was at UVic. I knew I wanted to be a writer of some sort, but doing the co-op program at UVic was amazing."
Her co-op experience led to a job at Whitecap Books. The Vancouver-based publisher needed someone to write a non-fiction book, and she became a debut author at age 23. The book, Canadian Girls Who Rocked the World, profiled young women who did amazing things before they turned 20.
"It was the way I discovered that I love writing kids' books. I got to be curious about a new thing or a new person every few days while I was writing that book. Just that idea that you could be constantly curious about new things and create these exciting books for kids set me off on the kids' books trail."
Since then, Lloyd Kyi has written a small library of books, many with some kind of real-world issue serving as the spine for the story. She has specialized in children's non-fiction, a field crucial for teaching kids to think critically in a landscape choked with the weeds of misinformation.
I think there is increasing respect for children's non-fiction for exactly that reason. Fiction does amazing things: it gives us windows into other parts of the world and other experiences and it helps us build empathy. But non-fiction teaches us to constantly ask questions, and it teaches us to see different sides of the same issues."

—Children's author Tanya Lloyd Kyi
She points out that no one in media who'd read good children's non-fiction would have accused pandemic researchers of "flip-flopping" in their messaging. Arguing and testing and debating is simply part of the scientific process until one side emerges as correct, she notes. The trend towards conservative groups (particularly in the United States) trying to remove books about difficult issues from public libraries distresses Lloyd Kyi.
"This is a really, really important thing. We're trying to teach kids to think critically and if they don't have all the information, we're taking that ability away from them." She says in the face of threats to award-winning books, particularly those with an LGBTQ focus, readers need to support teachers and librarians and purchase the books of diverse authors.
"The world is a scary place and sometimes people are trying to protect kids. But the best way to protect them is to equip them to deal with a scary future, in my opinion."
What's the most common mistake new kid-lit writers make? "I think they underestimate their audience. There are a lot of things that kids can understand and that kids will be interested in if they are presented in the right way."
Kids have a lot of curiosity and natural willingness to explore and question, she says. "If we can draw on those things, there's really no limit as to what we can inspire kids to think about and accomplish."
Lloyd Kyi is married to Min Kyi, who bills himself as the world's only Burmese occupational therapist, and they have two children, a 15-year-old son and a daughter, Julia Kyi. (For the record, they also have a dog named Cobra Kyi, a nod to the Karate Kid reboot.)
One of Lloyd Kyi's recent books is a collaboration with her daughter, who is 18 and studying political science at Sciences Po in France. Better Connected: How Girls are Using Social Media for Good explores the ways young women are harnessing the power of social media to better the world.
Adults are right to be cautious as there are lots of dangers online, says Lloyd Kyi. "But I think if that's all we focus on, we take away the opportunity for girls to share their interests and their passions with the world."
We're giving youth a lot of responsibility to fix the world for us, she observes. "We've set them up for a difficult future, and we've asked them to take a lead of activism on things like climate change and feminism and social justice. And if we don't give them the tools to use social media wisely, then we're taking away their tools for making their voices heard. I love that social media is available to almost everyone. I think that girls around the world have proven that they can do pretty amazing things when they're given a voice."
When the duo started working on Better Connected, she could see the positive things her daughter was doing online—which gave her hope for the world. "Julia is quite fierce in her feminism and her activism, but that made it really fun for me to explore more of those things through the activists we got to include in the book."
Lloyd Kyi is the type of person who gets angry about injustices.
I can't live in that sort of storm of outrage and anger, so I do try to channel things into my books in more kid-friendly and funny ways—that's the way I deal with the problems of the world, by balancing them out with humour. Hopefully that helps kids to deal with them, too."

—Tanya Lloyd Kyi
Her upcoming works include The Best Way to Get Your Way, about debate skills, and two picture books: What Will I Discover?, about great discoveries yet to be made, and an as-yet-untitled collaboration with David Suzuki on the importance of insects.
That's a growing bibliography for a writer who went to UVic thinking she would eventually be an editor or an English teacher. "Writing didn't seem realistic," she muses. Now, a teacher-librarian could be handing a student one of Lloyd Kyi's books and setting them on their own journey of discovery.
Photos
In this story
Keywords: alumni, writing, co-op, youth, racism
People: Tanya Lloyd Kyi
Publication: The Torch