Bridging divides at 2022 Victoria Forum
Peter B. Gustavson School of Business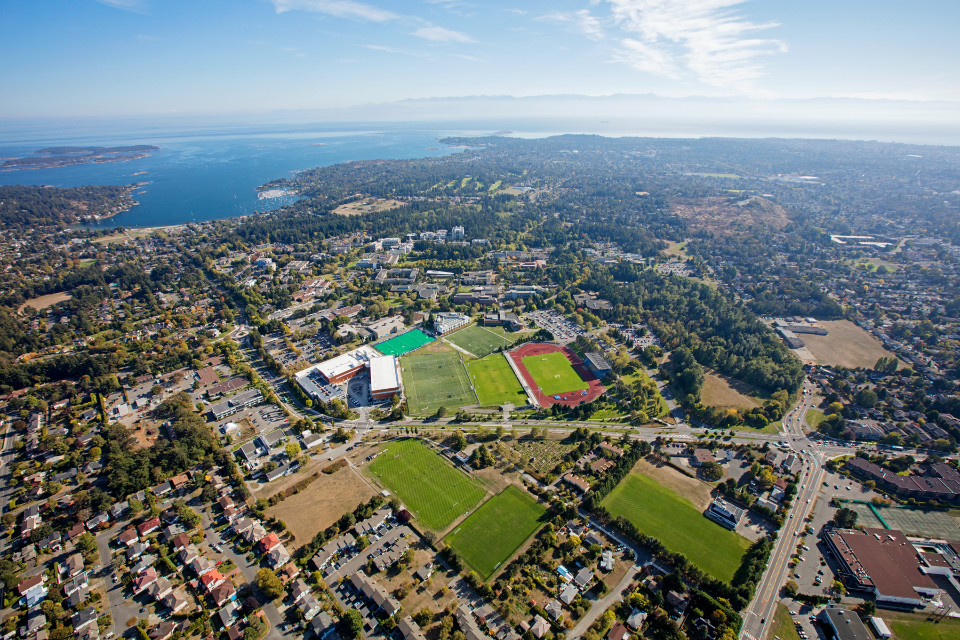 An international forum seeking solutions and strategies for an increasingly polarized world is bringing global thought leaders together at the University of Victoria this summer for deep and difficult conversations on the issues that divide us.
Bridging Divides: Turf, Truth and Trust, will see delegates from all over the world meeting in person and online Aug. 28-30 for public dialogue aimed at finding solutions for some of the world's most divisive challenges.
The Victoria Forum is co-hosted by UVic and the Senate of Canada.
Topics for the August event include social exclusion in the COVID era; pathways to bridging economic and environmental divides in an age of misinformation; the role of sport in bridging divides; and advancing truth, respect and reconciliation for Indigenous Peoples. The forum's broad goals are modelled on the United Nations Sustainable Development Goals.
"People are worried about growing economic and social divides, about the environment, about supply chains and about the impacts of COVID. What the Victoria Forum does is look at ways to bridge those divides and develop ideas for a better world," says Saul Klein, chair of the Victoria Forum and dean of the Gustavson School of Business.
"We're asking really big questions of thought leaders and policy-makers, inviting them to have evidence-based conversations and come up with real solutions to the world's most pressing problems."
The list of high-profile speakers participating in the 2022 forum includes:
Amina Mohammed, Deputy Secretary General of the United Nations
The Hon. Bob Rae, Ambassador and Permanent Representative of Canada to the United Nations in New York
Pedro Antunes, Chief Economist, Conference Board of Canada
Lord Jack McConnell, former First Minister of Scotland
Shelagh Rogers, CBC Radio host and former Chancellor of the University of Victoria
Dame Louise Livingstone Martin, President of the Commonwealth Games Federation
Paul Genest, Senior Vice President, Power Corporation of Canada
Canadian Senator Rosa Galvez, President of the Parliamentary Network on Climate Change of ParlAmericas
"At a time in the world of so much uncertainty and chaos, dialogue such as this is crucial," says Senator Peter M. Boehm, who is serving in a liaison role between the Senate and the Victoria Forum.
The forum debuted in 2017 as a means for engaging national and international thought leaders on pressing global topics. While a planned live event in 2020 had to be cancelled because of the pandemic, the virtual Victoria Forum that year saw more than 1,500 participants from 93 countries.
"The Victoria Forum creates space for community to create the meaningful connections required for local and global partners to tackle the world's toughest problems. Through a sustained and inclusive dialogue, we can work together for a stronger, sustainable and more equitable global economy," says UVic President Kevin Hall. "The University of Victoria is a proud catalyst for these vital links."
The three-day forum is sponsored by TELUS and Vancity. Attendance is free at the numerous online and in-person events during the forum. Visit www.victoriaforum.ca for more details and registration.
-- 30 --
Photos
Media contacts
Saul Klein (Dean, Gustavson School of Business) at 250-721-6240 or sklein@uvic.ca
Jennifer Kwan (University Communications + Marketing) at 250-721-7641 or researchcomm@uvic.ca
In this story
Keywords: arts, Indigenous, administrative, community, international, sustainability, government, globalization, partnerships, reconciliation, technology
People: Saul Klein, Kevin Hall