National award for grad student mentoring
- Philip Cox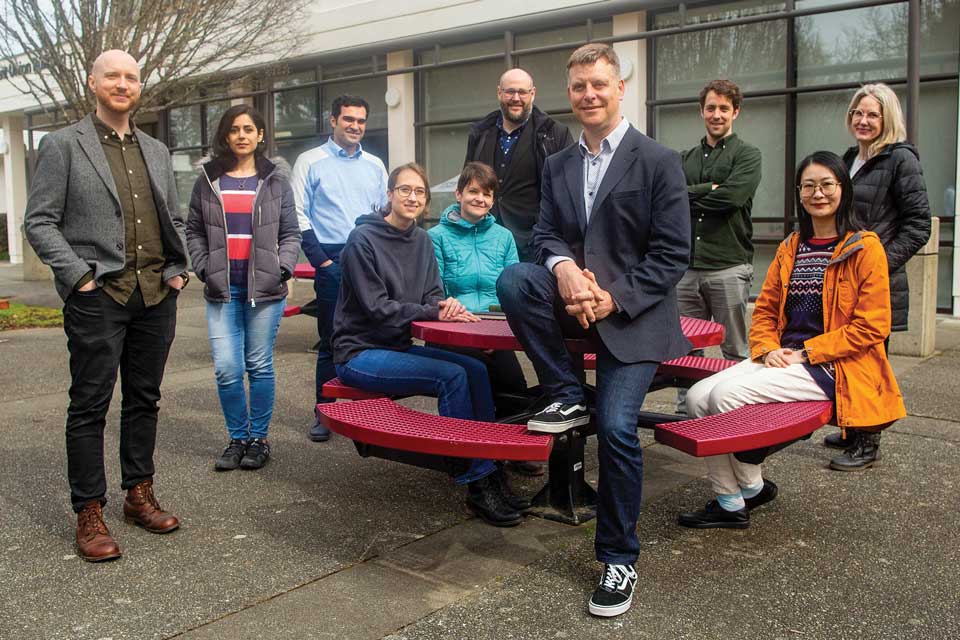 Few people are lucky enough to have a mentor like English professor and winner of the 2021 Canadian Association for Graduate Studies (CAGS) Award for Outstanding Graduate Mentorship, Stephen Ross—at least, that's the impression one gains from speaking with his mentees.
"I don't know where I'd be without Stephen Ross," says Matthew Huculak, the head of advanced research services and digital scholarship librarian at UVic Libraries, without a hint of hyperbole. "When I was at a crossroads during a particularly tough year, Stephen supported my work and helped forge a position as the libraries' first postdoctoral fellow with the university librarian. Because of his support and mentorship, I now have the best job I could ever have imagined."
Testimonials like this are surprisingly common among those provided by students mentored by Ross, given the emotional timbre of their acknowledgments. Many note instances when he helped them navigate the complexities of graduate studies or supported them through personal difficulties. Most say he did both.
"A memory of Stephen Ross that I cherish is from when, in the second year of my PhD, I realized that I wanted to alter my research focus. He encouraged me to follow my heart, even though it meant replacing him as my supervisor," explains Lucie Kotesovska, an English PhD candidate and Vanier Scholar whom Ross also supported during her move from the Czech Republic to Victoria in 2020. "He told me that I was admitted to the program not for the project I had envisioned, but for the person I am. That was the most powerful moment of validation in my academic career so far."
Ross himself is an internationally recognized and esteemed leader in modernist studies. Within the last five years alone, he has published three books and written three more, and served as president of the Modernist Studies Association—the largest international organization in his field, with nearly 3,000 members at the time of his tenure—all while teaching, publishing scholarly articles, presenting regularly at conferences around the globe, and supervising the largest number of post-doctoral fellows, PhDs and MAs in his department. Nevertheless, his students emphasize his availability and generosity of spirit in their interactions with him.
"Stephen Ross is available, accommodating, understanding and caring—qualities one dreams of having in a mentor," says Saba Pakdel, a first-year English PhD student supervised by Ross. "He is also generous with his knowledge and does not make students feel inadequate if they cannot understand complicated concepts."
In 2020, Ross received UVic's Reach Award for Excellence in Graduate Student Supervision and Mentorship—the university's top honour for academic supervisors. He is now the first professor at the university to receive the CAGS Award for Outstanding Graduate Mentorship.
To me, mentoring is very much about knowing who the students are and addressing them as a whole person with a complicated life. Most of the time, I think students who don't succeed in grad school don't succeed for reasons that have nothing to do with their abilities. I find that if you approach them with compassion, you can create the conditions for their success and help them to overcome the obstacles that appear."

—Stephen Ross, professor of English and winner of the 2021 Canadian Association for Graduate Studies Award for Outstanding Graduate Mentorship.
For Amy Tang, a recent UVic graduate and current assistant professor at the University of the Fraser Valley, the compassion that Ross showed her had a profound impact on her life in and out of the classroom. 
"When I first came out to my family, I had an extremely tough time, but Stephen Ross helped me to get through it," Tang explains. "He was the only mentor figure in my life at that time who reached out and assured me that it's okay to be who I am."
In a profile written at the time of her convocation in 2020, Tang also credited Ross with helping her to succeed in her studies by fostering dialogue between students and breaking down structural barriers that had limited her ability to participate in the classroom after emigrating to Canada from Xian, China, for graduate school.
No less impactful than his formal supervisory relationships are the informal programs that Ross has created for students over the years. The long-running Write Club, which he founded almost a decade ago and in which he participates as well, offers graduate and undergraduate students a weekly venue for distraction-free writing. The Walk and Talk program, which he initiated at the height of the pandemic, connected students seeking outdoor social interaction to counter the isolation that so many people were experiencing at that time. And the Modernist Café, which invites his supervisees to meet with him each week in a casual setting for the purpose of sharing experiences, knowledge and best practices with one another.
In all of his endeavours, Stephen Ross cultivates a form of support for his mentees that continues across their academic career and beyond, and offers them a kind of mentorship that few people are lucky enough to have had at any point in their lifetime.
We are incredibly proud of Stephen's accomplishments as a supervisor. His whole-person approach to mentoring graduate students is an inspiration to us all. The University is very pleased to see Stephen recognized for his contributions to graduate education with the CAGS award."

—Robin Hicks, Dean, Faculty of Graduate Studies
Photos
In this story
Keywords: mentorship, teaching, graduate research, award, literature
People: Stephen Ross, Matthew Huculak, Lucie Kotesovska, Saba Pakdel, Amy Tang
Publication: The Ring