A legacy of service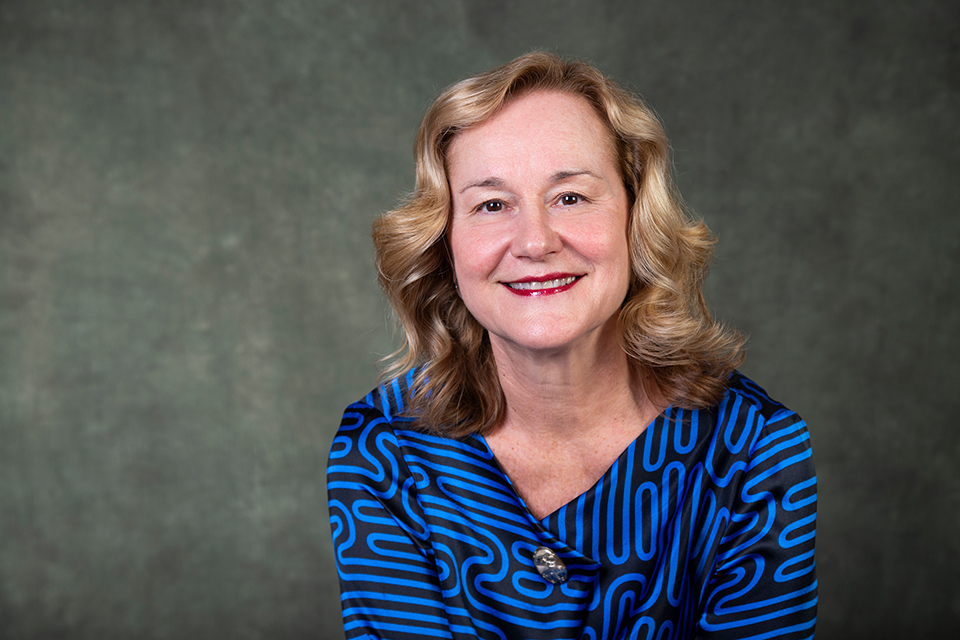 There are few people who have had a bigger impact on the University of Victoria than Dr. Valerie Kuehne. Valerie, who completes her term as vice-president academic and provost this year, does so after more than 30 years of service to the university—including 22 years in senior leadership.
I first met Valerie when I was hired to work in the provost's office, and I knew instantly that I could learn a lot from her. I saw that she leads by example, with both integrity and humility. And although it's only been three years, it's been immensely rewarding to have worked so closely with such an accomplished and experienced leader.
Valerie joined UVic in 1990 as a professor in the School of Child and Youth Care and researcher of intergenerational relations. She went on to serve as director of the school, and then as associate vice-president academic of the university. Her leadership qualities led her to be asked to be vice-president external relations, a position she held for seven years—her first stint as a member of UVic's senior leadership. In 2014, Valerie began her term as vice-president academic and provost.
Valerie's colleagues describe her as a values-based leader who makes decisions based on what will have a positive impact on the UVic community.
Valerie is a respected and inspirational leader. I have also come to know Valerie as a dedicated and principled leader—she is not swayed by popular (or unpopular) opinion and always guided by what is best for UVic students, staff and faculty. She has become a trusted advisor during my first year as president, and I am grateful that I had the opportunity to work alongside her—and her incredible sense of humour.

—Dr. Kevin Hall, UVic president and vice-chancellor
Kristi Simpson, acting vice-president finance and operations says that Valerie leads from a desire to do what is right. "Valerie's passion and dedication to UVic is obvious in everything she does. The institution and UVic leadership more broadly is better for having had Valerie at various helms throughout her career."
Campus transformed
During her eight years as provost, Valerie has transformed the UVic campus and community by increasing student supports and services; furthering equity, diversity and inclusion; enhancing teaching and learning supports; and creating new experiential learning opportunities and incentives. She also helped launch several new academic programs, including the joint Indigenous law degree program—the first of its kind in Canada—and accompanying building expansion.
Valerie oversaw the development of UVic's first Indigenous Plan, established the Office of Indigenous Academic and Community Engagement, and supported LE,NOṈET and Indigenous Cultural Acumen Training.
As provost, Valerie oversaw the renewal of about 40 per cent of the professoriate at UVic, including 30 Indigenous faculty members, 10 of whom were hired through the Indigenous Recruitment Support Fund developed with the Faculty Association as part of the 2019 Collective Agreement. She has also introduced new ways of recognizing and awarding outstanding faculty and instructors.
For almost a decade, Valerie has regularly taught a senior university administrators course at the Centre for Higher Education Research and Development, training generations of university leaders across the country. Locally, she has mentored numerous leaders at UVic, including more than 30 deans and other leaders in various academic and administrative portfolios.
I've always known Valerie to consciously consider the needs of students when investing in new initiatives. Recently, Valerie improved UVic's student mental health and wellness supports, including a new integrated Student Wellness Centre and 24/7 SupportConnect program. Student awards and bursaries have also increased dramatically during Valerie's time as provost, with a record number of entrance scholarships awarded last year. Notably, and a personal goal for Valerie, funding for graduate students has increased every year over the past eight years, including both graduate and Indigenous graduate fellowships.
Under her academic leadership, UVic also established the Office of Student Life, and embarked on the largest capital project in UVic's history: new student housing and dining facilities that are UVic's first two Passive-House-designed buildings.
In addition to prioritizing student recruitment, retention and success, Valerie has also supported teaching and learning supports—for both instructors and students. This is especially true throughout the current COVID-19 pandemic, during which UVic invested heavily in the Division of Learning and Teaching Support and Innovation (LTSI), TA and sessional instructor supports, and classroom infrastructure to support hybrid education and classroom lecture capture. The LTSI was created under Valerie's leadership, and has been a critically important service during the pandemic.
Dr. Laurene Sheilds, LTSI's executive director, says that throughout her tenure, Valerie has drawn from her scholarly research and leadership expertise to create a positive environment for UVic students.
"Valerie is passionate about the value and importance of post-secondary education and about creating spaces where young adults can continue to learn, grow and flourish," Laurene explains. "This deep dedication has been evident throughout her time as an academic leader. Mostly recently, she has whole-heartedly supported the integration of new learning technologies so that faculty, staff and students can thrive in the in-person and virtual learning environments."
Laurene, a long-time research colleague of Valerie's, also notes that Valerie helped to develop UVic's first Strategic Enrolment Management Plan. The plan focuses on recruiting a diverse student population and fostering student success, and includes tangible goals and tactics for UVic to implement and work towards. One goal is to increase experiential learning opportunities for all students.
The recently launched Research-Enriched Applied Learning (REAL) Internship program is a great example of such an opportunity. The program provides 50 new undergraduate students a year with paid research opportunities under the supervision of a faculty member.
REAL is a noteworthy legacy for Valerie because it highlights the importance of the student experience. In the 21 years I've worked alongside Valerie, I've always known her to consider what's best for students, and the student experience, when prioritizing new investments. It's fitting that this internship be launched this year, in Valerie's final year as provost. It differentiates UVic from other research universities and provides a lasting and meaningful experience for our students.

—Tony Eder, executive director, academic resource planning
A lifelong learner
So what's next for such an accomplished and hard working person? Given her track record, I suspect she isn't slowing down any time soon. During her planned administrative leave, travel with her family will likely resume in earnest, not surprisingly with an educative or research element. Previous adventures included a daybreak hike at Machu Picchu, a Galapagos tour and seeing penguins up close in Antarctica. Valerie is the first to admit that she, her husband, and their soon-to-be physician son are all "nerds" and lifelong learners.
I suspect, too, that Valerie will continue to invest time in glassworks projects, creating beautiful works of art that she generously shares with her team and others close to her heart. Every holiday season since I've known her, Valerie has gifted a handmade glass plate to each of her office staff as a thank you. Valerie deeply values the contributions of others, and continuously fosters an atmosphere of collegiality, respect and appreciation.
Valerie's contributions and achievements during her time at UVic are many, and they are significant. About a year into my role in her office, I asked Valerie why she took on the role of provost. I had already learned that it was a very demanding role, and a mostly thankless one, too. She took her glasses off, leaned back in her office chair, and looked thoughtfully out the window. I'll never forget her answer: "I do it in service of the university." Without a doubt, Valerie has done a great service to this university, and she truly believes in its value. I am thankful to have had the chance to work alongside her, and I will forever be amazed at the many ways in which she has transformed our university.
---
Members of the UVic community are welcome to contribute well-wishes via an online board.
Photos
In this story