In Memoriam: Ronald Lou-Poy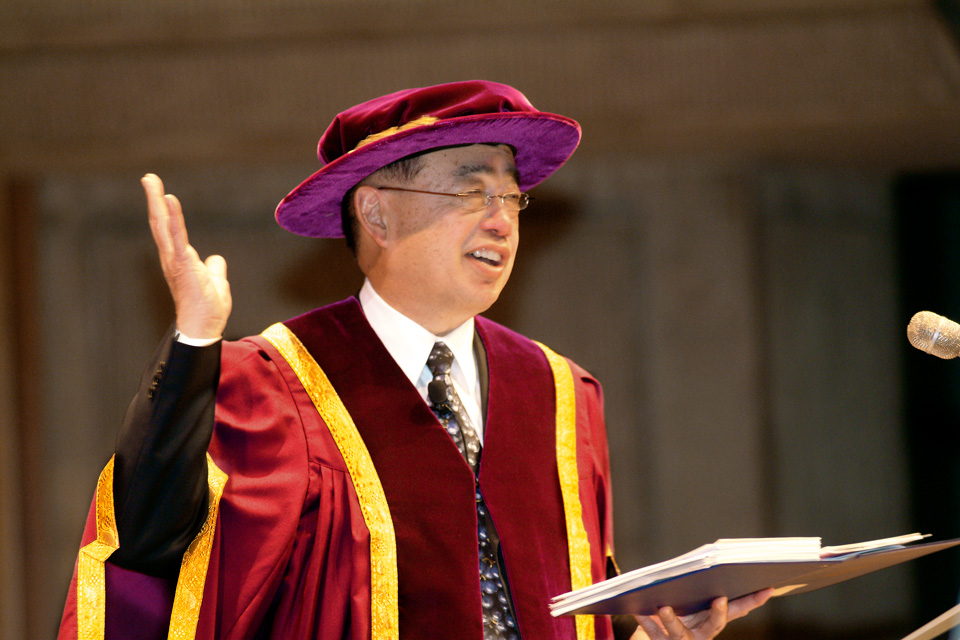 It is with deep feelings of loss and sadness that the university community marks the passing of Dr. Ronald Lou-Poy, who served as the ninth chancellor of the University of Victoria from 2003 to 2008. 
Lou-Poy's commitment to the community—on and off-campus—helped build bridges locally, nationally and abroad. During his time as chancellor, he embodied the university's expanding contributions to society as well as its growing international prominence and connections. As chancellor, and as a prominent lawyer whose vision of community service was broad, he helped bring UVic degrees to Inuit students enrolled in a special UVic Law program in Iqaluit, Nunavut, and conferred honorary degrees in China's Great Hall of the People in Beijing.
Ronald Lou-Poy's contributions to the university—in nurturing community connections and cultural bridges, always aligned with the values of service, justice and philanthropy—helped shape what UVic has become today. His passing is a great loss to us. And it's also a reminder of the great impact that individuals can have on the world when they commit themselves to making the world a brighter place. Ronald Lou-Poy was a shining example of that spirit."

—UVic President Kevin Hall
A senior partner in the Victoria law firm of Crease Harman LLP, as well as Queen's Counsel, Lou-Poy was already a significant figure in the UVic community before becoming the university's chancellor. A graduate of UVic's forerunner, Victoria College, Lou-Poy had extensive and ongoing involvement with the university, including two terms on the UVic Board of Governors (1972-74 and 1992-95) and as an original director of UVic's Innovation and Development Corporation—a commercialization initiative that brings innovative technologies to market, now operating as UVic's Research Partnerships and Knowledge Mobilization unit.
In recognition of his dedication to community service—especially in the areas of arts, culture and education—Lou-Poy was awarded an Honorary Doctorate of Laws from UVic in 2000.
Lou-Poy was also a philanthropist, giving and promoting a culture of giving among his family, friends and the many communities in which he moved. His family supported construction of UVic's Harry Lou-Poy Infant and Toddler Child Care Centre, named for Ron Lou-Poy's late father, and created the May and Ron Lou-Poy Fund of Excellence in the Faculty of Law.
During Lou-Poy's two terms as UVic chancellor, in addition to performing other duties, he presided over more than 70 convocation ceremonies, awarding more than 25,000 UVic degrees, certificates and diplomas.
He appeared on the other side of the stage, as an honorand, almost as frequently. In 2007, Lou-Poy received Leadership Victoria's Lifetime Achievement Award, honouring outstanding long-term service in community leadership roles such as philanthropy, innovation, mentoring and career achievement. It was a fitting recognition for his work, including positions with the Kiwanis Club, United Way, Victoria Crime Stoppers and the Chinese Consolidated Benevolent Association. He was also made a member of the Order of Canada in 2003.
In his last year as UVic chancellor, Lou-Poy received a Golden Mountain Achievement Award from the Victoria Chinese Commerce Association, celebrating the achievements and contributions of BC Chinese Canadian population during the province's sesquicentennial year.
Photos
In this story