Day in the Life: Ruth Parrish
- Philip Cox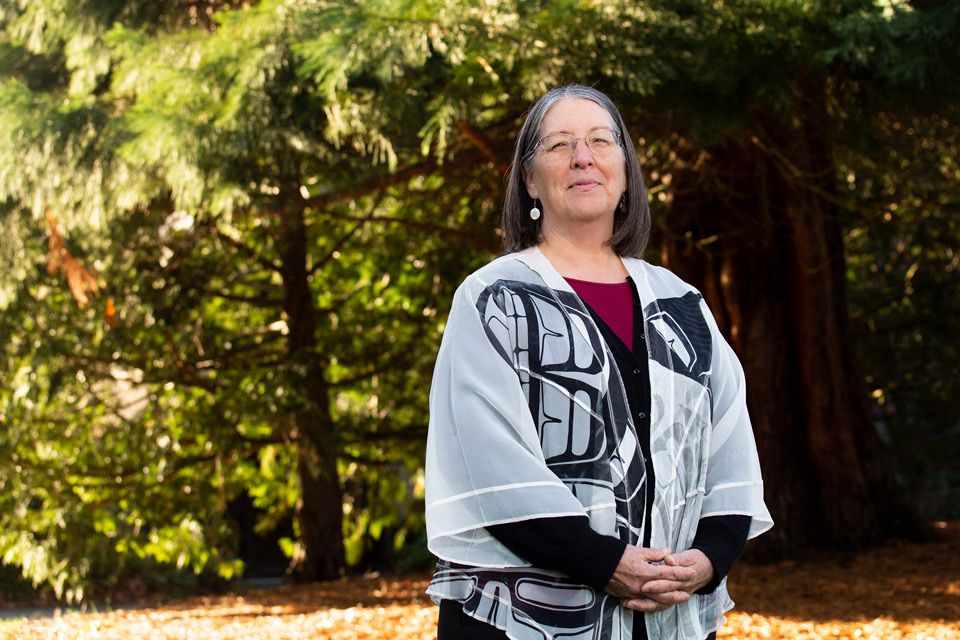 On a warm spring day last May, Ruth Parrish and her daughter Alana stood in front of a large crowd by the longhouse outside the Royal BC Museum, drums adorned with their Haida family crest in hand, singing The Children's Blessing Song by Cree-Dene musician Sherryl Sewepagaham.
Between them stood Layla—barely one year old, hands gripped tight, her beautiful brown eyes soaking up the scene before her from the safety of the shadows cast by her mother and grandmother.  
This was no ordinary day for Parrish; nor for anyone who had read the news that day. This was the day the remains of 215 Indigenous children were revealed at the former Kamloops Indian Residential School, and Parrish was singing in their honour.
"I'm not outgoing. I don't do these kinds of thing very often," Parrish states. "But for the children I did it, you know? For the people there. For ceremony. For healing. So . . . it was a really big moment in a small way, you know? It's just a song. But it's more than a song, really."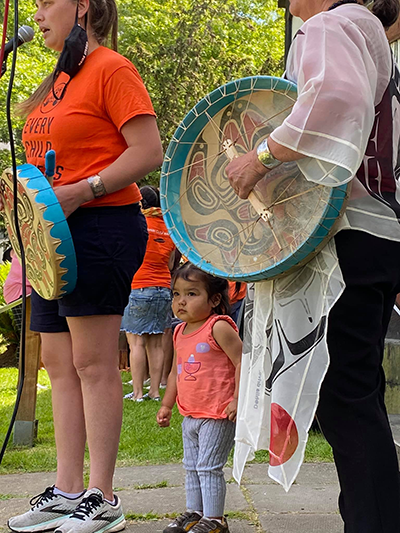 An ordinary day for Ruth Parrish starts between 7:30 and 8:00 a.m. when she wakes up naturally, free from the shrill of an alarm. Often she'll sit for a half hour to read or pray in the sunroom of her family's home—a small, bright space with a large gas fireplace and three clear windows that look out upon the trees standing around her garden.   
A kiss for her husband, Richard. A hug from her granddaughter, Brianne, whose brother Daniel has already left for a day at work. A quick visit to the lower unit of her house, where Alana, her husband Stephen, and Layla currently reside. No breakfast. Coffee, black.
Had you asked her three years ago, Parrish would have told you she was retired, after 18 years of keeping the books for Level Ground Trading—Victoria's first fair-trade coffee company, which Parrish co-founded with her husband and three friends in 1997.
It did not take long for restlessness to set in. 
"Retirement was boring," she says. "I realized how much I like to work."
Four days per week, Parrish now drives to UVic, where she works in the Clearihue building as an administrative assistant for the Indigenous Studies program.
Her office overlooks the Clearihue quad; a tall pine stands in the window behind her desk.    
Reminders of her family are never far: snapshots of her five children and nine grandchildren glide across her desktop screen. A colloidal silver photo of her mother from the 1950s on the wall.
One large map of Haida Gwaii; two small baskets handwoven from pine.
Lucky guests might be greeted with a fresh cup of Healing Tea that Parrish has made from ingredients grown in her garden, bags of which the department sometimes gives as gifts.
Some days she spends sending emails, organizing meetings, updating spreadsheets or otherwise ensuring the department's systems are in order. It's "the nitty gritty admin stuff" that she loves, she says. ("Does that sound possible?").
Increasingly, Parrish works with students—handling a constant rotation of questions about course selections, registration and degree requirements for graduation with her own particular approach.
"I just try to make students feel at home and comfortable and like they're a real person, you know? Not just a number or a face," Parrish explains. "Their concerns are real and they need to be addressed. Can I help them? I hope I do."
Lisa Kahaleole Hall, a Kānaka Maoli critical theorist and director of the Indigenous Studies program, is confident she does.
"Ruth has been a pivotal support for Indigenous Studies students and faculty since joining in 2018," says Hall. "Her innate gift for hospitality infuses our spaces; and the laughter that comes from her office is as big a signpost for our department as our giant hallway banner. It is no exaggeration to say the launch of the Indigenous Studies major could not have succeeded without her patience, perseverance and positivity."  
Last fall, Parrish received the 2021 Həuistəŋ Award from the Faculty of Humanities—an award that honours the members of the Faculty who have made the most significant contribution to increasing educational access and success for Indigenous students on campus.
"'Həuistəŋ' is a lək̓ʷəŋən word meaning 'to honour or bring forward,'" states Humanities Dean Annalee Lepp. "Ruth Parrish honours and brings forward everyone around her. This award acknowledges and celebrates her particular contributions to Indigenous education, community and cultural resurgence at UVic."  
Political scholar from the Cherokee nation and associate professor of Indigenous Studies Jeff Corntassel adds that Parrish "creates a sense of community in every aspect of the programming for Indigenous Studies. Her enthusiasm, kindness, community spirit and respect are evident in her everyday interactions, and this has a spillover effect for everyone that she meets."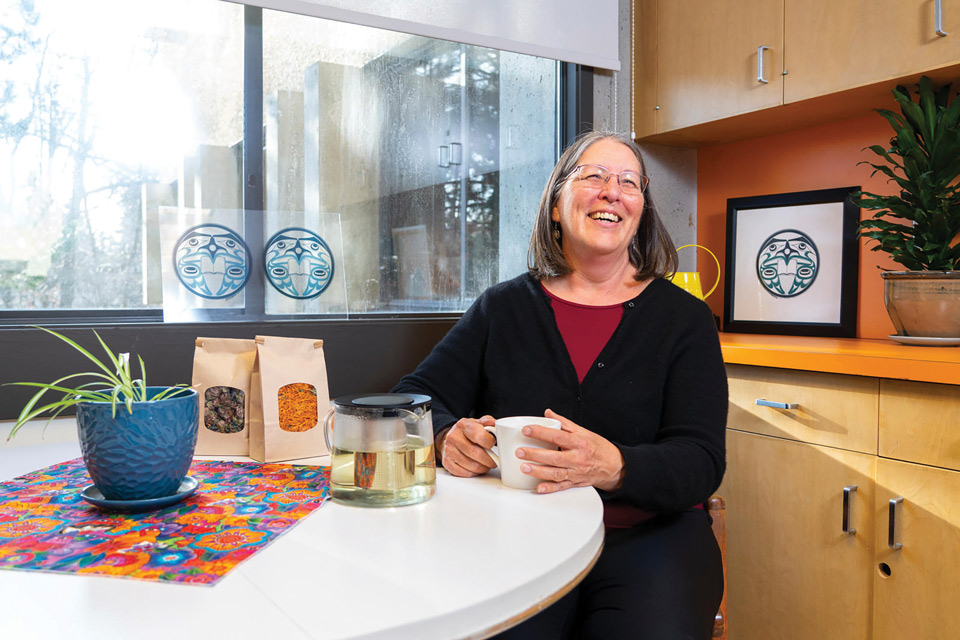 Prior to the pandemic, Ruth Parrish went once weekly into elementary and middle school classrooms as part of the Sooke School District's Aboriginal Role Model program, to share her family history and tell the story of her own journey to reconnect with her cultural heritage.  
"My mom is Haida. My dad is British. I was born in Skidegate, Haida Gwaii, but basically raised as a white Canadian in North Vancouver," Parrish shares. "My Haida grandparents were not allowed to potlatch or sing or dance or celebrate their culture at all. An Indian Agent was on site, making sure that didn't happen. So there was this shedding of traditions and loss of knowledge. My mom was sort of born into that, and then left the island when she was 18, so I didn't grow up with that culture. No songs, no protocol, nothing. Nothing."
For most of her life, Parrish's only connection to Haida Gwaii was a trip with her family taken when she was 10—short-lived in the grand scheme, though long lived in memory—and regular visits from her Haida grandmother, who frequently came to Vancouver on business, seeking supplies for her and her husband's general store.  
Life moved forward. Parrish grew up, got married. She and her husband had five children and fostered one. They lived in Nanaimo, moved to Victoria. They focused on family and helped found a business. They struggled. They thrived. Their children had children. And life moved ever forward.
All told, it was more than four decades before she returned to her birthplace once more. A work opportunity at the Haida Heritage Centre at Ḵay Llnagaay brought her son, Graham, to the island for the summer of 2011, prompting Parrish and her husband to make the long, expensive trip back to Skidegate to see him.  
"We met all these remarkable people—this family that we never knew. I was introduced to my ancestors, my Elders in language school, and relatives who made me feel so welcome," Parrish states. "They just, you know, brought me in. I went to my first potlatch. There was no judgment; just total acceptance. That started a whole personal journey for me."
Part of that journey has involved coursework and formal education—first auditing courses in the Masters of Indigenous Theology program at the North American Indigenous Institute for Theological Studies (NAIITS), and then in the Indigenous Studies Program Summer School at the Vancouver School of Theology—where she encountered ideas and worldviews that resonated deeply within her.  
Parrish also made weeks-long trips back to Haida Gwaii a regular feature of her life, visiting her son, who moved there permanently in 2012, and new-found community of friends and relatives, while spending weekdays at language school to listen and learn from the local Elders.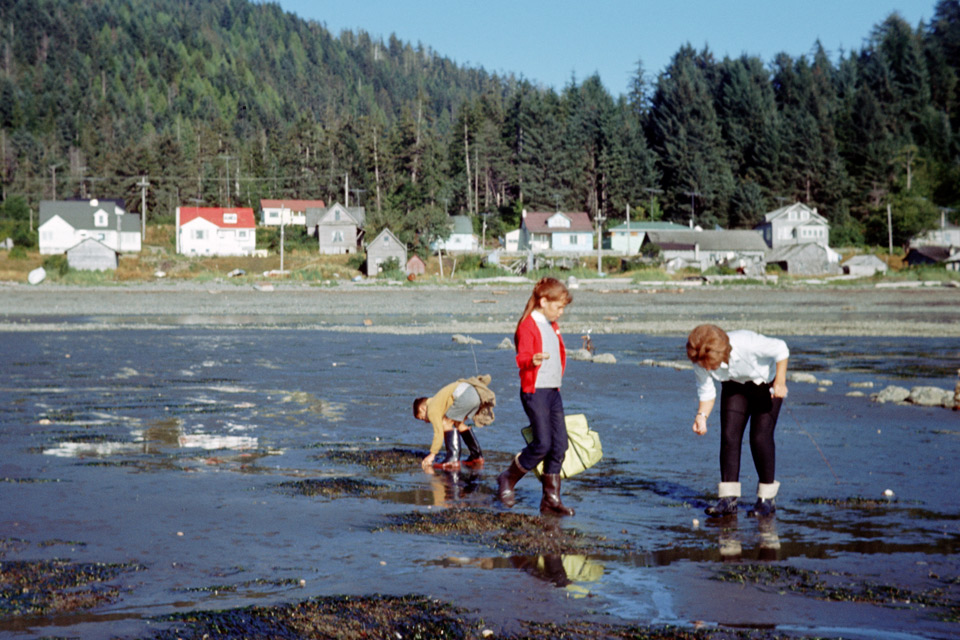 "After two or three trips to Haida Gwaii, I knew that's where I belong. That's where my heart is. I belong to that land. That land belongs to me," she says. "So, now, I totally identify with students at UVic who are trying to connect with their Indigenous identity. It's a hard journey, fraught with uncertainty and misunderstanding."
For me, the Indigenous Studies program is the biggest part of my own journey. It's more than a job. I really stand behind what we're building here. I believe in giving people the tools they need to understand their own Indigenous identity or to understand Indigenous issues more clearly."
— Ruth Parrish, administrative assistant for the Department of Indigenous Studies.
What exactly the next steps will be for Ruth Parrish is anyone's guess, but at the end of the day she's quite certain about one thing in particular: "My seventies are going to be the best years of my life," she says with a great laugh. "I'm kind of looking forward to it." 
Photos
In this story
Keywords: Day in the Life, staff, Indigenous, administrative
People: Ruth Parrish, Jeff Corntassel, Lisa Kahaleole Hall
Publication: The Ring