UVic athletes excel on Olympic and Paralympic stages
- Kelley O'Grady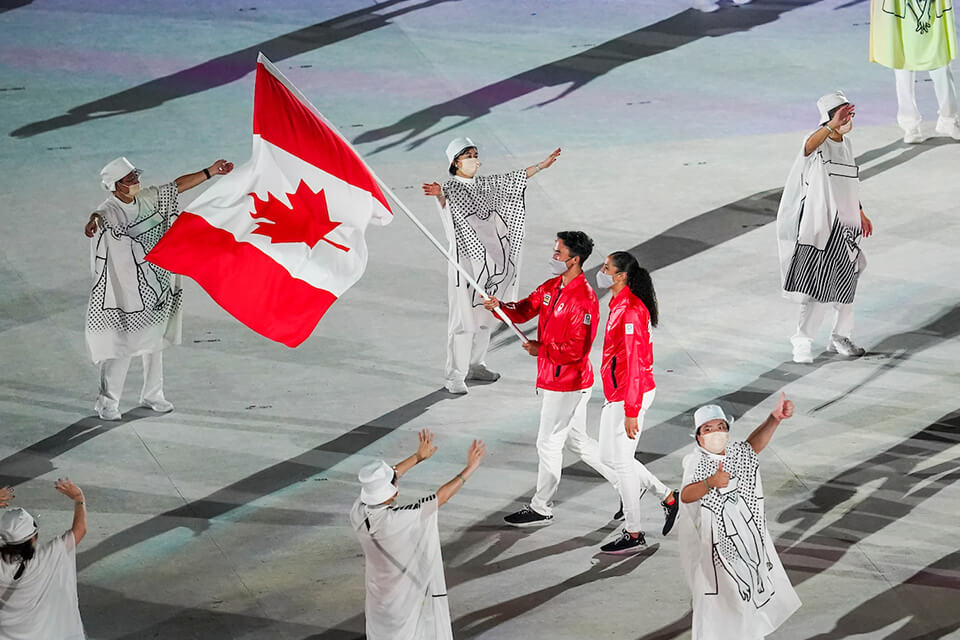 A year ago, the postponed 2020 Tokyo Olympics and Paralympics seemed far from becoming a reality amidst a global pandemic. Despite an extended training block littered with obstacles leading up to Tokyo 2021, UVic Vikes-connected athletes and alumni kept going, and significantly contributed to Team Canada's success on the world stage.
One highlight of the spectator-free event was rugby alumnus Nathan Hirayama, captain of the Canadian sevens team, co-carrying the country's flag into the opening ceremony. Hirayama follows Vikes alumnus and triathlete Simon Whitfield (London 2012) with that honour, becoming the second Vikes athlete to do so.
Winning medals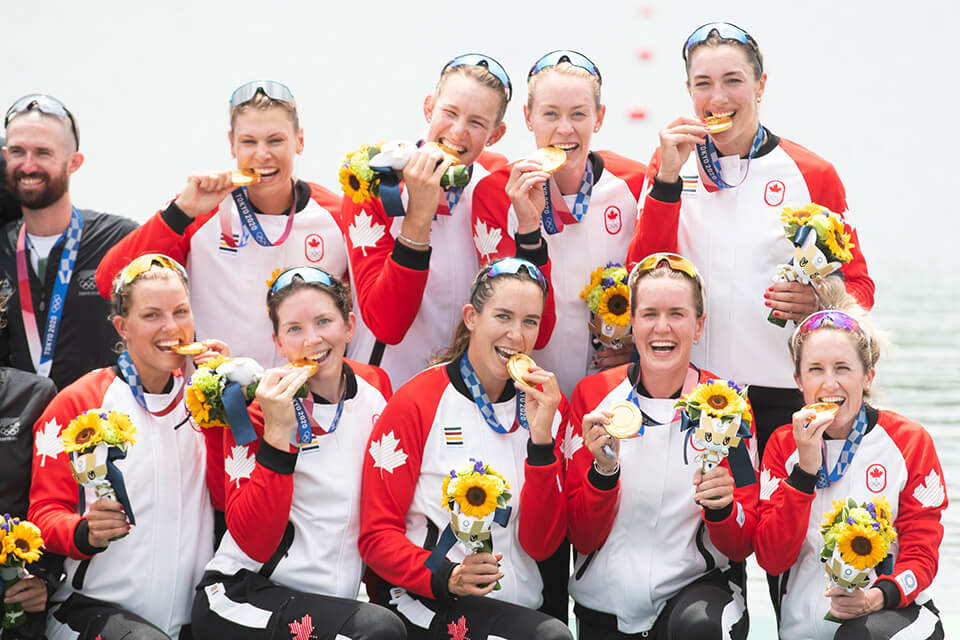 UVic's storied history of winning Olympic medals continued with women's rowing alumni Avalon Wasteneys and Caileigh Filmer returning home with gold and bronze. 
Wasteneys won a gold medal in the women's eight, a historic performance taking home the first gold medal in the Olympic women's eight event since 1992.
Wasteneys, who grew up a competitive cross-country skier, entered the sport of rowing as a novice with the Vikes but with an athletic pedigree positioning her for greatness. Her mother, Heather Clarke, competed in the coxed four at Seoul 1988 and her aunt was a member of the women's eight at Los Angeles 1984.
I think in the back of my mind, the Olympics was always a goal of mine, but I didn't want to say it out loud or put pressure on myself. UVic rowing was instrumental in my journey—the team environment pushed me when I needed it most and set me up for future success.

—Avalon Wasteneys, UVic rowing alumna and Olympic gold medalist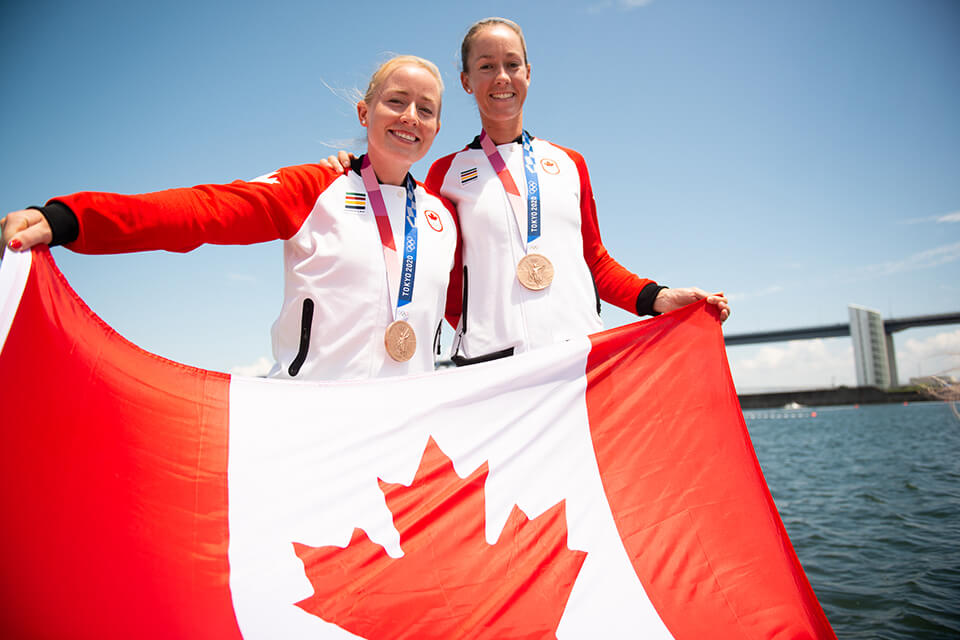 Filmer and partner Hillary Janssens of UBC brought home a bronze medal in the women's pair event. For the Canadian duo, the road to Tokyo was anything but smooth, and clinching a podium spot made the last few years of training and adversity worth every second.
"It feels like winning gold to us. Finishing the race and leaving everything we had out there, knowing everything we've overcome—this year has been absolutely insane," says Filmer, who has been open about her struggles with clinical depression, sharing her journey on social media.
Making UVic proud
Other highlights include Vikes men's rowing alumnus Kai Langerfeld, who landed just shy of the podium with a heartbreaking fourth-place finish in the men's pair. Current Vikes rower Patrick Keane rowed the B Final in the men's lightweight double skulls, finishing 10th place overall.
Pamphinette Buisa and the women's rugby sevens team had some hard-fought battles after a difficult couple of seasons. They finished with a third-place finish in pool B, leaving them ninth place overall.
Nathan Hirayama, Patrick Kay, Mike Fuailefau and Lucas Hammond showed moments of greatness in a very tough men's rugby sevens field. After battling back to make it there, Canada lost to New Zealand in the quarter-finals; Kay scored the match's only try. They finished seventh place.
Canada's men's field hockey team, featuring Vikes alum James Kirkpatrick, Brenden Bisset, Matt Sarmento and Keegan Pereira, faced a difficult pool to kick things off. While battling hard every game, the team came up just short of making their top eight goal.
New mom and three-time Olympian Catharine Pendrel showed the world what mothers are capable of. Returning to compete at the highest level just six months postpartum, Pendrel put forth an inspiring performance taking home 18th place in women's cross country mountain biking.
Other UVic alumni making their Olympic debut included Celina Toth in diving and Matthew Sharpe in triathlon.
Representing UVic at the Paralympics were UVic computer science student Zachary Gringas, who won bronze in the T38 men's 400m, and Vikes rower Kyle Fredrickson, who took eighth place overall in the PR3 mixed coxed four event.
Photos
In this story
Keywords: athletics, sports, alumni, international, administrative, Olympics, Tokyo 2021
People: Nathan Hirayama, Avalon Wasteneys, Caileigh Filmer, Kai Langerfeld, Patrick Keane, Pamphinette Buisa, Patrick Kay, Mike Fuailefau, Lucas Hammond, James Kirkpatrick, Brenden Bisset, Matt Sarmento, Keegan Pereira, Catharine Pendrel, Celina Toth, Matthew Sharpe, Zachary Gringas, Kyle Fredrickson
Publication: The Ring