University Drive pathway opens for spring cycling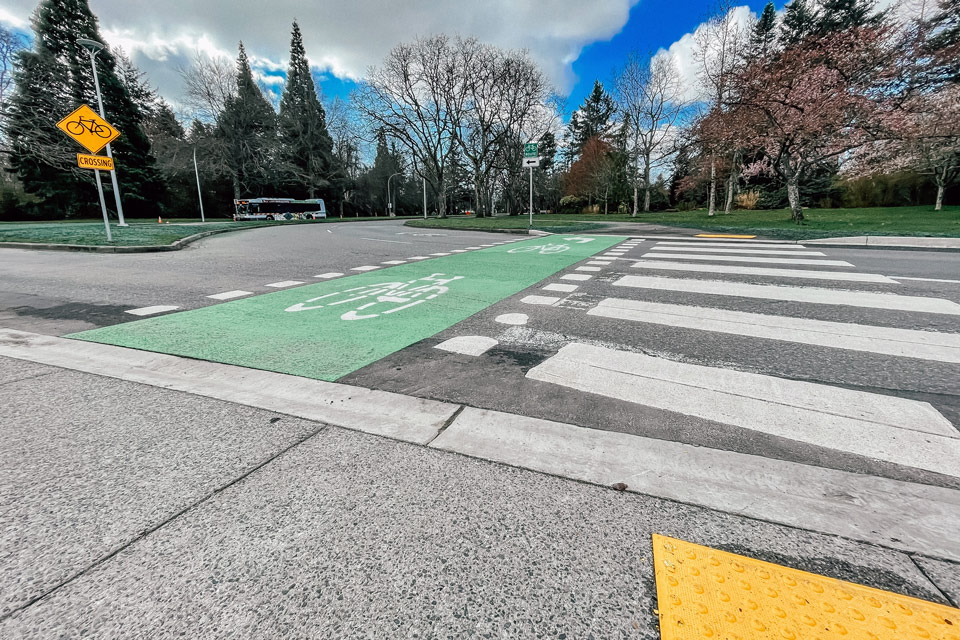 The University Drive Connection Pathway is now open after undergoing major upgrades, including installation of a new two-way bike path, separate pedestrian path, new lighting and crosswalk improvements. The project is the first of seven major active transportation network improvements to be completed as part of the Campus Cycling Plan, and the first step in developing an All Ages and Abilities (AAA) Cycling Network on campus.
"We're excited to see the implementation of the Campus Cycling Plan moving along at a steady pace," says Mike Wilson, director of campus planning and sustainability. "We've been working hard to support cycling as an enjoyable and healthy mode of transportation for student, faculty and staff, and this project will really enhance safety at this high volume intersection."
The Connection Pathway links University Drive and Ring Road with the heart of the campus, and with Oak Bay's Henderson Road bike corridor to the south. According to campus traffic surveys, it is the most heavily used cycling route on campus. On an average day, the path sees about 26% of all cycling trips to or from campus, and 6.8% of all pedestrian trips (2018 survey).  
During the development of the Campus Cycling Plan in 2017-18, consultations with more than 3,700 campus community members identified the University Drive entrance as a congested area and site of cycling-pedestrian conflicts.
The pathway upgrades will make the route safer for everyone, while supporting the goal of increasing the use of transit, cycling, walking and carpooling to 70% of all trips to campus. Supporting sustainable transportation choices is part of an overall strategy to help lower greenhouse gas emissions.
Construction is now underway on a new separated bi-directional cycling path along Ring Road between University Drive and the Engineering and Computer Science Building. This project will be phased in 2021 and 2023 in conjunction with plans for expanded engineering and computer science facilities.
Photos
In this story
Keywords: cycling, sustainability, transportation
People: Mike Wilson
Publication: The Ring