More than an education
- Kate Hildebrandt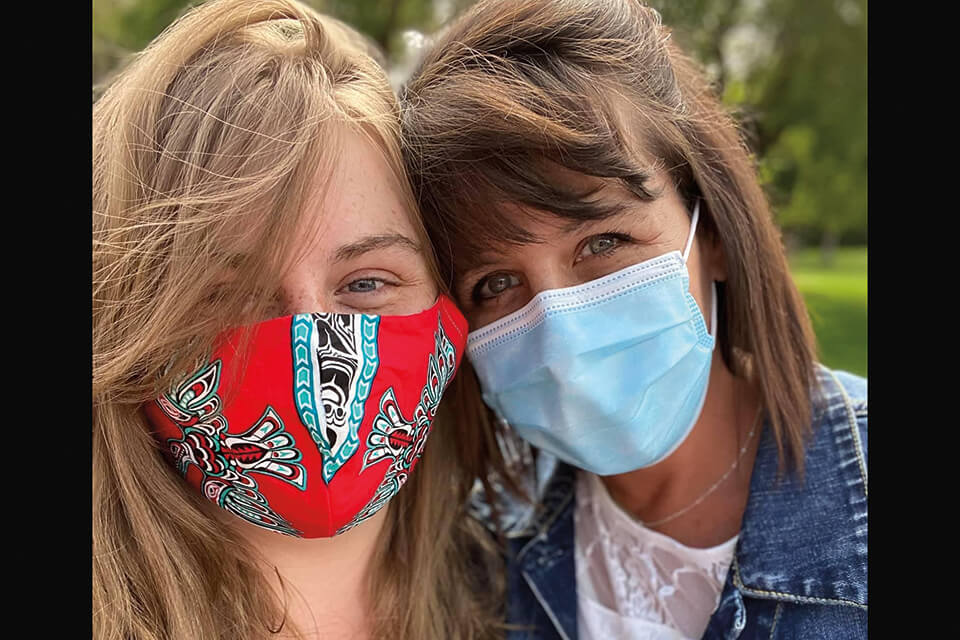 Having become a mother at age 17, Jana Schulz knows a little about life throwing you challenges. Empowered by her UVic education, Schulz (BCYC '17) is now thriving and working to build safer communities for women.
Schulz lives in Cranbrook, nestled within the rugged beauty of BC's East Kootenays. She explains that she and her daughter literally grew up together. "She attended my high-school grad, my college grad and my UVic grad," laughs Schulz, who is now considering pursuing a master's degree in public administration at UVic.
Post-secondary education fuelled Schulz's drive to help build healthy communities and healthy people. After earning a certificate as a human services worker, she went on to UVic's School of Child and Youth Care to complete an undergraduate degree while working full time as a clinic-based social worker. She studied online so she would not have to be separated from her family.
"This was more than an education," says Schulz. "I had my eyes opened." As a Métis woman, she found a world of personal discovery through the program's Indigenous specialization.
In 2020, Schulz decided to run for office with the Métis Nation of BC as their Women's Representative for region four. She won the vote handily and was ushered into a new world of leadership involving Métis women and health policy.
Schulz was deeply inspired by the 231 Calls to Justice put forward in June 2019 by Canada's national inquiry on Missing and Murdered Indigenous Women and Girls, having provided testimony to that commission in 2018. "I spoke my truth to the highest authority," says Schulz, noting the value she found in simply having the opportunity to be heard.
"My daughter was harmed within our community back in 2016 and I have complained to my local leaders from bottom to top for five years. But now, I see an opportunity to challenge these broken systems through politics and policy. I want to make real change happen within my region, not just complain about the way things are."
I learned so much at UVic, which I applied to my social work and now in my role as a Métis officer. I am determined to honour my oath to this office.

—Jana Schulz, UVic Bachelor of Child and Youth Care alum
Schulz knows there is more to learn, and she is determined to pursue a question that haunts her. "I want to know how we can better understand the frequency of assaults against women and why so many incidents are not reported."
She has a range of ideas on how to approach these issues. "I'd like to see Indigenous women leading their own victim-services programs. I'd like to see a family-centred approach where Indigenous women have access to female peer-to-peer supports. I'd like to see Métis-specific trauma-informed care and social work made available in every region of this province."
There is a great need for health equity and gender violence prevention for Indigenous women and to help women, children and families to find safety at home and within their communities. Ultimately, says Schulz, she and her daughter want to see an end to gender- and race-based violence.
"We have a right to feel safe," she insists, then pauses. "You know, five years ago, I would never have dared to speak up or challenge authority. Now I push back, respectfully, and with a full understanding of the facts, but I stand up for myself—and so does my daughter." 
Photos
In this story
Keywords: child and youth care, gender, racism, indigenous, community, administrative, student life
People: Jana Schultz
Publication: The Torch