Bold type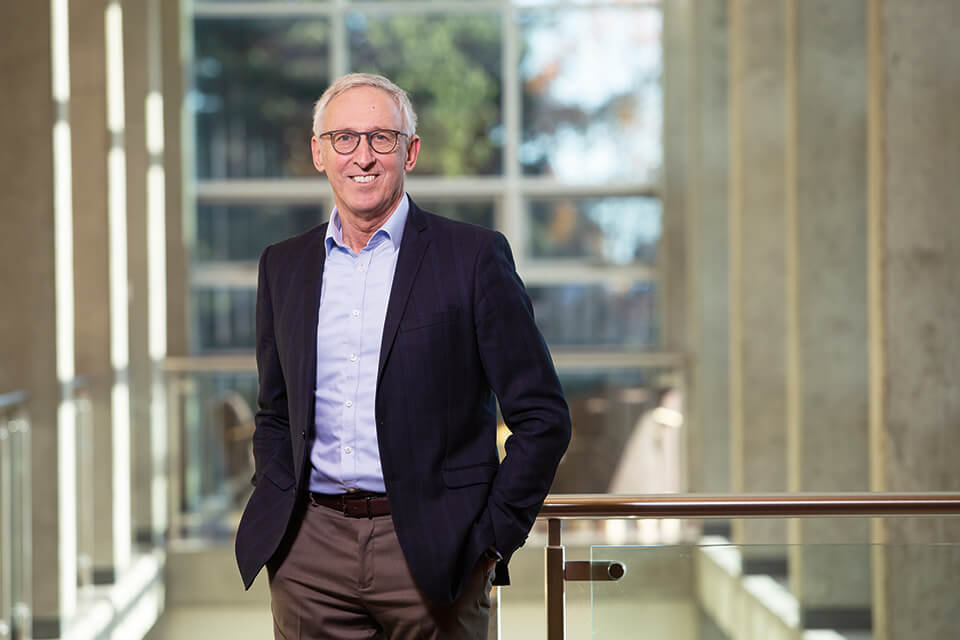 For as long as he can remember, Kevin Hall has been guided by the belief that getting a university education can change everything about a person's life. As the University of Victoria's eighth president, he's looking forward to finding new ways to apply that tenet at UVic.
His parents' unfailing belief in the importance of university was what brought Hall and his three siblings to Canada from Brighton, England in the 1960s.
"My parents were from the wrong class in the UK for their children to be able to go to university, so they moved us all to Peterborough, ON, to give us that opportunity," says Hall, who took office in November of 2020.
When Hall started in civil engineering at Queen's University in Kingston, ON in the 1970s he was the first in his family to go to university. But he definitely wasn't the last: The four siblings—all of whom are now professors or teachers—collectively hold four bachelor's, three master's degrees and two PhDs.
Hall's mother Vivienne Bough ("The smartest person I ever met") worked as a secretary at a university for years before enrolling as a mature student, ultimately earning a bachelor's and then a master's degree in history. Yet all these years later, attending university still remains elusive for a majority of Canadians.
"Thirty-five per cent of Canadians go to university. That statistic has not changed in 20 years," says Hall.
At UVic, the majority of our students come directly from high school, many of them coming from more privileged backgrounds. How do we make university more accessible to everyone? How can we create more entry points through enabling pathways?

—UVic President Kevin Hall
Action-oriented entrepreneur
Hall comes to UVic from the University of Newcastle in Newcastle, Australia, where he was vice-president and senior deputy vice-chancellor for global engagement and partnerships. The team at Newcastle has worked for years to provide "enabling pathways" that support people from all walks of life and circumstances in building the skills to ready them for university.
Hall considers this vital work, emphasizing that going to university is a game changer. "Education has been a slingshot for me. It is for everyone."
Hall is a polymath whose career has taken various turns through academic, business and international-development sectors. After graduating from Queen's with his master's degree, he launched his own business as a civil engineer specializing in coastal environments. He later earned his PhD at the University of New South Wales and started his academic career a few years later at his Kingston alma mater.
Hall holds patents for automated and affordable technology for detecting water-borne pathogens, which he invented two decades ago after the tainted-water disaster in Walkerton, ON killed seven people and sickened 2,300. He has developed simple water treatment for Indigenous communities and low-income countries in Africa, Southeast Asia and South America. He remains active in research work, though these days he serves as a mentor and co-supervisor.
Michael Nilsson, a Newcastle colleague and friend of Hall's, says UVic has landed a president with multiple strengths who is brilliant at spotting opportunities and committed to collaboration. Nilsson and Hall arrived at Newcastle within six months of each other in 2012, and a friendship developed as they worked together on a number of international initiatives.
"Kevin is innovative, business-minded, hard-working and passionate—and an absolutely lovely, fun guy to be with," says Nilsson, Director for the Centre of Rehab Innovations at Newcastle. "He inherently looks for opportunities. We share that, I think, being open to opportunities when they present themselves. Kevin is a change agent."
Athlete and extrovert
Hall is a triathlete who competed at the national level for Canada. He wakes up every day at 5 a.m. to work out for at least an hour. He's a musician who plays guitar, piano and drums, and is eagerly awaiting the post-COVID return of Greater Victoria's renowned live music scene. He is also the father of two adult children.
Taking office during a global pandemic has had its challenges, acknowledges Hall. A confirmed extrovert, he has missed being able to engage face to face. Only 3,000 of UVic's 22,000 students have been on campus since Hall arrived, and less than a third of faculty and staff are on site.
Hall has found other ways to engage. He held five virtual town halls and engaged with undergrads, grad students, faculty, staff and alumni. His office organized online focus groups for students. He even launched an old-fashioned suggestion box in a new-fangled way, putting it online and committing that every suggestion will be reviewed.
Being president is a privileged position. I see myself as an enabler and want to empower students, faculty and staff to reach their own dreams. I hope to listen, and look forward to building our vision and direction for UVic together. To hear from all areas of our UVic community is an important part of leadership for me.

—Hall
Strengthening the relationship between UVic and its 140,000 alumni is another priority for the new president. "One of the biggest attributes of a university is its alumni. We want to engage deeply with ours," says Hall. "How can we be engaging alumni in our lectures, our research, our start-ups, as overseas partners? How can we help our alumni with their own careers? How can we connect our alumni to other partners of the university?"
Looking forward, giving back
Universities are working with BC public health officials to reopen their campuses again in September. The pandemic continues to complicate choices for UVic's international students, but Hall hopes that by January at the latest, those students will be able to return to campus. "Our international students bring a richness of thought and diversity that we really value."
Hall loved his years in Australia and hadn't expected to return to live in Canada. But his eight years as vice-president at Newcastle whetted his appetite for other leadership experiences. UVic's ethos and values struck Hall as a great fit with his own, particularly the university's work around sustainability and its deep commitment to reconciliation. Universities have major roles to play in community development both close to home and around the world, says Hall.
"How do we help solve the issues of the communities where we live? How do we support the efforts of people in low-income countries to better their lives? That has always been part of my purpose."
"The research we do here is important for that, but it's not good enough to just do research within Ring Road. How can we do it in Saanich, in Sidney, in Esquimalt, to help address our communities' big issues? Can we help the Island in its post-pandemic recovery? This feels like a time for transformational change."
A time to be bold
Returning to Canada has been an eye-opener in terms of the different ways Canadian and Australian universities promote themselves to the world, notes Hall. Australian universities are bold and brash, making the most of every chance for recognition both at home and abroad. Canadian universities are often demure to the point of invisibility, and almost universally unknown around the world as a result.
"It has been a revelation to me as well to see just how averse Canadian universities are to risk," says Hall. "It's always a balancing act between agility and process for a university, but coming back to Canada has been a good reminder that the Canadian university scene overall is very conservative."
In his previous position at the University of Newcastle, Hall was a constant traveller. His role in global partnerships meant twice-monthly flights to Singapore, seven hours away, along with many other international destinations.
The constraints of the pandemic have frustrated seasoned and enthusiastic travellers all over the world, but Hall says he's not one of them. Staying home feels right for now, he says.
"I think that part of my life might be fulfilled and over," says Hall. "But I'd love to explore BC more."
Photos
In this story