Alumnus launches Canada's first Indigenous modelling agency
Peter B. Gustavson School of Business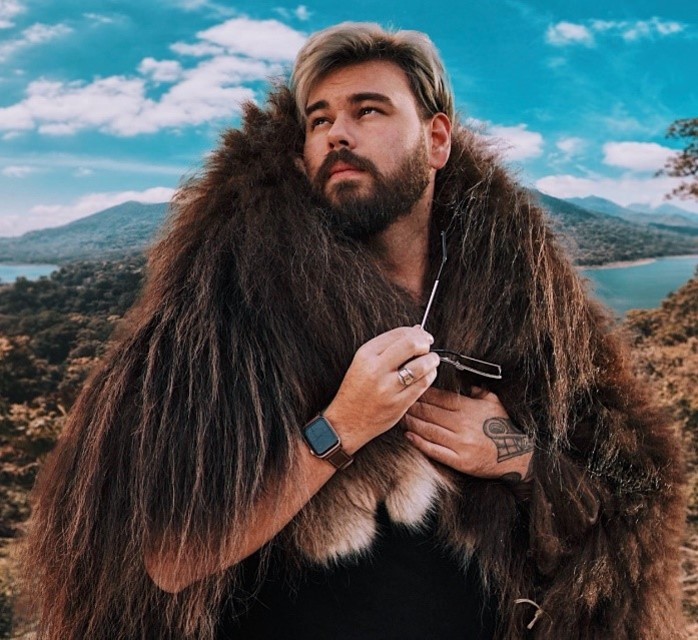 Patrick Shannon, also known as Nang Ḵ'uulas, is shaping future Indigenous generations nationally and internationally. Shannon is an Indigenous film director, award-winning social entrepreneur and change-maker from Haida Gwaii, on the northwest coast of BC. Inspired by his cultural upbringing, he uses technology and media to empower Indigenous people to address social and cultural justice within their communities. Following his completion of the Haida Owned & Operated Indigenous Advancement of Cultural Entrepreneurship (I‑ACE) program, delivered by the Gustavson School of Business in 2015, the young entrepreneur amassed extensive experience working in the Vancouver film industry. Shannon's passion for discovering new ways of empowering Indigenous communities led to his selection by the Canada Council to attend the Salzburg Global Forum in 2017 as one of the top 50 Young Cultural Innovators in the world.
Striving to create change, and elevate marginalized voices through education and youth mentorship, Shannon shifted his focus to the operation of a multimedia creative studio, InnoNative, based out of Haida Gwaii. He used his creative story telling to strengthen his, as well as others', culture through film and media, specializing in short films, documentaries, music videos, promotional videos and online content for communities, businesses and artists. By inspiring Indigenous Peoples as a Gustavson instructor, and national and international facilitator, Shannon pays forward the support and mentoring he received as a young entrepreneur. In May 2021, Shannon embarked on a revolutionary undertaking with Joleen Mitton, international Indigenous model, founder of Vancouver Indigenous Fashion Week and owner/operator of All My Relations LTD—[Supernaturals was born.]
Shannon and co-founder, Mitton, have recently been recognized on multiple, well-known platforms for their new venture, Supernaturals, Canada's first Indigenous boutique modelling agency, based in Vancouver, BC. The agency's focus is to celebrate and increase the representation of Indigenous people at the highest level across Canada and in the global market, in both the commercial and fashion world. At the same time, Shannon and Mitton are dedicated to supporting emerging Indigenous talent through skills development, employment and healing.
The empowering company has gained traction on various platforms, including a feature in Vogue magazine, where Shannon shares the impact and significance of Supernaturals with readers. "There's so little representation [for Indigenous models], and they're often taken advantage of," says Shannon in the interview. "Traditionally, it has been a very hostile industry for Indigenous Peoples. We're trying to set protocols of how to work with Indigenous models, and to make sure things are being done in a healthy, respectful way." Shannon further shares on Global BC News that their goal for Supernaturals going forward is "that [they] want to move past tokenism . . . to change the way Indigenous Peoples are perceived in the media and show that they are just like everyone else."
Shannon remarks that modelling is a challenging industry to get into, and Supernaturals will provide Indigenous Peoples with an avenue to enter. Starting on the west coast of BC, Shannon and Mitton have future plans to expand their reach across the country. Proper representation of Indigenous Peoples in the media is long overdue, Shannon tells the Daily Hive and Supernaturals will offer people an "opportunity to be a part of a healthy reconciliation within the media, fashion, and modelling industries." Recently signed model, Talaysay Campo, reveals that the best part of the agency is getting to work with her people. "We are a family [and] I'm looking forward to showing the world my culture and where I come from because not a lot of Indigenous models are represented in the media and that needs to change." Fostering a safe environment for the models is imperative for Supernaturals, and many of the models have already felt unwavering support from the agency. Going forward, the Indigenous agency hopes to work with other Indigenous-owned brands in Canada in order to further Indigenous culture.
Photos
In this story
Keywords: Indigenous, business, entrepreneurship, alumni
People: Patrick Shannon, Joleen Mitton, Talaysay Campo