National award a boost to marine conservation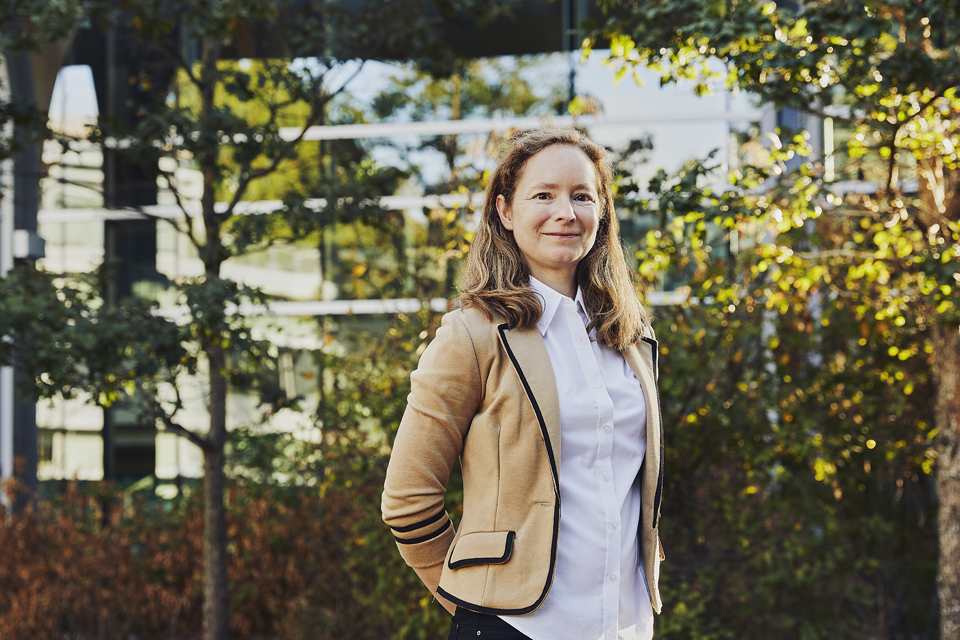 Inspiring new approaches to marine conservation, Natalie Ban is at the leading edge of finding real-world solutions to environmental issues. For her work, Ban received today the prestigious E.W.R. Steacie Memorial Fellowship from the Natural Sciences and Engineering Research Council of Canada (NSERC).
Ban's research seeks to incorporate ever-changing environmental patterns and threats, including climate change, into marine conservation practices and planning. For instance, marine protected areas (MPAs) are well known for protecting biodiversity, but the effects on people who use the oceans are debated and climate change considerations are minimal. Her team's research led to improved consideration of climate change in MPA planning in Canada's Pacific Ocean.
This fellowship is an amazing opportunity to focus on advancing my team's research partnerships and opportunities. It allows me to spend more time thinking creatively, building relationships and co-creating research that can address important marine conservation issues.

—Marine conservation scientist Natalie Ban, the newest recipient at UVic of an E.W.R. Steacie Memorial Fellowship from NSERC
Ban co-creates approaches and solutions with communities, such as her collaborative research with the Central Coast Indigenous Resource Alliance (CCIRA), made up of the Wuikinuxv, Nuxalk, Kitasoo/Xai'xais, Heiltsuk Nations, which witnessed a decline in the Dungeness crab and yelloweye rockfish populations for decades along BC's central coast. Indigenous fishers provided data that filled the gap where no records existed prior to 2003 in the study region.
She says she hopes that considering both Indigenous knowledge and Western science—and interweaving them when appropriate—will address modern fishery problems and inequities in fisheries management, and model a collaborative approach applicable to BC and elsewhere.
"With my approach to partnering in research, I co-create research questions and methodologies with Indigenous Peoples and other partners," says Ban. "Much of my research supports Indigenous authority to steward the oceans."
Every year, NSERC awards up to six Steacie Fellowships that are held for a two-year period. Successful fellows are relieved of teaching and administrative duties so they can devote all their time and energy to research. The fellowships are held at a Canadian university or affiliated research institution.
Ban says she is hoping to spend more time in coastal communities to further build connections and carry out research with partners, especially as related to fisheries reconciliation. She will also be dedicating time to researching the social-ecological outcomes of MPAs. Ban's research reflects UVic's commitment to United Nations Sustainable Development Goals (UN SDGs) to promote prosperity while protecting the planet, in particular UN SDG Goal 14: conserve and sustainably use the oceans, seas and marine resources for sustainable development.
About the E.W.R. Steacie Memorial Fellowships 
On Nov. 17, Natalie Ban of UVic's School of Environmental Studies received a 2021 E.W.R. Steacie Memorial Fellowship, the highest honour bestowed on early career science and engineering professors by NSERC. Established in 1965, E.W.R. Steacie Memorial Fellowships are awarded annually to outstanding and highly promising faculty members across all science and engineering fields. Ban is the first person in UVic's Faculty of Social Sciences to receive this prestigious award.
A media kit containing two high-resolution photos of Ban is available on Dropbox.
-- 30 --
Photos
Media contacts
Natalie Ban (School of Environmental Studies) at nban@uvic.ca
Anne MacLaurin (Social Sciences Communications) at 250-217-4259 or sosccomm@uvic.ca
In this story
Keywords: oceans, Indigenous, climate, environment, sustainability, research, environmental studies, award
People: Natalie Ban