Making higher education accessible to a global audience
Science, Engineering, Fine Arts
- Anne Tolson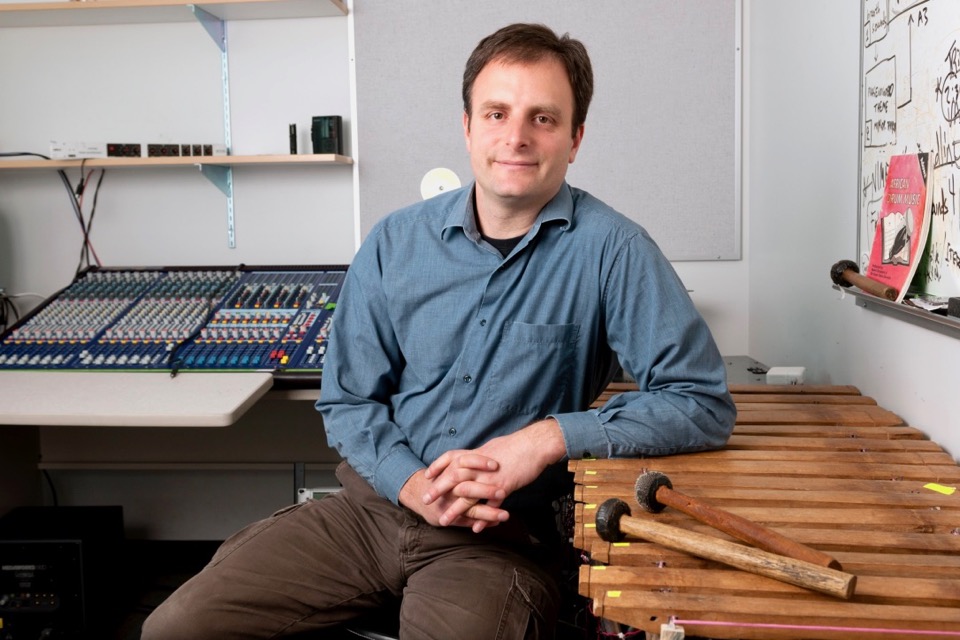 It took a lot of time and effort, but George Tzanetakis says his quest to transform a popular UVic course into an online program accessible to a broad international audience was worth it. 
The professor of computer science recently became UVic's first faculty member to engage the university in a formal contract with a commercial massive open online course (MOOC) provider. 
MOOCs—online courses available to anyone who has a computer and internet connection—are viewed by many as a way to make post-secondary education accessible to millions of people, including those in developing nations. Typically, MOOCs are taught by the same instructor who teaches the course at a university or college. MOOC providers are the large web portals that partner with the schools to offer these courses. Though many MOOCs are free, some—typically those offering certificates, academic credits or degrees—charge a fee.
"Being a first for UVic meant there was a lot of work getting the contract and privacy issues sorted out," says Tzanetakis, who is cross-appointed to UVic's departments of Music and Electrical and Computer Engineering. "But I think courses like this can increase UVic's visibility around the world and I hope this work will pave the way for more faculty members to take a similar path."
Tzanetakis, whose research focuses on the computer analysis of music, has been involved in the combined Computer Science and Music program since 2005. Several years ago, in an attempt to share his work more widely and to attract prospective graduate students, Tzanetakis tried posting some of his lectures on Google Hangout and then on YouTube. A few hundred people showed interest, but Tzanetakis felt the overall video quality was poor and that he wasn't reaching a wide enough audience.
"I wanted to do a better job of it and that's how the Kadenze course came about," he says.
Laying the groundwork
Tzanetakis says it took more than three years from start to finish to get his program launched on Kadenze, a California-based MOOC provider that partners with leading universities to offer online courses geared toward art, music and creative technology.
During the first year, he worked with UVic staff and Kadenze to iron out issues around a contract, privacy and IP. Over the next two years—and with support from UVic's Technology Integrated Learning grant and its Community Engaged Learning grant—he developed the course content.
The multiple components of each course, which included brief promotional videos, had to be carefully scripted. Before the COVID-19 pandemic hit, Tzanetakis travelled to Valencia, California, to work with a team that used a green screen, teleprompter, and multiple mikes and cameras to produce the numerous video segments. 
"It was quite a process, but these videos are much more professionally produced and polished than a typical lecture on Zoom," he says.
Launching the UVic courses
In December, Kadenze officially launched Tzanetakis' three-course program, which focuses on Music Information Retrieval, an interdisciplinary science of retrieving information from music using computers. The courses include topics such as digital signal processing, machine learning, programming, human-computer interaction and musicology.
The first course, Extracting Information From Music Signals, is free to everyone, though a good knowledge of programming, basic linear algebra, probability and statistics is recommended.
Those wishing to delve further into the subject can enrol in the other two courses, Machine Learning for Music Information Retrieval and Music Retrieval Systems. Together, the full program currently costs $350 (US). Although the courses aren't for academic credit, students who take the full program receive certificates endorsed by UVic and Kadenze for each course completed, providing they earn a grade of 65 per cent or higher.
To date, about 2,000 people have taken the courses—1,400 taking the first course and about 300 each of the other two. While most students are from North America, there have also been many from Europe, India, China and Iran.
Importantly, UVic students who enrol in Tzanetakis' original for-credit course can take all three Kadenze courses for free. In fact, his plan is to use the Kadenze version of the course to provide his UVic students with important basic information, leaving more class time open for discussion and interactive exercises.
Paving the way for others
Because the pandemic forced most post-secondary courses online, Tzanetakis says he hopes instructors who are now comfortable with online teaching will consider making the leap to MOOC delivery. He says any UVic faculty members interested in sharing their courses with a much wider audience are welcome to contact him to learn more about his experience.
His first tip for anyone considering an MOOC is that the more unique your course is, the better. A prof who tries to offer basic calculus, for example, will be competing with a large number of universities and colleges that have occupied the MOOC space for years.
"If a course is more unique and specific to UVic, then an MOOC is an excellent way to put it out into the world," he says.
Tzanetakis says it feels great to have the courses online now and that he's glad to have used part of his study leave to focus on the project.
"It does take a lot of effort and it took some time away from my research and teaching for a while," says Tzanetakis, who will be teaching at UVic again this September. "But it's something you can be proud of. For me, just knowing that there are hundreds, maybe thousands, out there who are engaging at some level is amazing."
Photos
In this story
Keywords: teaching, technology, globalization, MOOC, online, education, computer science, music, arts, computers, administrative
People: George Tzanetakis
Publication: The Ring