International supports during a global crisis
- Erin King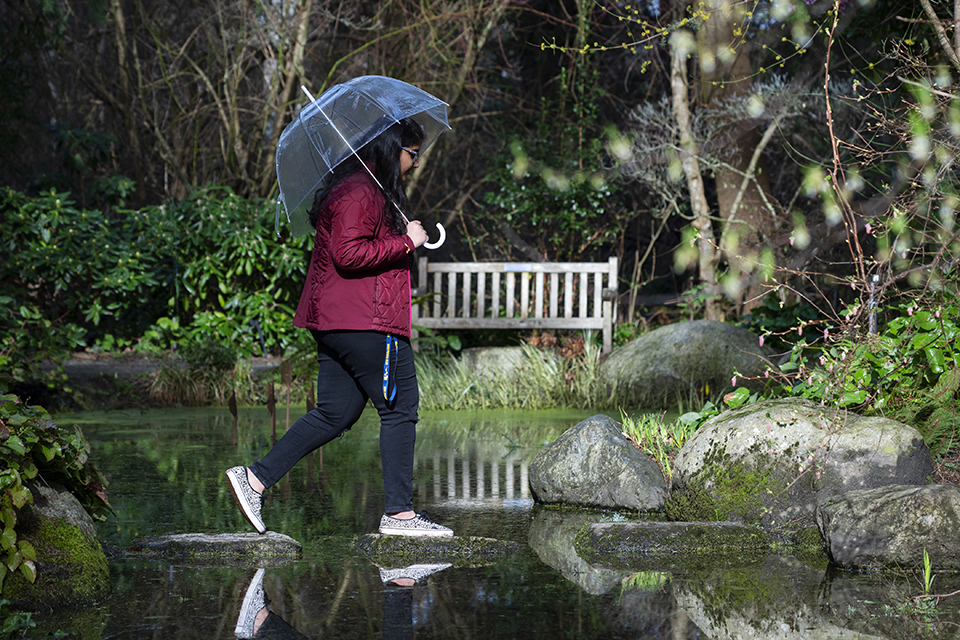 UVic students come from all over the world. When borders closed and learning moved predominantly online, many of them returned to or remained in their home countries for the 2020/21 school year. Now, as we draw closer to an in-person fall term, many international students are scrambling to get immigration documents, travel and self-isolation requirements in place so they can come to Canada.
It's a complex and stressful time for our international students. Thankfully, the UVic community has really pulled together over the past year to develop resources and supports so that we can help.

Tricia Best, Director of International Student Services
With direction from the provincial health officer, UVic is moving ahead with a return to in-person learning and teaching this fall. However, delays in study permit processing, changing travel restrictions and self-isolation requirements mean that many international students may struggle to get to Victoria for the start of term. In response, UVic is offering online sections for programs with high numbers of international students.
Immigration and travel challenges
Most new and many returning international students will need to apply or reapply for a study permit this year and they're experiencing delays. Immigration, Refugee and Citizenship Canada (IRCC) has committed to improving their processing times so that students can attend in-person classes this fall. According to the IRCC website, all complete applications received by May 15, 2021 will be processed by August 6, 2021. Still, many students are struggling to complete their study permit applications due to limited or unavailable in-person services such as Visa Application Centres (biometrics collection centres) in their country of application.
Once their permits are approved, international students will face travel and self-isolation restrictions. For example, as of April 22, Canada has suspended flights from India and Pakistan. These and other travel restrictions can change quickly. Moreover, the federally-mandated hotel stopover at a government-approved hotel adds a significant expense for students already committed to costly travel.
Support from International Student Services
"International Student Services is ready to help our international students navigate these challenges," says Best. Over the past few years, the size and scale of ISS work has grown along with the institutional mandate for increasing international enrolments and enhancing the quality of the international student experience. The unit recently decoupled from the Academic Advising Centre into a distinct unit with Best at the lead. In response to COVID-19, they've further increased their capacity for the growing demand on their services by adding one Regulated Immigration Practitioner and a half-time frontline adviser. This is just one of the many new supports for international students this year.
UVic's Student Self-Isolation Program, developed by ISS, offers pre-arrival planning to current students for travel and self-isolation requirements. It also provides help with finding appropriate accommodation and food, medical care, social and mental health support, and daily check-ins during self-isolation.
The Self-Isolation Program will be a critical resource to our international students as more and more make the journey to Victoria over the coming months.

Tricia Best, Director of International Student Services
In addition, ISS partnered with OREG to administer emergency funding to students impacted by unexpected changes to travel restrictions and self-isolation requirements in the fall and spring terms last year. Thanks in a large part to initiatives like these, more than 400 international students came to Canada this past school year despite the fast-evolving pandemic.
Most international students did not get a chance to experience first-hand the in-person welcome, supports, and community that is essential to the UVic experience this past year. The ISS team were active champions for UVic – helping to build an affinity for and relationship with our university through virtual engagement and peer-to-peer connection programs. These important programs were well received and will continue in the fall.
In today's rapidly evolving COVID-19 landscape, immigration rules, travel restrictions and settlement requirements can change quickly. Our international students need up-to-date, authoritative advice on immigration matters to support their success at UVic. Best says, "the Regulated Immigration Practitioners in ISS and the Gustavson School of Business are authorized to provide immigration advice to students and their accompanying family members. They're really best-placed at UVic to give this advice."
Current international students can reach ISS at issinfo@uvic.ca if they have questions regarding immigration, settlement, transition, community building, self-isolation and/or travel. Prospective international students, parents and counsellors can contact Student Recruitment at recruitment@uvic.ca.
Photos
In this story
Keywords: international, student life, administrative, immigration
People: Tricia Best