Elaborate project forges global network on border studies
Human and Social Development, Social Sciences, Humanities
- Tara Sharpe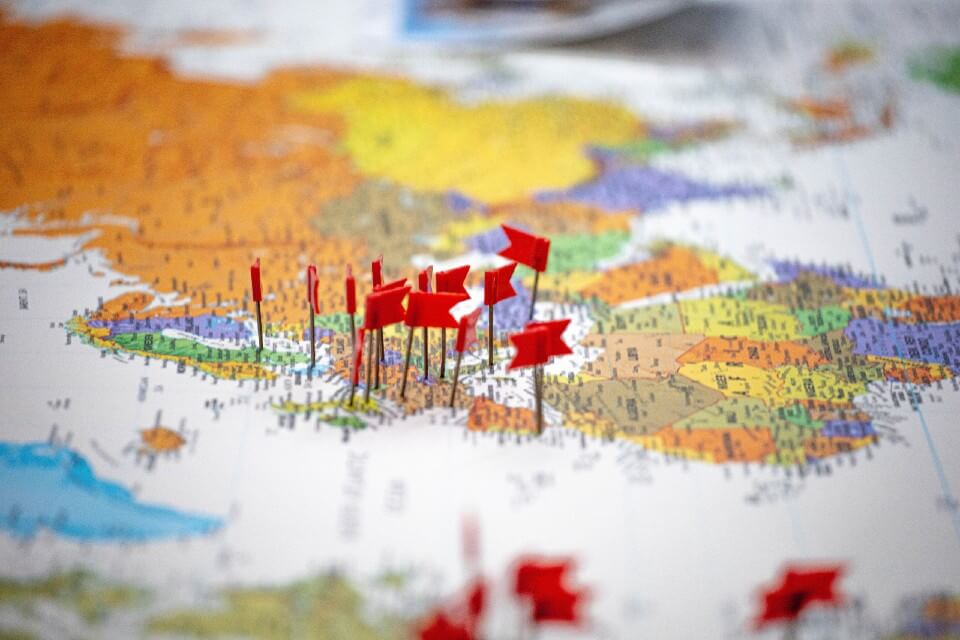 A massive project, Borders in Globalization (B.I.G.), exploring the changing nature of borders—real, remote and virtual—in the 21st century recently received the biggest portion of federal funding of more than $9 million to the University of Victoria.
In 2014, when the influential global research project was first announced, B.I.G. was one of the largest research partnerships (for number of people and organizations) to date for UVic and the first Social Sciences and Humanities Research Council (SSHRC) partnership grant for our university.
Now in phase two, B.I.G. (renamed 21st Century Borders: Emergent Challenges Among and Within States) has received another $2.5 million from SSHRC for another seven years.
We know that borders and bordering processes are increasingly networked, mobile and functional. Borders and their reach are no longer strictly contiguous, tied to territory or bound by geography. Our multi-partner project will co-produce research with international cross-border organizations, connecting research with real-life knowledge-users.

—UVic political scientist Emmanuel Brunet-Jailly, a Jean Monnet Chair and principal investigator of 21st Century Borders, a global research project led by UVic
The project, which is based at UVic's Centre for Global Studies (CFGS) and includes academic partners from Canada, the US, Europe, Asia and the Middle East, brings together nine intergovernmental and transnational organizations plus leading scholars from 16 universities in 15 countries from Australasia, Europe and North America to Africa, Latin America and South Asia. See a full list of institutions and scholars.
More than one type of border
Brunet-Jailly, a professor in UVic's School of Public Administration, has led the global project for the past seven years. Affiliated with the CFGS and UVic's Faculty of Social Sciences, he is the Jean Monnet Chair and editor of the Borders in Globalization Review and the Canadian American Public Policy, two academic journals.
The borders project is also now co-led by UVic humanities scholar Jeff Corntassel, who is from Cherokee Nation and associate director of UVic's Centre for Indigenous Research and Community-Led Engagement (CIRCLE). An associate professor in Indigenous Studies at UVic, Corntassel focuses his research and teaching interests on Indigenous political movements, community resurgence and sustainable self-determination, with a focus on contemporary strategies for revitalizing Indigenous communities. He was the first person to represent the Cherokee Nation as a delegate to the United Nations Working Group on Indigenous Peoples in the 1990s.
This innovative project takes a deeper look at Indigenous nationhood and grassroots approaches to international relations so that we can better understand new forms of solidarity, alliance, and treaties between Indigenous Peoples and communities, including LGBTQ2S+, Black communities, and Pacific Peoples.

—UVic political scientist Jeff Corntassel, Cherokee Nation, and associate director of CIRCLE, a research centre at UVic
Brunet-Jailly adds that the study of borders is not only based on actual physical border but also very much centred around the concept of crossings, and he anticipates a day when the entries and exits to real borders will turn out to be wherever they may be required; he conjectures that even passports might become a thing of the past and could be replaced by apps.
The research network is focused on exploring and investigating real issues and societal pressures that people are continually facing on a regular and often daily basis.
For instance, Brunet-Jailly points to the situation this month in Western and Central Europe with extreme flooding: "The boundaries of the climate crisis are the ecological frontiers of life on Earth, which many specialists, policy-makers and activists have defended since the 1970s, and the crisis is in our face, yet many geopolitical actors still do not see that it requires a very serious and concerted effort of the international community urgently."
Together, Corntassel and Brunet-Jailly intend to create the largest research network of communities, policy-makers and academics to better understand Indigenous internationalism and border studies world-wide.
The research project specifically aims to:
foster and integrate policy with professional and academic research, as well as develop training and publications on the rapidly evolving field of border studies;
examine the dynamics of Indigenous internationalism, Indigenous feminisms, and the self-determining authority of Indigenous nations, which lead to new forms of community mobilization that transcend state borders;
maintain and enhance Canada's prominence as a leader in border studies; and
generate expertise—theoretical, empirical and policy driven—to contribute to the field of border studies.
Big funding supports major research
The project continues to be made possible by funding from SSHRC and the European Union. In addition, its academic partners contribute matching funding and its non-academic partners provide cash and in-kind support.
The advent of the new SSHRC grant also helped leverage additional funding from 27 partners including the Canada Border Services Agency, the World Customs Organization, the Pacific Northwest Economic Region and the European Association of Borderland Region, among many others.
The total amount of research money raised (including the $2.5 million) is $5,621,088 with $2.96 million for students and emerging scholars in the form of grants.
Seven years and counting
Since 2014, the B.I.G. network, colleagues and students has initiated over 130 research projects on a diverse range of topics related to borders in globalization. They also provided research opportunities and training to more than 180 undergraduate and graduate students; hosted two international conferences and 10 summer institutes, two dozen workshops; and held multiple policy forums and roundtables. The team also finalized publications and launched a signature journal (Borders In Globalization Review–open access available online to be read on phone and tablets) and a book series before the first phase of the global project drew to a close.
Find out more
Photos
In this story
Keywords: international, research, partnerships, globalization, administrative, Indigenous
People: Emmanuel Brunet-Jailly, Jeff Corntassel