Solopreneur named BC's best
Peter B. Gustavson School of Business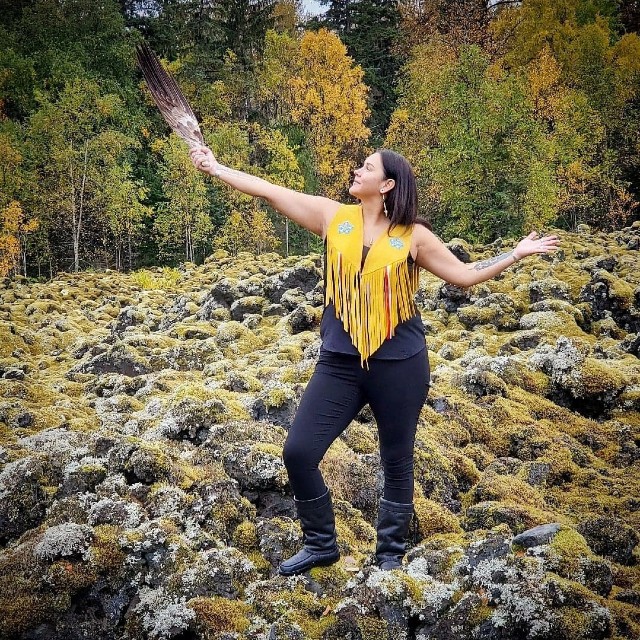 Jaimie Davis, creator of Indigenous wearable art, was recognized as the inaugural Best Solopreneur at the 2021 Small Business BC Awards. In an unprecedented year for small business, the new award recognizes an individual who started a solo business, "wore multiple hats" and navigated challenges while growing the business on their own. Davis, an entrepreneur from the Gitxsan and Nisga'a Nations, built her business, Jada Creations, on her original jewelry designs.
BC has the largest share of solopreneurs in Canada, and this year's award acknowledges Davis's vision, resilience and passion in a very competitive landscape. Davis had a dream to bring Indigenous stories back to life. Inspired by her culture and her son, she launched her business as a way to live her truth as an Indigenous woman. As the business grew, she regained her voice and feels passionate about sharing her story through her jewelry as a symbol of resiliency.
Being marginalized my whole life put me at a huge disadvantage but my passion for my culture and desire to create is so much stronger. I've stepped on this path and I am never looking back.—Jaimie Davis, owner Jada Creations
Davis is a 2016 graduate of the award-winning Northwest Aboriginal Canadian Entrepreneurs (NW-ACE) program. The innovative program was launched in 2013 by Tribal Resources Investment Corporation (TRICORP) and the University of Victoria, Gustavson School of Business. TRICORP's CEO, the late Dr. Frank Parnell, was the catalyst for the ground-breaking approach to bring entrepreneurial education to northwest BC. He invited Brent Mainprize, teaching professor at Gustavson, to co-develop and co-direct a program that would provide the knowledge, skills and experience prospective Indigenous entrepreneurs need to successfully launch and manage a business.
The [NW-ACE] program gave me strength and skills to move forward with my business. It gave me a lot of confidence being surrounded by like-minded people, and our program manager [Cory] truly believed in all of us. Jada Creations would be a lot different without ACE. —Jaimie Davis, owner Jada Creations
Now a thriving artist and designer, Davis no longer questions who she is as an Indigenous woman. Through Jada Creation's e-commerce channel, she is sharing the stories and histories of her culture with a worldwide audience, while supporting the fight against cultural appropriation.  
Cory Stephens, ACE program manager, describes Davis's journey:
Like the unity of Nations represented in an artist's strands of a woven cedar rope, Jaimie Davis exemplifies a beautiful combination of talent, passion and motivation. As an artist, entrepreneur and advocate for change, Jaimie's values originating from the traditional teachings of her Gitxsan and Nisga'a Elders provide her with a solid foundation to take her place among the new generation of Indigenous business and political leaders in Canada.
Since 2013, the ACE has been delivered to 40 cohorts with students from 67 Indigenous communities in BC. Of 564 graduates: 67% identified as female, 184 have started businesses, 61 are pursuing further education while many others have secured employment with the skills gained through the entrepreneurship training. The ACE program rebranded in 2020 and is now known as Indigenous Advancement of Cultural Entrepreneurship (I-ACE).
Photos
In this story
Keywords: indigenous, business, entrepreneurship
People: Jaimie Davis, Brent Mainprize, Cory Stevens