Engineering expansion to build climate resiliency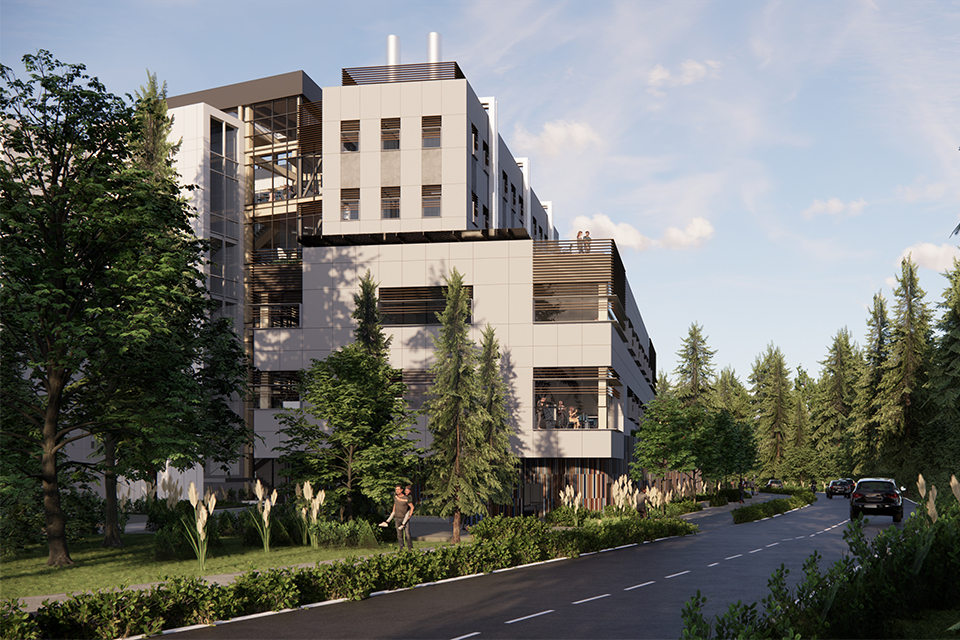 UVic has reached the detailed design stage of the engineering expansion project of world-leading green buildings that combine leading edge energy efficiency design features with a mass timber structure, and green and solar roofs that showcase UVic's expertise in environmental sustainability.
The buildings will serve as a living lab for experiential learning, research and industry partnerships to build community resilience and tackle climate change, clean energy and healthcare solutions. Funding still needs to be secured, to bring this vision to fruition.
"Through the expansion of our engineering and computer science facilities, we are leading by doing—advancing green building design and construction, fostering innovation and technologies to create new jobs and prosperity for the province, and deepening our commitment to climate action and sustainability on a local, national and international level," says UVic President Kevin Hall.
Expansion plans include a six-storey extension to the existing Engineering and Computer Science Building. The 5,906m2 mass timber extension with a green roof will include multidisciplinary instructional and research labs with highly specialized equipment and infrastructure, design studios, computer labs, faculty and graduate student office space.
An adjacent 2,253 m2 High-Bay Structures Research Lab (HBRSL) will be located on parking lot A near the Engineering Lab Wing and will feature a three-storey space equipped with a gantry crane, a large shake table and other engineering facilities which will serve the unique needs of civil engineering research. In addition to research focused on structural testing, the HBSRL will also accommodate large-scale experiments related to geotechnical, and materials and building science research.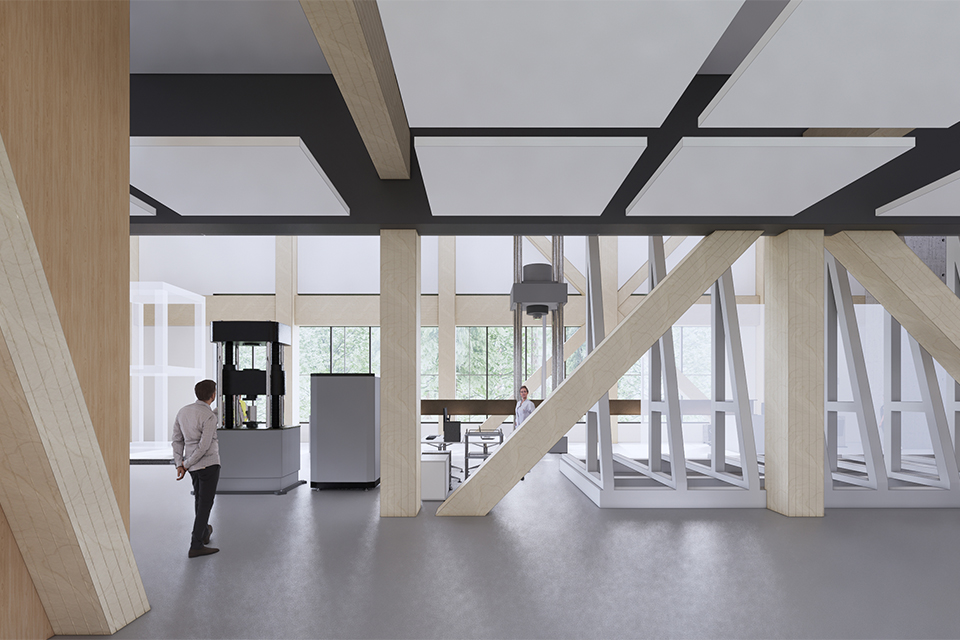 The growing demand for engineering and computing science spaces
"These facilities will help the faculty of engineering attract world-class scholars and talented students to UVic—scholars and students who will develop innovative technologies to address the problems that are changing the world around us," says Acting Dean of Engineering Peter Wild.
The building expansion will fill an urgent need for teaching and purpose-built lab space. The number of undergraduate students in the faculty has more than doubled since 2009. This continued growth is driven by popular new programs and labour market demands. The Province of BC is providing substantial funding to increase engineering and computer science enrolments at UVic by 500 new undergraduate degree spaces—a 25 per cent increase—by 2023. 
Support for the project's design and sustainability features
Online surveys revealed strong support for the vision of the expansion project, including the orientation of the buildings along Ring Road to create an engaged pedestrian realm, the buildings' use of mass timber, forest views, social spaces, natural light and student common areas.
Survey respondents also expressed strong support for the buildings' sustainability features, including water efficiency, zero-carbon certification and photovoltaic panels and leading-edge energy efficiency. To support campus transportation demand management goals, the project will incorporate covered and uncovered bike parking stalls, end-of-trip facilities such as showers and lockers, and cycling and pedestrian pathways fronting Ring Road. Learn more about the sustainability features.
The third and final round of public engagement on this project wrapped up in early October 2020, with over 1,140 people providing feedback on the proposed building designs. More than 500 people, including over 300 students, participated in the fall virtual open house online survey.   
Funding is being sought from provincial, federal and philanthropy that, together with UVic contributions, will allow the project to move to construction. Construction is scheduled to begin in fall 2021 if funding has been secured.
Photos
In this story
Keywords: engineering, industry partnerships, climate, clean energy, ECS expansion, administrative
Publication: The Ring