Environmental DNA research builds on Indigenous ecological knowledge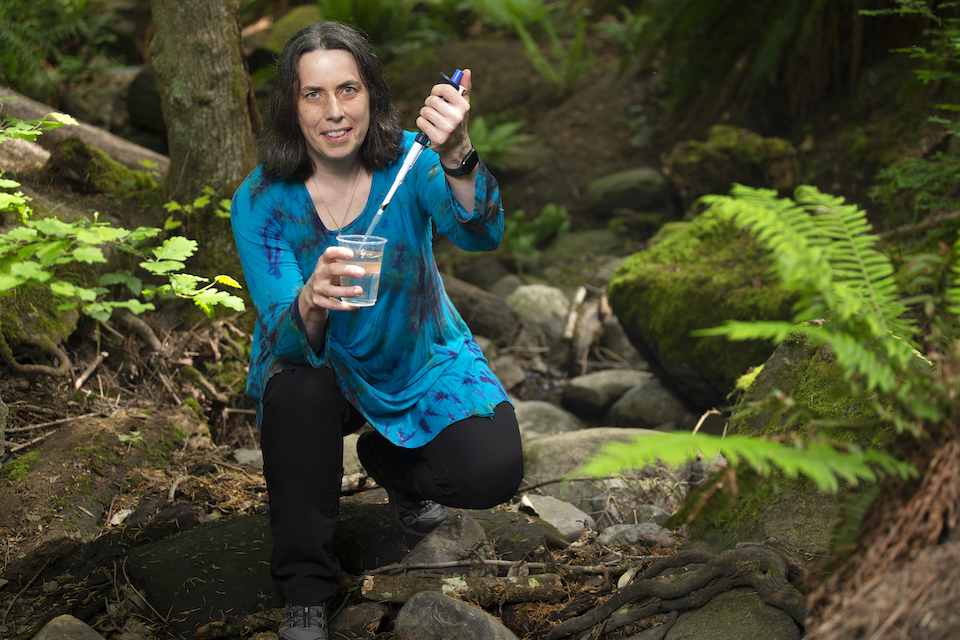 Indigenous ecological knowledge (IEK) is the basis for local level decision-making in food security, human and animal health, education and other vital economic and social activities. In the emerging field of environmental DNA (eDNA) analysis, a non-destructive, rapid and cost-effective way of gathering accurate biodiversity information, the value of IEK is even more critical. This powerful combination of knowledge systems reveals ecosystem health and how multiple elements impact the environment—crucial information for making effective and respectful natural resource management decisions.
University of Victoria biochemist Caren Helbing co-leads a pan-Canadian project called iTrackDNA that includes Indigenous groups across the country to build capacity to track regional biodiversity changes using eDNA technology. eDNA analyzes genetic material shed from organisms into their environment. This project includes enhancing computer predictive models to determine the best sites for species re-introduction, protection, hunting/trapping and other land management decisions.
iTrackDNA was built from many research collaborations. For example, Helbing collaborated with the Chipewyan Prairie Dene First Nation and Sarah Hechtenthal (Parks Canada) to uncover the overwintering sites for a culturally and ecologically important fish, the Arctic grayling. No scientific data for winter habitation existed, but IEK shared through generations suggested several possible sites in a river system. Drilling through the ice, the research team collected water samples to examine the genetic material shed from organisms into their environment. This eDNA analysis confirmed the presence of Arctic grayling.
"We are very excited about working with First Nations, regulators, industry and non-governmental organizations to build capacity for eDNA applications," says Helbing. "Current practices will be transformed to make more informed and timely management decisions. It's a game changer."
Helbing recently co-authored a needs assessment report for eDNA for the CSA Group, which led to the creation of the first national standard for eDNA reporting requirements and terminology soon to be released. Together with her iTrackDNA research team, she is developing accessible eDNA tools and resources and facilitating a targeted eDNA detection national standard. The $12-million project is funded through Genome Canada, Genome BC, Genome Quebec and 26 other partners.
"eDNA will revolutionize what we know about species in the environment," says Helbing. "With better, timely information grounded with Indigenous ecological knowledge, we can launch more effective strategies to counter invasive species and protect those at-risk."
Read the Genome Canada news release.
-- 30 --
Photos
Media contacts
Caren Helbing (Dept. of Biochemistry and Microbiology) at 250-721-6146 or chelbing@uvic.ca
Dorothy Eggenberger (Communications, Science) at 250-721-8745 or scieco@uvic.ca
Robyn Quinn (University Communications + Marketing) at 250-415-7020 or scomm@uvic.ca
In this story
Keywords: Indigenous, genetics, research
People: Caren Helbing