Proof that policy can transcend partisan power
- Kate Hildebrandt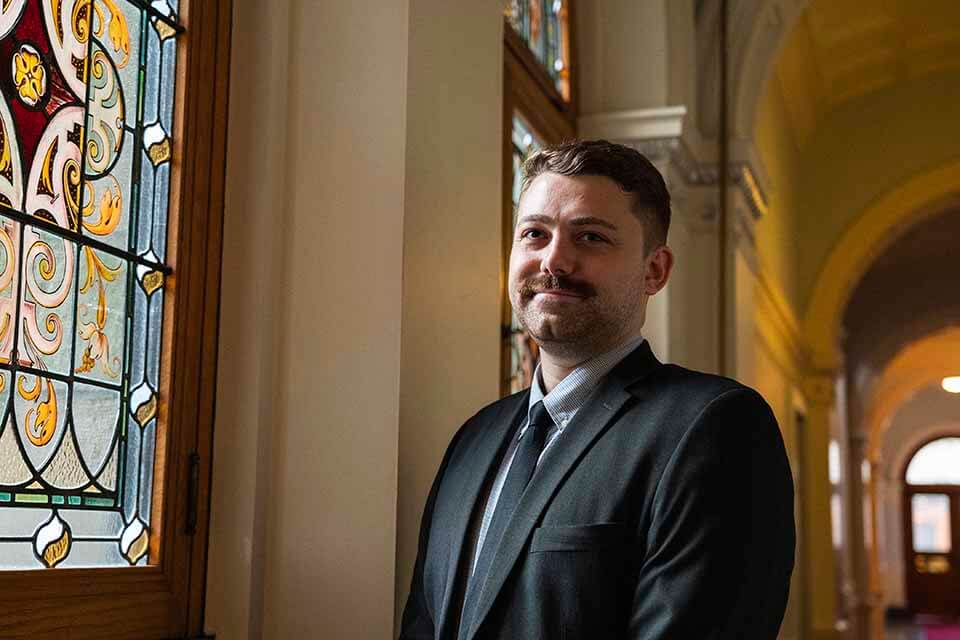 Matthew Creswick, who graduates from UVic this November with a Master's in Public Administration, has walked the long hallways and worked in many of the ornate chambers of Victoria's Parliament Buildings during his three years of employment with BC's Legislative Assembly—and has made a surprising contribution to our understanding about how democracy works in BC.
Upending the perception that the bare-knuckle partisan politics which drives Question Period also prevents BC's opposition parties from influencing the government's policies, Creswick's careful research —conducted as part of his UVic studies—shows that the collaborative work done by MLAs from both the government and opposition parties nevertheless helps to shape the annual budgets and public spending priorities of government.
That insight stands as confirmation, in a sense, of both Creswick's own non-partisan values of service and the nature of his work at the legislature.      
As a Parliamentary Education Researcher, people depend on Creswick's writing, depth of understanding and non-partisan values.
These skills are immensely valuable and I apply them in my work every day. What I do is just one of many niche roles where you can work and learn about the role of government in our communities, which is not to be confused with the role of politics.

—Matthew Creswick, UVic class of 2021
He interacts with politicians, learns about the many challenges facing British Columbians, rubs shoulders with reporters and journalists, supports new interns, develops new educational outreach initiatives, and answers any questions the public might have about the assembly.
And while he's been doing that, he's been completing his master's degree—joining study and practice with solid research.
"Matthew was a strong graduate student," says assistant professor and graduate supervisor Tamara Krawchenko. "He wrote a fantastic master's project on parliamentary committees that was linked to his work with the Legislative Assembly."
His research explored the impact of parliamentary committee recommendations on real-life provincial government policy. In BC, government is not obligated to provide any follow-up to committee recommendations. His work explored the impact of these committees—a relatively unstudied element of parliament's functioning, whose impacts remained largely unquantified, until now.
He created a test case to see if recommendations from the Legislative Assembly's Select Standing Committee on Finance and Government Services, for example, were reflected in the annual budget of the provincial government.
"The major contribution of this research," says Krawchenko, "was to highlight the role of parliamentary committees to better understand their work and potential impact."
A guiding value to serve
There was no single experience that drove Creswick, now 27, to return to UVic to pursue his master's. "I just saw how valuable my earlier learning was to the work I was doing," he says. "And I applaud UVic for supporting those skills."
Born and raised on rural Saltspring Island, Creswick was inspired by his parents—a home-care nurse and a middle school teacher—and witnessed their good work. "They showed me their amazing capacity as public servants to improve and change their communities. This was a constant in my life."
That drive to serve guided Creswick to the public sector in a broader sense, wanting to be involved in how this province is governed, yet he's in no hurry to commit to any partisan cause. There is an extensive non-partisan world to be discovered in government work, Matthew will tell you, where a wealth of variety and opportunity is available to those interested in policy, planning and procedure.
"I couldn't imagine myself being happier working anywhere else."
His trajectory was, in a sense, foreshadowed when he moved to BC's capital at 17 to attend UVic. Keen to prepare for his future career, Creswick confides that his first year was not his strongest.
Nevertheless, he graduated with a BA plus honours in 2017 and was accepted into the BC Legislative Internship Program—putting him to work with MLAs, political staffers and public servants from across BC. "It was my first office job and an amazing opportunity that really helped me decide where I wanted to go next."
Drafting legislative proposals in the Ministry of Advanced Education, Skills and Training and working alongside the Official Opposition's research office to support house and committee debates were just a few highpoints of his internship.
"Everyone knows you're an intern, that you're there to learn, so the support is genuine and non-partisan," he explains. "Developing very high non-partisan values is vital to succeed during the internship."
After six months, that work had primed him for something new and different.
As if on cue, Creswick was offered a rare opportunity to work with the BC Legislative Assembly—often referred to as the heart of government—as an Administrative Assistant, which led him to his current role.                                                                               
The nature of this work and the mix of relationships compelled him to return to UVic and complete his master's. "I realized I had a chance to really learn about what it takes to be a civil servant from both the academic side and from my own firsthand experiences on the job."
Creswick also received a scholarship in 2020 from the Association of Former MLAs of British Columbia, another positive sign he was on the right track.
The take-away? Political progress isn't always about adversarial posturing. Working on legislation, analyzing governmental and parliamentary procedures, delving into intense policy issues: this is also the heart of politics, says Matthew. "These are invaluable experiences that inspire me and make me want to learn more."
He's now considering law school while staying close to the core of this career he has forged for himself.
Photos
In this story
Keywords: convocation, public administration, policy, government, administrative, student life
People: Matthew Creswick
Publication: The Ring