Celebrating Shelagh Rogers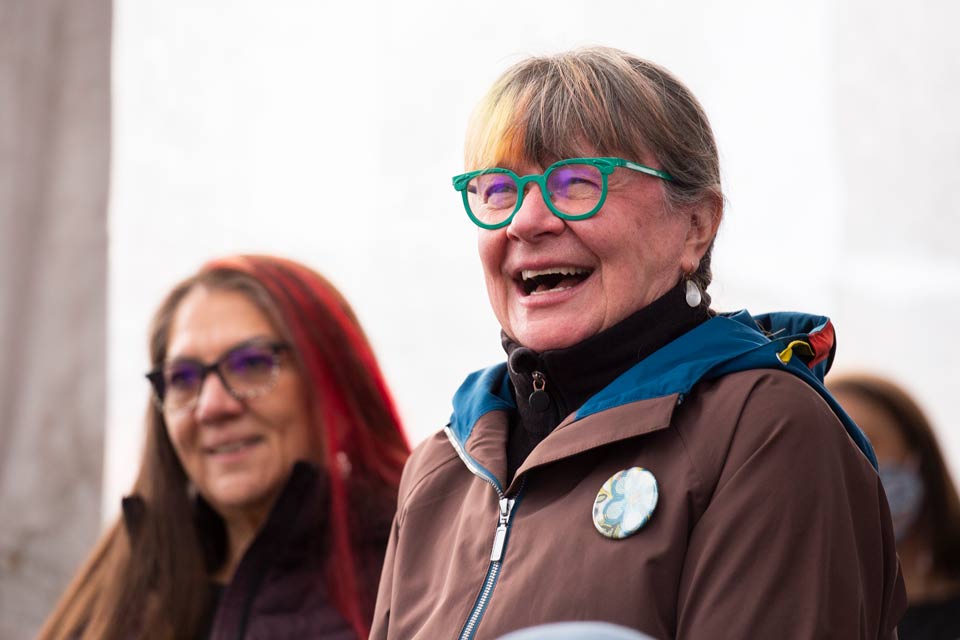 Fittingly enough, the story of Shelagh Rogers' life-changing adventure as University of Victoria chancellor opens with a literary twist.
The story begins in 2013, when the long-time host of CBC's The Next Chapter was enjoying a "really fun and raucous" evening at UVic hosting a tribute to create a scholarship in honour of the poet and retiring UVic professor Lorna Crozier. Two friends on faculty asked Rogers if they could throw her name into the hat in the search for UVic's next chancellor. Rogers tossed out a cheerful "Sure!" and the night concluded.
But the wheels had been set in motion. The next person to ask her the same question months later was calling on behalf of the chancellor search committee. Rogers was in Cape Breton when the call came, attending the funeral of her dear friend and novelist Alistair MacLeod.
"I didn't even know what a chancellor was, or what they did," recalls Rogers. "There were challenges to me taking the role. I wasn't a UVic alumna. I live on Gabriola Island. I live with depression, which meant there would be times when I couldn't fulfill my duties. Like the Volkswagen at a wedding, I came dragging all kinds of cans behind me."
"But Jamie Cassels, UVic's president at the time, told me that UVic was committed to doing more around mental health for students, and that my depression would be no more of a problem than if I had the flu or a sprain and couldn't make an event. Everyone was so gracious, so accepting. And I thought, well, let's give it a try."
Rogers began her first term as UVic's 11th chancellor on Jan. 1, 2015, immersing herself quickly in her new voluntary role and the rigorous committee work and ceremony that the position encompassed. Seven years on, she will wrap up an extended two terms on Dec. 31, having stayed on for an additional year because of the pandemic.
The role will end but the bond is forever, says Rogers. Her moving and vivid stories from her time at UVic had both subject and interviewer dabbing their eyes during the interview for this article. UVic President Kevin Hall agrees that there's definitely a special connection between UVic and Rogers.
"Her term as chancellor may be coming to an end, but our connection is not," says Hall. "In fact, we are just getting started."
A change of traditions
Rogers' passion for truth and reconciliation has been an ideal fit for the university in the challenging and difficult work of moving away from a colonial past that has shaped the people, practices and policies of virtually every Canadian university for more than 200 years.
"I am an honorary witness to the work of the Truth and Reconciliation Commission, which let me come here with what I'd witnessed there," says Rogers. "I'm so proud of UVic for being on its own journey to truth and reconciliation. So much groundwork has been laid."
Every detail matters when trying to change the world, and Rogers got an early chance to impact a colonial practice at her first spring convocation in 2015. The tradition at the time was for each student receiving a bachelor's degree to kneel in front of the chancellor's chair on their way across the stage.
But when Indigenous student Hjalmer Wenstob's turn came, he stopped in front of Rogers and quietly told her that, with all respect, his family had asked him not to kneel. "Oh, I'm down with that!" said Rogers through her live mic. By the fall convocation that year, the practice of kneeling in front of a seated chancellor had been replaced by a touch on the shoulder from a standing one.
"No Indigenous person should be bowing or kneeling in front of me. No graduate should. If anything, it should be me kneeling to honour them," says Rogers.
She also suggested an alternative to having organ music open every convocation. "We now have sacred Indigenous songs and drumming, so generously shared by cultural practitioners from the territories the university stands on," says Rogers.
Songhees Elder Dr. Skip Dick has brought his leadership to the challenge of instilling UVic ceremony with Coast Salish protocol, adds Rogers. Dick "delivers a lesson in Coast Salish protocol at every opportunity," whether that protocol is about clearing the path of obstacles for graduating students and their families or welcoming a new university president to the territory.
"One of my proudest days was being able to confer on Skip an honorary doctorate of education in my first year as chancellor," says Rogers. "To be able to say 'Dr. Skip Dick'—you feel like the universe is back in balance when something like that happens. Same with conferring an honorary degree upon the Knowledge Keeper Barney Williams. Two powerful events, restoring harmony."
Growing the conversation on mental health
Rogers lives with depression, and has deeply appreciated the chance to be part of a growing dialogue on campus focused on students' mental health. 
Almost every time I hosted a mental health awareness event, there would be a number of students presented in a line, each stepping forward to tell a bit of their story, then back while another did the same. They alternated like that in a kind of a story weave. I could never have done that at their age. They are so courageous. It was so inspiring."

—UVic Chancellor Shelagh Rogers
Years of honing her skills as a CBC host turns out to have much relevance to the work of a chancellor. For that same mental health event, Rogers drew on her experience to conduct live interviews with the mental-health experts or people with lived experience participating in the event.
But she also learned a hard lesson early on that not everything about journalism is a good fit for a chancellor. A truly painful memory from her first six months involves an incident when she followed the long-standing journalistic instinct to be the first to break a story—in this case, the 2015 death of Joyce Underwood, a founding member of UVic's Elders Voices program.
Rogers had great respect and love for the Elder, and rushed to post a tribute to her on Facebook. Unbeknownst to Rogers, that was a grievous breach of Coast Salish protocol, which honours those who have died by not publically saying their name or sharing their image for a year.
The university's First Peoples House brought it to her attention and gently corrected her. Rogers felt mortified by the error. She immediately deleted the post and apologized to Underwood's family.
"Friends said to me at the time, 'Well, you didn't know.' In truth, I didn't ask. Like a journalist, I wanted to be first with the story," says a still-apologetic Rogers.
But a good story can also change a life, she notes—something that the late Ojibwe author and Rogers' friend Richard Wagamese imprinted on her. "All that we are is story," wrote Wagamese. "It is what we arrive with. It is all we leave behind." Rogers has shared his words at many UVic convocations.
"Richard made me think about the choices we make in creating our own story. He was all about how we can shape our own story," says Rogers. "The therapy I have been through for depression is all about reshaping the narrative–that our stories are not finite. I like sending students off with the understanding that they can create the best possible person by making choices that shape their personal story."
Hall says Rogers has won over the entire university community with her enthusiasm, goodwill and compassion.
"She has taught us a great deal, and made a huge impact on our university. I am entirely confident that UVic is a better place because of her."
Passing the torch
As her chapter as chancellor comes to a close, Rogers recalls the day earlier this year when she learned that BC Provincial Court Judge Marion Buller will be the next chancellor. Buller is a UVic law graduate and the first female First Nations judge to be appointed to a provincial court back in 1994.
"I happened to be looking out the window at the Salish Sea when I heard that Marion had said yes. At that very moment, two orcas breached. You can't get more of a sign than that!"
Rogers plans to heed the advice of a chancellor friend at the University of Manitoba, Anne Mahon, to take some time for herself before jumping into whatever lies ahead.
"She sent me a lovely note pointing out that, yes, when something ends, something else begins, but that the in-between time is good to rest in. I think that's what I'll do," says Rogers. "A rest will create a space for what's next."
Not that it will be a silent rest, or one that takes Rogers too far from her deep commitment to the issues that have defined so much of her life's work and her role as chancellor.
"I realize that I have a platform, and it has granted me access to worlds that I would never have been able to be part of otherwise," Rogers notes. "But I've had to be mindful of my role at the university in terms of what I was out there saying.
"Now, I'm hoping to use my voice in more direct ways. I'm looking forward to being able to take the cork out!"
Photos
In this story