Vikes Breakfast events surpass $6 million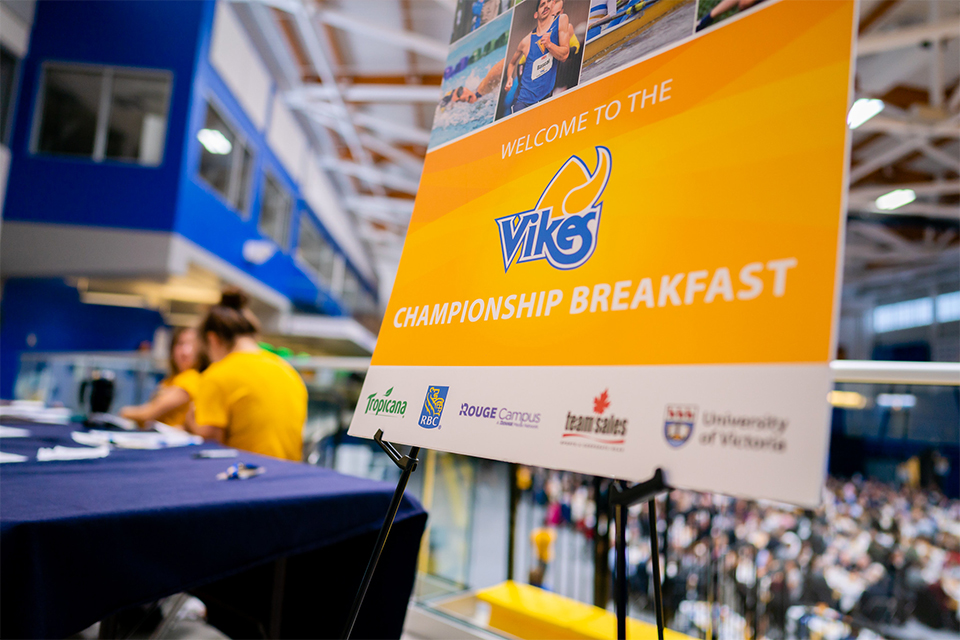 Virtual Vikes Championship Breakfast pushes 13-year total over $6.1 million for student-athletes
In a year unlike any other, the University of Victoria Vikes still managed to pull off their most important student-athlete scholarship event of the season.

The 13th Annual Vikes Championship Breakfast went virtual for 2020 with a near 40-minute capsule of the usual event went live on Nov. 5 for all student-athletes, coaches, staff, alumni and donors. With UVic matching $200,000 again this year, the 2020 event totalled more than $525,000 for student-athlete scholarships. With financial support still coming in, the 13-year breakfast events have now cleared the $6.1 million mark since the inaugural event in 2008.
In years past, the annual event featured over 600 community members, alumni, on-campus leaders and supporters in the McKinnon Gym and then, starting in 2015, the CARSA Performance Gym. This year, the same supporters gathered from the comfort of their own home to watch a premiered feature video with their own breakfast.
Former Vikes women's basketball guard Deborah Yeboah, served as this year's keynote speaker. Yeboah was UVic's President's Cup Award co-winner in 2013 as the most outstanding student-athlete both athletically and acadmically. She was a multiple Canada West All-Star award winner and Academic All-Canadian and was a prominent member of the Vikes varsity council. Yeboah, a Humanities graduate, suited up for the Vikes from 2008 to 2013 and delivered her feature message from her living room in Winnipeg, Man.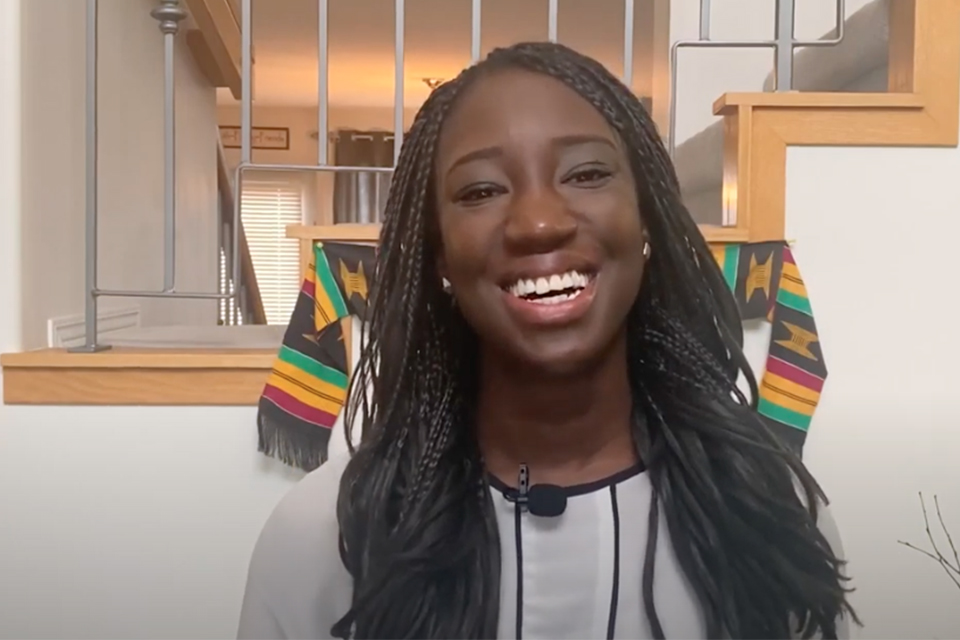 "It certainly was an interesting experience; I needed my brother's help recording my speech on my phone. I obviously would have loved to be there in person, but it still served as a great chance for me to get in touch with a bunch of people that I hadn't heard from in a while. Once the news went out that I was the keynote, I had lots of friends and former teammates reach out to me. That was one of the coolest parts of this project," said Yeboah, who graduated earlier in the year as valedictorian from McGill Law. 
Now articling as a lawyer in Winnipeg after playing two seasons of professional basketball in Europe, Yeboah spoke about two factors that allow student-athletes to succeed at UVic: hard work and opportunity.
UVic opened a lot of doors for me and got me to where I am today. None of that would have been possible without hard work and opportunity, so I felt it was important to touch on those two topics.
—Debbie Yeboah, UVic humanities and Vikes basketball alumnae
The new virtual format allowed the breakfast to experience another first, as current Vikes Eryn Libert-Scott (women's soccer) and Vaughn Taylor (men's cross country and track) became the first student-athlete emcees.
The virtual event also featured a spotlight piece on current Vikes swimmer and two-time UVic Female Athlete of the Year Danielle Hanus. Hanus shared insight on how the COVID-19 pandemic impacted her studies and her pursuit of her Olympic dreams and what she did to overcome the challenges she faced.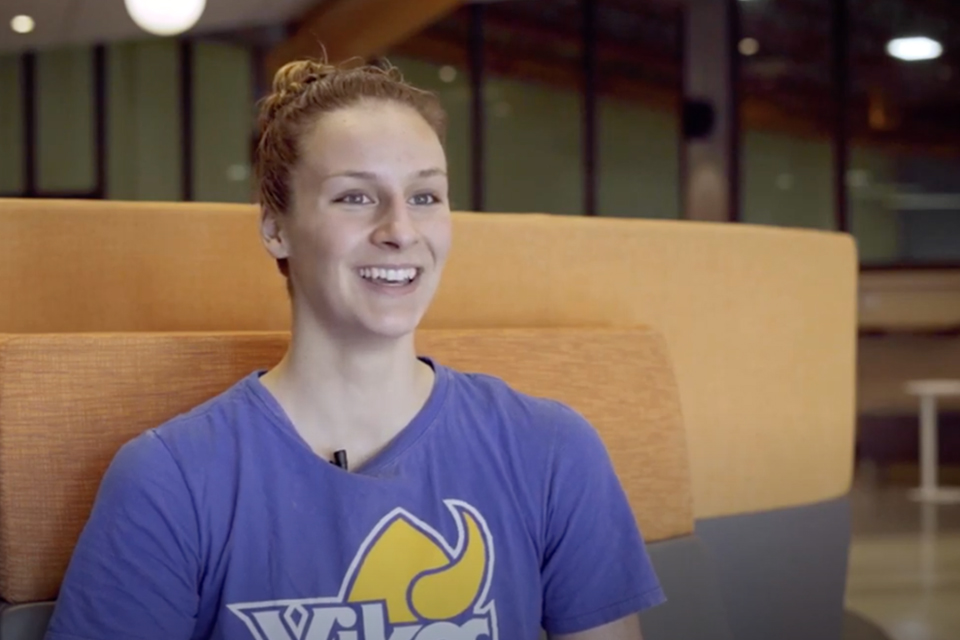 "Once again our community of supporters has come together with an incredibly strong demonstration of support for our Vikes student-athletes. In a year where our Vikes have shown tremendous leadership and resiliency as they navigate the realities of pandemic times, it has never been more important to find support for them," said Clint Hamilton, Vikes Senior Director of Athletics and Recreation. 
"Watching and listening to Debbie Yeboah and Danielle Hanus this morning was another reminder of what wonderful ambassadors our Vikes are for UVic and how important it is for us to find ways to support them. We are very grateful for the many people who generously donated to our virtual breakfast event and serve to inspire all within the Vikes program."
Donations will still be accepted until one week after the breakfast (Nov. 12). The Vikes are hopeful to surpass the $6 million barrier over the course of the next week. More information at govikesgo.com/breakfast
---
PREVIOUS KEY NOTE SPEAKERS
2020 Debbie Yeboah (Women's basketball)
2019 Chris Hindmarch-Watson (Men's Swimming Alumna), Joann Malhotra (Nash – women's soccer alumna), Lindsey Bergen (Jennerich – women's rowing alumna)
2018 Gareth Rees (Men's Rugby Alumni)
2017 Ian Hyde-Lay (Men's Basketball Alumni)
2016 Nancy Mollenhauer (Women's Field Hockey Alumna)
2015 Simon Whitfield (Olympic Triathlete)
2014 Darcy Marquardt (Women's Rowing Alumna)
2013 Dr. Paul E. Zehr (UVic Professor and author)
2012 Pierre Lafontaine (Former Swimming Canada CEO)
2011 Adam Kreek (Men's Rowing Alumni)
2010 Stephanie Dixon (Women's Swimming Alumna)
2009 Bob Lenarduzzi (President, Vancouver Whitecaps FC)
2008 Chris Hebb (Men's Basketball Alumni)
For more information visit the Vikes Championship Breakfast website.
Photos
In this story
Keywords: vikes, athletics, philanthropy, administrative, student life, alumni
People: Deborah Yeboah, Eryn Libert-Scott, Vaughn Taylor, Danielle Hanus, Clint Hamilton