Building bridges: Why Rob runs
- Jenny Manzer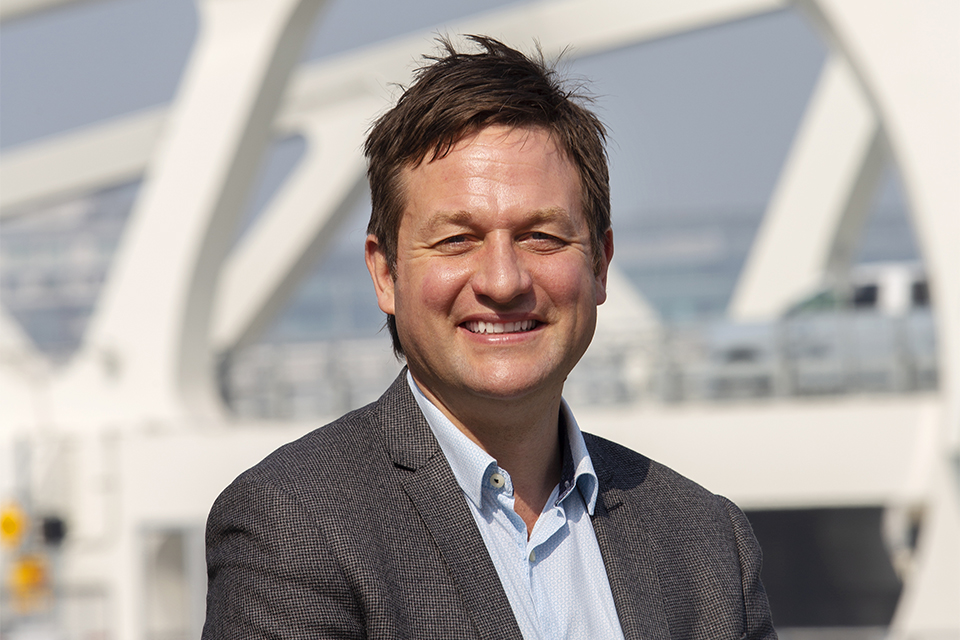 Rob Fleming kick-started his political career at the University of Victoria before becoming a city councillor at age 28. Then, as BC's education minister, he navigated school during a pandemic.
Sometimes, a new future starts with some history. In Rob Fleming's case, studying history at UVic led him to his calling as a politician and to his life partner. Fleming became well known as an NDP MLA for Victoria-Swan Lake and as BC's education minister for grades K-12. He started out at UVic in social sciences and moved quickly to the faculty of humanities, which led to an undergrad degree in history. "It was just an incredible experience," he reflects.
As a student, Fleming (BA '02) soaked up information about the history of the labour movement and environmentalism in BC. "He already had a social-justice orientation and was wanting to work on projects that had to do with social change and the history of social change in British Columbia," recalls UVic professor John Lutz, who has kept connected with Fleming over the years. Lutz says Fleming's history studies likely also showed him something important—that individuals can make a difference.
While Fleming was earning credits at UVic, he also learned how to be a politician. As president of the UVic Students' Society, Fleming worked on the BC Transit Universal Bus Pass, a mammoth project that the team, including what he terms "the mavericks" at BC Transit, accomplished in about nine months. The end result was a win for students and the environment. He says he learned at UVic that gaining support through consensus is a good impulse in politics.
"I was really glad I got involved in the Student Union. I learned a lot about managing things and working with people from different backgrounds to get things done and make some really good changes—work to always build a bigger tent that's inclusive of people." And, he adds, student politics was fun—including organizing large-scale concerts.
There was also the famous foosball summit. The engineering undergrads wanted to separate from the UVSS and stop paying dues. The matter was hammered out over beer and foosball. "Go out and talk to people," says Fleming. "If they're angry or have issues, then work through them and seek common ground."
Andrew MacLeod (BA '96), legislative bureau chief for the Tyee, says that some 30 years later, the U-Pass could be considered a legacy for Fleming. In fact, Fleming has largely had success, including in his role as an Opposition MLA, by choosing one or two causes—and pursuing them.
"He always struck me as very poised and that he had a perspective on things, even as a university student. He was very deliberate in what he did on student council.… The biggest one was the putting in the U-Pass, where everybody had a bus pass and paid for it collectively."
After graduation, Fleming worked behind the scenes in communications, supporting the work of politicians like Andrew Petter. Fleming hadn't intended to go into politics at first, but at age 28 was elected to Victoria City Council in 1999 as part of the Civic Electors slate. While on council, he took up various causes, including affordable housing in the region.
Fleming says part of the reason he became involved in housing was because of a friend at UVic, a single mother of two, who was able to succeed in her teaching studies because of the subsidized housing available off campus. The friend is now vice-principal at a school. He could see that affordable, stable housing made all the difference.
Fleming proved to be good at getting himself elected, and in 2005 became the MLA for Victoria-Hillside, beating out a veteran NDP politician for the nomination and later defeating the Liberal incumbent. He championed several issues as a new MLA, including working to regulate payday loans and introducing legislation on pesticide use in cosmetics. He served at the Opposition critic for advanced education and later as the education critic.
John Horgan and the NDP won a minority government in 2017. It was Fleming's fourth victory as an MLA and one of his proudest moments as a politician. Fleming was named education minister. Of course, he never dreamed he'd be head of the class during a global pandemic.
He says while the job is tough, he works with an outstanding team, including Provincial Health Officer Dr. Bonnie Henry and Health Minister Adrian Dix. February and March of 2020, when the province first grappled with the grim realities of COVID-19, closing borders, shutting down schools and mandating distancing—now seems like years ago, he reflects.
He says BC has benefitted from the way Premier Horgan lets science rule the day and the social solidarity people in the province feel with one another. Fleming suggests there will be lasting changes in education after the pandemic. Some learning innovations will stay—others will go—but education will not be the same. He understands the anxieties people have about COVID. He has elderly parents. He, too, fears for his loved ones.
Fleming met his wife, Maura Parte, at UVic. "We had a study date in US history. And as I say, the rest is history," Fleming quips. Parte, (BA '06) returned to UVic in 2019 to earn her Master's in Public Administration—another reason UVic is close to their hearts. The couple have two children, a daughter, Rory, who just started high school, and a middle-grader son, Jack. Fleming, a soccer fan, has spent time helping coach his kids' soccer, sometimes on campus fields. "We are busy, but like anyone else, we strive for work-life balance and take whatever we can get in between."
Fleming was born in Windsor, Ontario, and raised in BC's North Shore. He has two siblings: a "scary smart" sister, who is a BC Supreme Court Justice; and a brother, his childhood sports rival, who is "allergic to politics" and lives in Calgary. He says his parents raised them in the 1970s style—completely hands off.
Fleming, 48, wasn't always as well known. He recalls that during his first campaign, he knocked on doors and was invited into a resident's home. He went in, despite being warned by his campaign manager not to spend the time. Fleming was welcomed by a lovely older woman whose first language was not English. He shared his platform highlights, and she presented him with a handful of coins—his first campaign donation! When she proceeded to hand him a Times-Colonist subscription slip, he realized that she had mistaken him for someone else—the newspaper boy.
Fleming is now constantly in the newspaper—and is easily a household name in BC. As MacLeod notes, the education portfolio is challenging, given the need to accommodate students, parents, teachers and unions. "It's a tough file at the best of times, even without the pandemic."
MacLeod says that Fleming, a Student Union Building acquaintance from his days as Martlet editor, used to wear a khaki army jacket and jeans as a student leader, then graduated to V-neck sweaters when he became a city councillor. These days Fleming is most often in a suit, his wardrobe evolving with his political career.
Why does he keep doing it? There may be a key in what he recalls as one of his most painful moments as a politician—the death of Jack Layton, whom he met when they were both city councillors. He had implored Layton to run for the federal NDP leadership nomination, emailing him a list of 10 reasons why he should. When Layton died of cancer in 2011, Fleming was devastated by the loss of a beloved friend and leader—and thinking of all the good work still left to do.
Whatever is written on Rob Fleming's own list of reasons to stay in politics, it keeps him running.
——
Update: On Nov. 26, 2020, Fleming was named BC's Minister of Transportation and Infrastructure.
Photos
In this story
Keywords: alumni, community, politics, education, COVID
People: Rob Fleming, John Lutz, Andrew MacLeod, Maura Parte
Publication: The Torch