Building bridges: Law for all
- Julie Sloan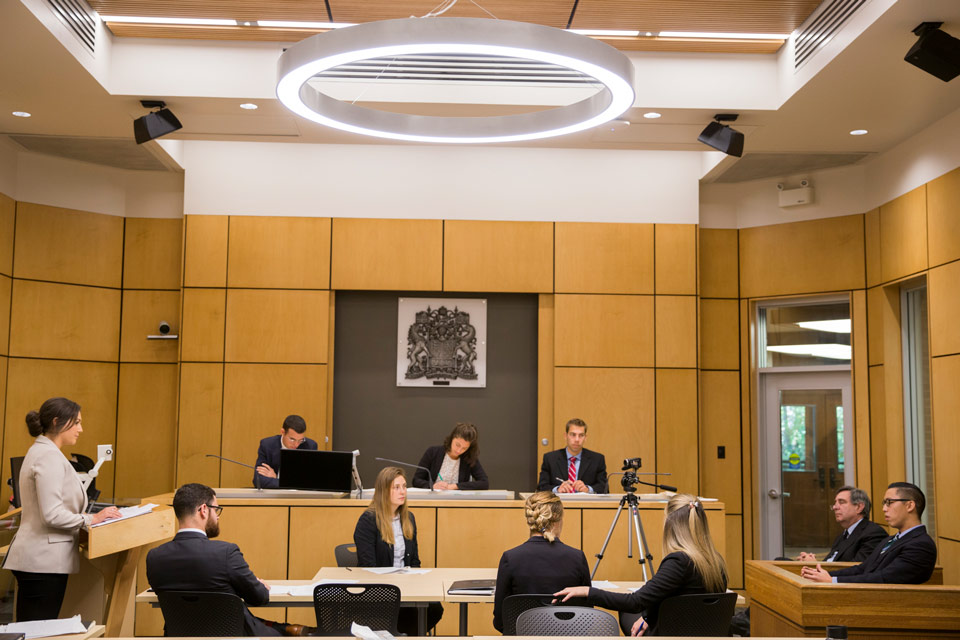 UVic's Law Centre bridges the gap between people and the law.
Pamela was dismissed from her job after disclosing that she was pregnant. David, charged with assault, needed help with alcohol addiction. Leonard couldn't find a job due to his disability and had to file for bankruptcy. Jack helped a friend install an engine in his car and wound up being sued in small-claims court.
These are just a few examples of clients who might come to the Law Centre for help. The mutual benefit of people in need receiving services and students learning results in an immensely meaningful community resource.
The Law Centre offers a critical service to a vulnerable segment of society, and at its heart is a robust student clinical program. The team of dedicated staff and capable law students forms one of the best legal clinics in the country.
Students are exposed to a breadth of different types of cases that are essential legal services including: criminal law, family law, human rights, civil litigation, social-welfare benefits, employment, debtor/creditor, representation agreements and wills. Over the years, the students have realized that without the Law Centre, the outcomes for those clients would be far worse. Many UVic students have been inspired by their work there to follow careers in social justice.
The Law Centre serves between 1,800 and 2,000 low-income clients per year and is the longest running common-law clinical program in Canada. It started from humble beginnings in 1977 and has since served over 80,000 clients in the Greater Victoria area and become a pillar of student education at UVic Law. This was thanks in large part to the unwavering direction of recently retired law professor, Glenn Gallins. Throughout the COVID pandemic the Law Centre has remained operational, with students and staff offering services virtually.
When the university's law school first opened, the school's initial objective was to have a public law orientation and a focus on contributing to the community. Creating the Law Centre was part of that vision.
Murray Fraser, founding dean of the law school, was the driving force behind its creation. Professor Neil Gold, who received an honorary doctorate from UVic in 2019, worked with Murray to get the program up and running in 1977. The idea of clinical programs, which had began in the US in the early 1970s, was still very new. In the beginning, students started their clinical term on Day One with a pile of files on their desks and had to figure out what to do with them. In 1978, Glenn Gallins was hired to help create a more structured program for students.
Gallins created an intensive, four-week orientation that teaches professional responsibility and ethics as well as lawyering skills—including interviewing, counselling, negotiation, mediation, trial preparation and drafting. These skills give law-clinic students a huge advantage when applying for articles because they know how to prepare for trials and hearings.
The Law Centre is in the Victoria Courthouse building where it is co-located with the Justice Access Centre. It now houses five staff members with seven interview rooms, 14 student work stations and a reception area. Each student is temporarily articled to a member of the local bar and receives advice and assistance on the conduct of their files from their principals.
Paul Pearson, an alumnus of UVic Law, practices criminal law in Victoria and has taught as a sessional instructor at the school. He has also volunteered as a supervising lawyer at the Law Centre.
"When you experience the Law Centre as a law student, you see why it is consistently described as the best thing students did in law school. Law students who have completed Law Centre are changed people and carry with them life-long empathy for the persons in society who most desperately need the courageous protection of lawyers."
—Paul Pearson, UVic Law alumnus
Photos
In this story
Keywords: alumni, law, community, student life
People: Glenn Gallins, Murray Fraser, Neil Gold, Paul Pearson
Publication: The Torch