Building bridges: Help with kelp
- Robyn Meyer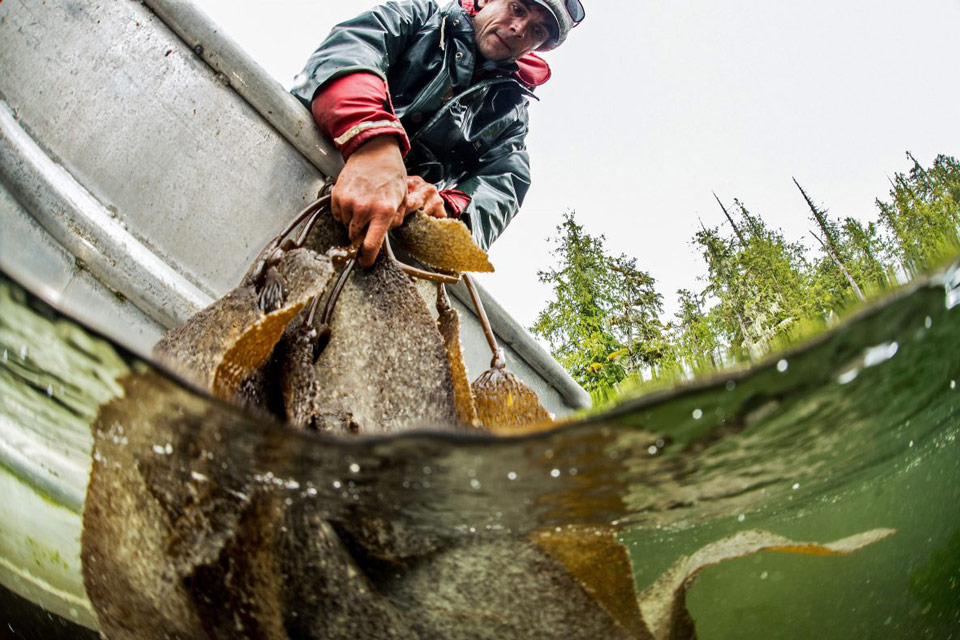 Fieldwork to monitor the health of BC's vital kelp forests can carry on despite the global pandemic, thanks to a partnership between scientists and First Nations communities.
Summer 2020 was supposed to be packed with fieldwork for researchers with the Climate Change Solutions for Canada's Undersea Forests project—a research partnership between the UVic-hosted-and-led Pacific Institute for Climate Solutions (PICS), Simon Fraser University (SFU), and the Central Coast Indigenous Resource Alliance (CCIRA). The team was set to do research at kelp forests along British Columbia's coastline.
Then COVID-19 arrived, and so did restrictions on travel within BC. Planned in-person meetings and data-collection trips by the project scientists to Bella Bella and Klemtu were cancelled.
Fortunately, however, the fieldwork still went ahead. First Nations Coastal Guardian Watchmen and community members came to the rescue, gathering data and photographs of giant kelp during the spring and summer months to send back to the scientists in Vancouver. More field surveys by the Watchmen were planned this fall.
Alejandro Frid, CCIRA science coordinator and a UVic adjunct assistant professor in environmental studies, says COVIDhas intensified the already-existing collaboration. After all, it was the Watchmen who first raised the alarm about the kelp's demise and spurred creation of the project.
In 2015, the Watchmen sent a photograph to Anne Salomon's lab at SFU. It showed heavily encrusted and dying kelp along the Pacific Coast. It turned out that the white crust causing the kelp to sink and disintegrate was an epiphytic invertebrate called a bryozoan. This outbreak coincided with that year's "warm blob" marine heat wave.
Knowing exactly why, when and where outbreaks of this kelp-encrusting animal occur on Canada's west and east coasts is the first step towards being able to enhance the resilience of the kelp ecosystems—a key goal of the three-year PICS Undersea Forests project launched in 2019.
Danielle Denley, an SFU postdoc and the project's lead researcher, says when COVID threatened to derail the fieldwork, the team worked with CCIRA's four Nations members (Heiltsuk Nation, Kitasoo/Xai'xais Nation, Nuxalk Nation and the Wuikinuxv Nation) to come up with a solution. They adapted an existing mobile app to host their co-developed "Bryozoan and Kelp Monitoring Survey" with boxes to be ticked, automated GPS coordinates, and photos to help estimate kelp-bed size, density, bryozoan and grazers.
"The really cool thing is that this mobile survey can be changed in real time, allowing us to adapt to new observations or suggestions from the Guardians who are out on the water," she says.
One of the community members who stepped up to help is Mike Reid, Aquatics Manager with the Heiltsuk Nation in Bella Bella. He says participants in Indigenous stream-walker programs on the Central Coast see the big picture of declining fish and animal populations as well as habitat degradation, so are happy to support projects such as Undersea Forests. "It's important that we are not the only ones with the information…it's important that more people need to know what is going on here. Our territory, in my eyes, is crashing."
Reid says the 2015 warm blob affected their spawn-on-kelp herring fishery and also destroyed much of the intertidal seaweed, known locally as "black gold" and in Latin as Pyropia, which is a large part of their diet. Another warm blob is now brewing off the California coast, but Reid hopes kelp survivability can be enhanced.
Denley agrees, saying creating refuge zones for kelp may be an important next step, and she is grateful for the data being supplied.
Many coastal First Nations are already involved in their own monitoring programs within their territories dating back generations, and Frid says that experience has enriched the project.
"I think it's a really nice example of pairing Indigenous knowledge with the scientific work done by the universities' researchers," he says. Frid plans to share knowledge from this project at UVic seminars later this year.
Photos
In this story
Keywords: alumni, fisheries, research, Indigenous, industry partnerships
People: Alejandro Frid
Publication: The Torch