Tech consortium funds UVic research, innovation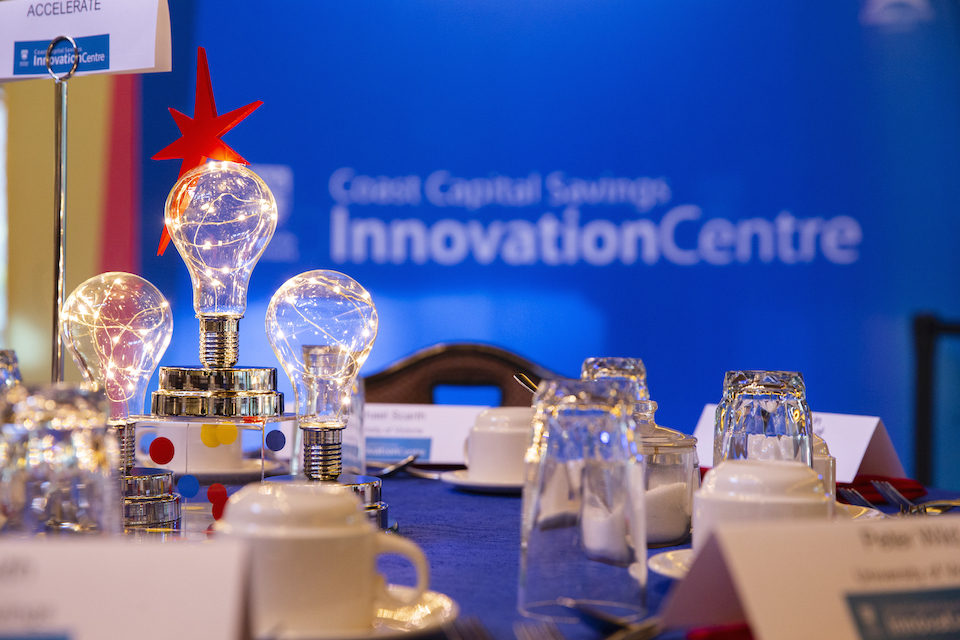 Using big data to improve the health of major water systems and advancing women entrepreneurs in BC, are two University of Victoria research projects to benefit from funding announced today by the Digital Technology Supercluster. 
The Supercluster is an industry-led consortium that aims to position Canada as a global leader in digital technologies. It co-invests with companies, academic institutions and not-for-profit organizations to develop and implement digital technologies created by Canadian companies. Funding is earmarked for the Fresh Water Data Commons project, involving biochemist Caren Helbing, and the Women's Entrepreneurship Program—a first of its kind for UVic—overseen by Jerome Etwaroo of UVic's Coast Capital Savings Innovation Centre (CCSIC). 
"These projects show UVic's commitment to advancing both research excellence and community impact," says Lisa Kalynchuk, UVic's vice-president of research. "They reflect creative activity, partnerships and world-class ambitions to disseminate knowledge and innovation to enrich the lives of students, communities, the economy and the world." 
The Supercluster announced a total $25 million in investments at an event held today in Vancouver with federal and provincial dignitaries. 
The 2020 projects involving UVic are: 
Fresh Water Data Commons (Biochemistry and Microbiology)
Water is a precious resource under significant pressure globally as a result of climate change, and human and industrial activities. The development of a platform integrating various sources of data to better understand ecosystem health, specifically of major water systems such as the Columbia Basin, will better inform water use, conservation and management. 
"Using our research team's environmental DNA technology, we are able to contribute to this project by effectively doing 'CSI for wildlife' to better understand the health of our ecosystem by more effectively tracking wildlife presence," says Helbing.​ 
Women's Entrepreneurship Program (CCSIC)
The Women's Entrepreneurship Program, a consortium of partners including VIATEC, will build capacity for entrepreneurs and their tech ventures. Through boot camps, workshops, mentorship and peer-sharing on leadership skills, the nine-month program is a first for UVic and will provide opportunities for women to gain entrepreneurial skills and insights in a supportive environment. 
"The Coast Capital Savings Innovation Centre is a hub that creates a stronger entrepreneurial community for students and builds a culture that opens doors for them. Currently 40 per cent of our program participants are women. This pilot provides added support and a broader network that will encourage and prepare women for entrepreneurship. Students and the broader community will benefit from this pilot," says Etwaroo.   
Previously funded projects involving UVic researchers include: 
Dermatology Point-of-Care Intelligent Network (Elizabeth Borycki/Andre Kushniruk, Human and Social Development)
Early detection of skin cancer is critical to improving the chances of survival, yet there can be up to six months wait times to see a dermatologist. By using artificial intelligence-powered medical imaging that incorporates dermatology and pathology data and images, patients can get diagnosed in days, rather than months, anywhere in Canada. 
"Reducing wait times for skin cancer treatment through artificial intelligence and imaging technologies will lead to faster diagnosis. We believe it will improve the health outcomes for thousands of patients," says Andre Kushniruk, director of the School of Health Information Science. 
Earth Data Store (Yvonne Coady, Computer Science)
The project will collect, standardize and secure data from multiple sources such as earth observation satellite imagery and environmental sensors, for predictive purposes. This technology will improve the analysis of climate change and the coordination of emergency response in extreme events.  Through detailed interactive 3D maps and machine learning algorithms, resource managers will be able to better collaborate, analyze, observe and protect natural resources worldwide. 
"It's been an incredible opportunity for our students to be collaborating with a wide range of stakeholders on a project of this magnitude to solve global problems. The complex nature and sheer volume of information requires a diverse set of perspectives to accelerate measurable progress and results, and it's been fantastic to be part of that," says professor Coady. 
Read the Digital Technology Supercluster news release HERE. 
Read the Government of Canada's news release HERE.
A media kit containing a high-resolution photo is available on Dropbox. Supercluster digital assets can be accessed here.
-- 30 --
Photos
Media contacts
Jennifer Kwan (University Communications + Marketing) at 250-721-7641 or researchcomm@uvic.ca
Kathleen Reid (Communications Specialist) at 604-724-1242 or kreid@switchboardpr.com
In this story
Keywords: research, climate, environment, business, partnerships, health, community
People: Jerome Etwaroo, Caren Helbing, Elizabeth Borycki, Andre Kushniruk, Yvonne Coady