Star Wars performance supports COVID-19 student fund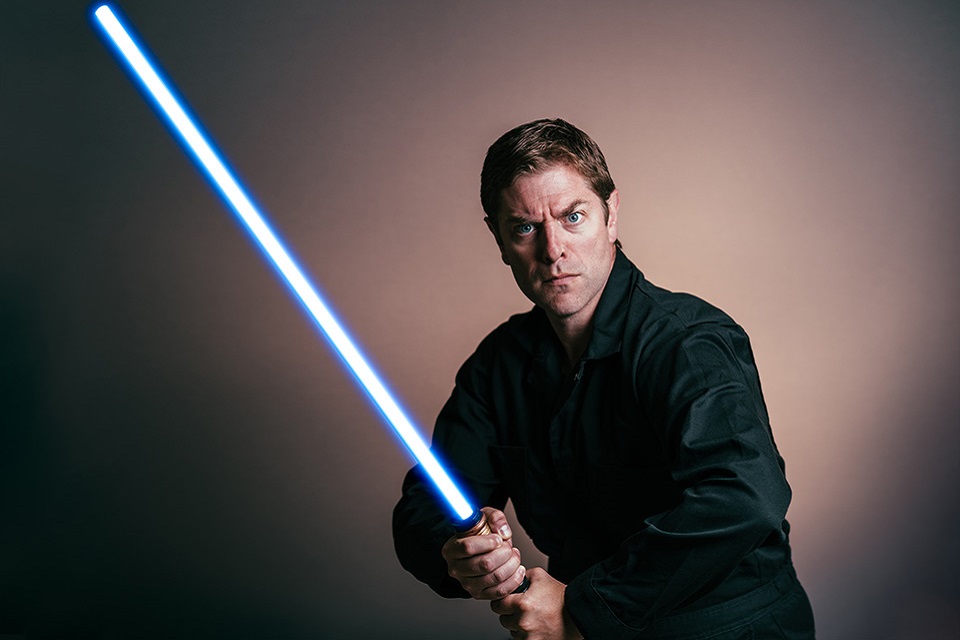 University of Victoria theatre alumnus Charles Ross will livestream his popular interstellar romp through Star Wars on May 4 to help support an emergency fund for students experiencing financial hardship due to the coronavirus pandemic. 
The free livestreamed performance, coordinated through the Farquhar Auditorium at UVic, is a special opportunity to watch the Victoria actor condense 12 hours of cinema into a 75-minute re-enactment of the plots of three Star Wars films (Star Wars IV, V and VI) while raising money to support students. 
The UVic COVID-19 Emergency Bursary was established in April to help domestic and international students, at the graduate and undergraduate level, who are in financial need as result of the COVID-19 pandemic. 
Money raised will go toward students who have lost their jobs, face housing issues or have trouble paying for food, tuition or the technology needed for online or remote learning. The fund also supports mental health services, child care and transportation costs for students affected by the pandemic. 
The fund was established with $200,000 from the university and $140,000 from the BC government. Other contributions include $67,000 from the UVic Students' Society, $50,000 from the UVic Alumni Association and $98,000 in individual donations from hundreds of alumni, faculty, staff and friends of the university. Fundraising is continuing. 
So far, more than 2,000 students have applied to the emergency bursary, and UVic anticipates the demand will exceed $1 million. 
The livestream performance coincides with the popular annual "May the Fourth be with you" celebration of the Star Wars series. Ross has toured his world-famous production, One-Man Star Wars Trilogy, around the globe, entertaining more than one million fans in London's West End, at the Sydney Opera House and off-Broadway in New York. 
Performed with permission of Lucasfilm Ltd, the show is fast-paced, funny and suitable for ages six to Yoda. 
This free performance will livestream from the stage of the Farquhar at UVic on Monday, May 4, at 5 p.m. PST. Access the livestream at: https://www.facebook.com/onemanstarwarstrilogy 
All gifts are welcome. Viewers are asked to donate to the UVic COVID-19 Emergency Bursary at: http://extrweb.uvic.ca/donate-online/onemanstarwarsforCOVID-19
A media kit containing a high-resolution photo of Charles Ross is available on Dropbox.
-- 30 --
Photos
Media contacts
Ian Case (Events Director, Farquhar Auditorium/Ceremonies ) at 250-886-7673 (cell) or iancase@uvic.ca
Stephanie Harrington (University Communications + Marketing ) at 250-721-6248 or smharrin@uvic.ca
In this story
Keywords: alumni, COVID, coronavirus, pandemic, fundraiser, Phoenix Theatre, theatre, Alumni and Development
People: Charlie Ross