Raincoast Research Chair in Applied Conservation Science
- Sarah Tarnopolsky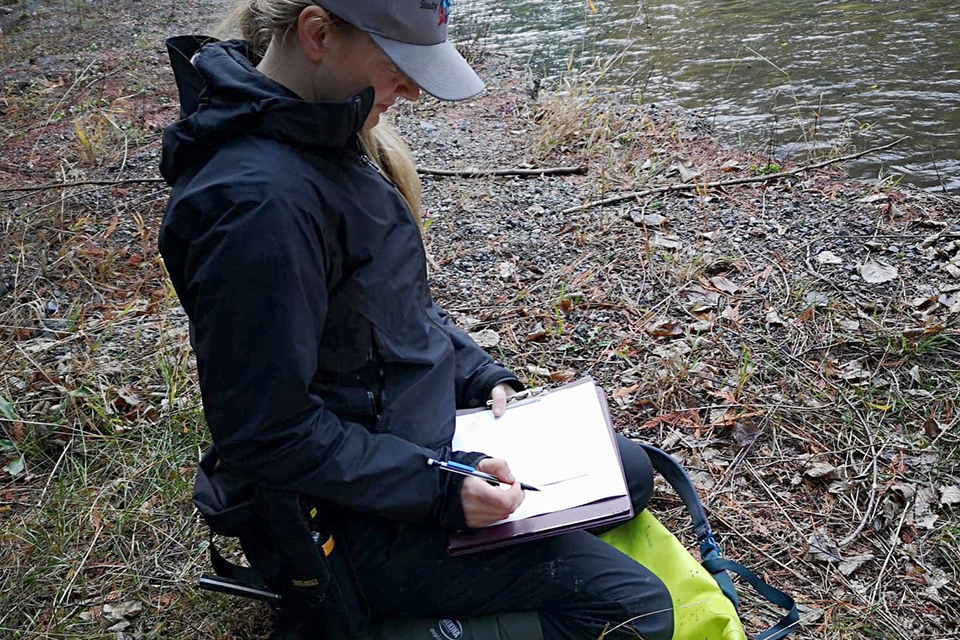 New investments add capacity to a lab's research, teaching and outreach programs
It's fall in the Great Bear Rainforest. The pungent aroma of spawning salmon fills the air around the Atnarko River corridor. Kate Field steps off the small boat and starts trekking. Her shouts of "Hey… Yo!" puncture the quietness, telling her two team members, and any bears close by, she's on the move.
At her observation site, Field watches and waits. When the grizzlies come to feed on the salmon, as they have done at this time of year for thousands of years, she records every movement. It will be a long day, part of a four-month field season spent observing and videoing bear behavior, monitoring trail cameras and hair snags: collecting data that will safeguard the future of this unique ecosystem.
In collaboration with BC Parks and the Nuxalk Nation, Field is investigating the potential effects of ecotourism on bear presence, numbers, and behaviour. "Data ultimately tell a story about how human activity can affect wildlife," says Field, a PhD student in the Department of Geography. "And evidence-based decision making always leads to better endings."
A new era of growth for the lab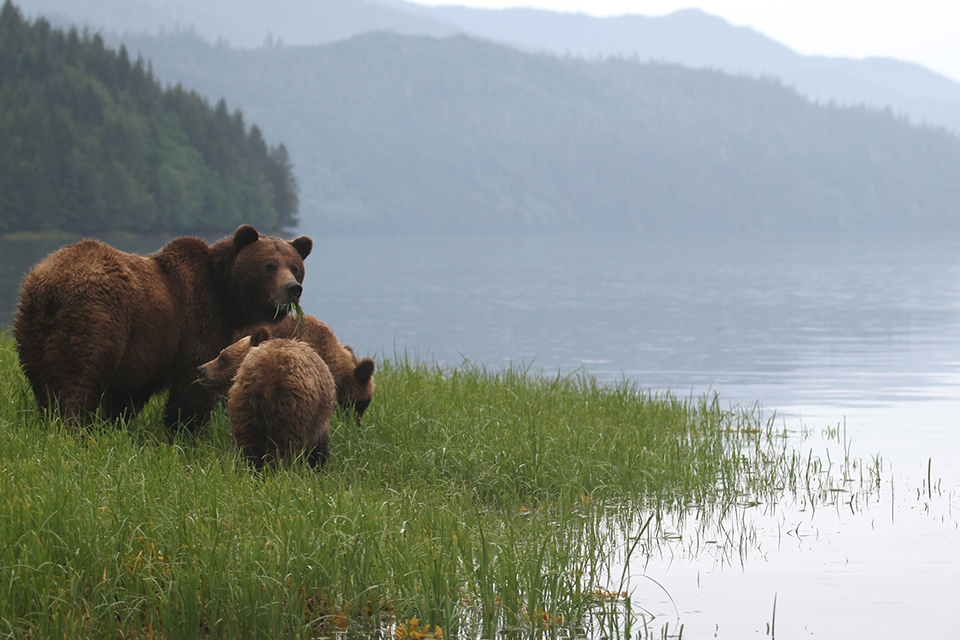 This philosophy of informed advocacy—rigorous scientific research that can be directly and immediately applied by partners and policy makers—is shared by all of Field's colleagues in the Raincoast Applied Conservation Science (ACS) Lab at the University of Victoria. Research in the lab ranges from bears to sea otters to culturally-modified trees to environmental assessment processes. "We generally work on plants, animals, or relationships in the natural world that are important to people and places," says lab director, Chris Darimont.
The ACS Lab was initially funded through investments from the Raincoast Conservation Foundation and the Tula Foundation. The research group's effective approach to conservation science inspired significant additional funding from new investors in 2018. Their generous five-year commitment established the Raincoast Research Chair in Applied Conservation Science, held by Darimont, and provided financial certainty so the lab could pursue its long term goals with confidence.
This funding allows us to provide outstanding educational opportunities to passionate conservation scientists in training whose work makes real-world contributions to policy.
— Chris Darimont, Raincoast Research Chair in Applied Conservation Science
"It's referred to as the 'Raincoast Chair' to reflect the powerful partnership between a research laboratory and a science-based non-profit," explains Darimont. The funding propelled the lab into its next era of growth, with more researchers (from undergraduates to postdoctoral fellows), better technology, and larger budgets for travel, equipment and field work. The lab already makes a difference by engaging decision makers with evidence-based guidance that supports them in developing, adopting and adapting optimal public policy. Going forward, the lab will redouble its engagement efforts, seek new partners with expertise in policy development, and usher in meaningful change that benefits people and nature.
How and why research matters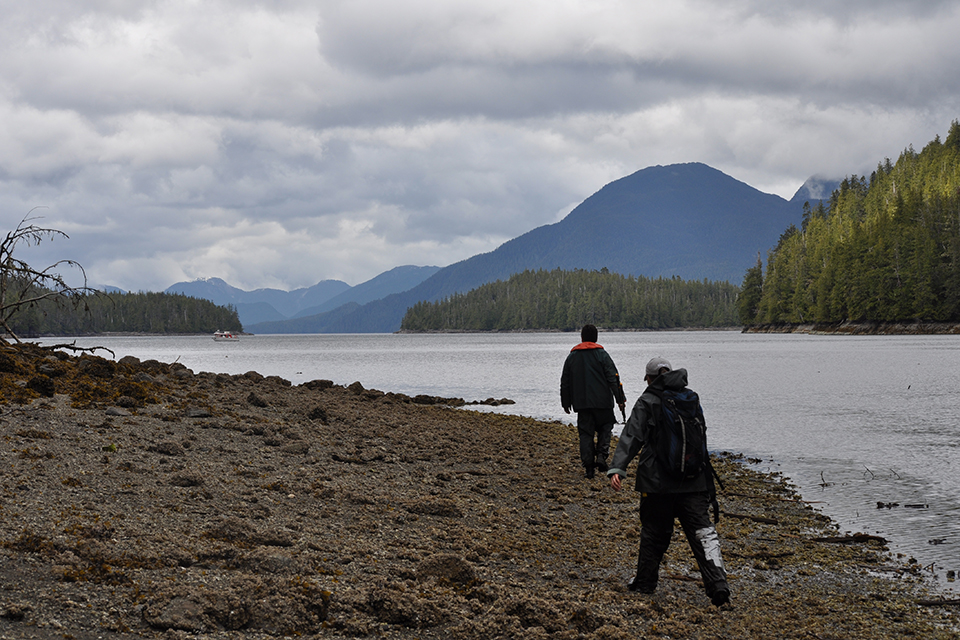 "Trainees in the lab are learning that how and why we do our research matters," says Darimont. All lab initiatives are guided by a set of core values: social and ecological justice, Indigenous rights, and animal welfare.
"You can't conduct applied research on ecosystems without partnering with the people who participate in them," says Lauren Henson, PhD student and Raincoast Fellow. Like all ACS Lab members, she prioritizes collaboration with local Indigenous communities. "We couple rigorous scientific research with the needs of the nations who have invited us to their territories," she says. "We wouldn't be able to do that without flexible funding."
Henson's research uses genetic and genomic techniques to look at factors affecting grizzly and black bear populations. Her work with the Gitga'at First Nation is part of a large multi-nation monitoring project concerned with maintaining healthy bear populations long-term, recognizing the inherent rights of Indigenous nations to manage wildlife in their territories. Henson says, "Our shared vision is that data from our partnerships be used in planning and government-to-government negotiations."
Shared vision, shared knowledge
Included in the funding is the support for Indigenous students to attend a land-based field school that exposes learners to science, Indigenous Knowledge and resource management. It is co-taught by Chris Darimont and Jessie Housty of the Heiltsuk Nation's Qqs Projects Society. The opportunity to learn from local knowledge holders is also a privilege both Henson and Field value greatly. They hope to honour that privilege through their careers by conducting research that aligns with Indigenous knowledge systems and Indigenous rights resurgence.
While the donor funding supports a growing program of applied research that directly addresses pressing ecological issues in coastal British Columbia, it also supports a new generation of community-engaged conservation scientists and wildlife advocates who are passionate about contributing to lasting change.
Photos
In this story
Keywords: Indigenous, geography, philanthropy, conservation science, partnerships, research, wildlife, advocacy, reconciliation, sustainability
People: Chris Darimont, Lauren Henson, Kate Field