Scholars celebrated for commitment to justice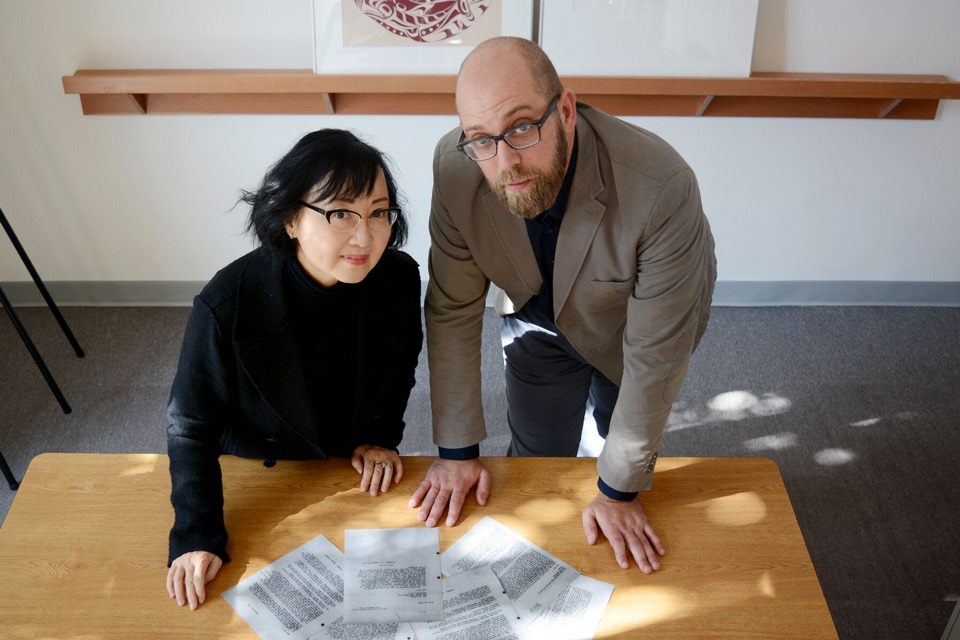 One UVic researcher looks forward, the other back. But a commitment to justice unites two scholars being honoured for their respective efforts to strengthen Indigenous and Japanese Canadian communities in British Columbia.
Conservationist Chris Darimont and his team conduct applied research with Indigenous communities who are working to protect their lands, waters and wildlife in coastal British Columbia. And historian Jordan Stanger-Ross has been working with his team to redress historical wrongs inflicted on Japanese Canadians during the 1940s.  
Both researchers work hand-in-hand with communities: Darimont with Indigenous nations grappling with issues around fisheries, forest and wildlife management, and Stanger-Ross with Japanese Canadian cultural institutions and the families of internment survivors.
Darimont and Stanger-Ross will receive the Provost's Award in Engaged Scholarship at a celebration at Ideafest on March 3. The award honours tenured faculty members who have demonstrated outstanding scholarship in their field, as well as inspired teaching and community engagement. The 2020 recipients will hold the title of Engaged Scholar for a minimum of five years and will receive a one-time award of $10,000 to support their community-engaged research and teaching.
UVic's Engaged Scholars are unparalleled in their commitment to community-engaged scholarship. Chris and Jordan are two incredibly inspiring scholars. Through their research, teaching and partnerships, they are able to bring about and shape meaningful change locally and nationally, and they engage students in their work to further strengthen community connections and foster lifelong learning.

—Valerie Kuehne, UVic vice-president academic and provost
Offering science to support coastal environments and Indigenous nations
Driven by curiosity, sustainability and justice for people and nature, conservation scientist Chris Darimont is an advocate for evidence-based natural resource management and a champion of community-engaged scholarship.
As the Raincoast Chair of Applied Conservation Science, Darimont's research has real-world impact through long-term engagement with the science-based NGO Raincoast Conservation Foundation and with Indigenous governments making decisions about their wildlife, fisheries and forest management.
The lab's applied research informs policies to provide habitat, foods and security for culturally, economically and ecologically important animals including bears, goats, salmon and, more recently, plants.
The interdisciplinary work of Darimont and his lab is shaped by the values of coastal First Nations—the Heiltsuk, Kitasoo/Xais'xais, Nuxalk, Wuikinuxv and Gitga'at. Outreach activities include youth training and internships, participation at science and culture camps, as well as engagement in environmental assessment processes.
Through this award funding, Darimont hopes to deepen the ties between his lab and Indigenous villages along BC's coast.
Transforming how we redress historical wrongs
Jordan Stanger-Ross has made community-engaged scholarship the hallmark of his research, teaching and public service.
As the founder of the Landscapes of Injustice—a seven-year, multi-partner research project that explores the forced dispossession of Japanese Canadians during the Second World War—Stanger-Ross has fostered transformative relationships with local schools, museums, community members and Japanese Canadian cultural institutions.
Now in its sixth year, the project has received a total of $2.5 million in SSHRC grants and $3 million from partnering institutions to support initiatives such as the development of teaching materials for elementary and secondary school teachers across Canada, bus tours of former internment camps within the province, and a museum exhibit that will begin its national tour in August of this year.
Over a decade ago Stanger-Ross co-founded The City Talks, an ongoing series at the Legacy Gallery that unites public audiences with university scholars in thought-provoking discussions about the challenges and opportunities of urban life.
Throughout his work, Stanger-Ross has remained committed to serving the public interest as he breaks boundaries and strengthens communities in BC.
— 
Darimont and Stanger-Ross will be celebrated at a March 3 event during Ideafest. All members of the university and external community are invited to attend.
Photos
Videos
In this story
Keywords: administrative, award, community, history, war, racism, environment, ecology, Indigenous, fisheries, forestry
People: Chris Darimont, Jordan Stanger-Ross, Valerie Kuehne
Publication: The Ring