President's Chair to hydrologist Tom Gleeson
- Anne Tolson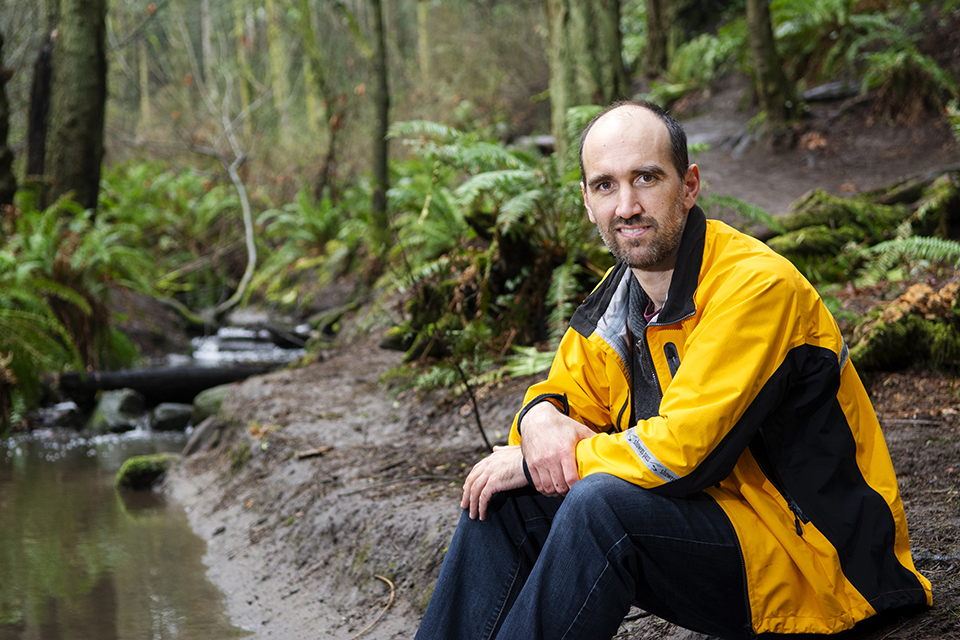 Shining light on a precious, invisible resource
What's beneath the ground we walk on? Many of us think of soil, rock, sand, and maybe some roots and earthworms. We may not think of water.
Yet more than 99 per cent of the fresh, unfrozen water on earth is located below us, says UVic water researcher Tom Gleeson. Unlike the freshwater above ground, which usually flows quite quickly in lakes, rivers and streams, underground water tends to meander slowly through cracks and crevices, often staying below the surface for years or even centuries. Gleeson says groundwater is the most reliable source of freshwater on the planet—so long as it is sustainably managed.
"Groundwater is the invisible water beneath our feet and found almost everywhere in the earth," says Gleeson, a hydrologist in the Department of Civil Engineering who leads the UVic's Groundwater Science and Sustainability research group and founded the international Water Underground blog.
Gleeson's far-reaching contributions to groundwater research and sustainability have earned him a prestigious President's Chair—the highest academic honour UVic can bestow on a faculty member. He is the second to receive the award, which was established in 2020 to recognize faculty who have achieved great distinction in research and teaching, and made significant contributions to UVic's Strategic Framework priorities.
Gleeson brings passion to each of these areas, through his extensive research, numerous high-profile publications, many collaborative projects on the international, provincial and local levels, and engaging civil engineering courses aimed at educating future leaders about the importance of water sustainability.
The dangers of overpumping
The greatest threat to the global groundwater supply is pumping for irrigated agriculture, says Gleeson. Excessive pumping can lead to the depletion of rivers, streams and other freshwater sources that are crucial habitats for fish and other wildlife, and have an enormous influence on the health of many ecosystems.
Because groundwater moves so slowly, the impact from too much pumping may not be seen until years or decades after it starts. So, it can be a time bomb.
—Tom Gleeson, UVic water researcher
To address these issues, Gleeson's research involves developing new science and engineering approaches and tools to quantify the impact of pumping. He says these approaches must balance environmental concerns with societal needs, such as ensuring a community's food security and protecting rural livelihoods.
Receiving the President's Chair means Gleeson will have more time and resources to focus on research and elevate awareness on four key levels.
Four levels of impact
On the global level, Gleeson recently led a large initiative called "Global Groundwater Statement," signed by more than 1,300 scientists and other experts from more than 100 countries as a way to raise awareness of the global importance of groundwater, encourage future international action-oriented initiatives and build momentum towards the 2022 United Nations World Water Day. Currently, he is helping shape a UN report about the state of global groundwater, which will lead up to an international summit on the topic.
A few years ago, the BC Government announced its new Water Sustainability Act (WSA) to ensure a sustainable supply of fresh, clean water that meets the needs of the population. "For the first time, this act brings together groundwater regulations and the protection of river and stream flow in BC and therefore salmon habitat," says Gleeson. He is helping develop interactive online tools that will support the implementation of the new act by showing what happens to aboveground sources of freshwater if a new well is placed in a particular location.
At the regional level, Gleeson is working on a project to support the co-governance of water by Cowichan Tribes First Nation and the province. This work includes citizens using an app to gather information that helps improve water management. He is working on a proposal in partnership with the province, Cowichan Tribes and community organizations, as well as the POLIS Water Sustainability Project, to better understand how the watershed functions and to encourage more community engagement in water management.
On campus, Gleeson's civil engineering colleague Caetano Dorea is creating the UVic Water Sustainability Collective through newly secured funding

 

from the Strategic Framework Impact Fund. Through this initiative, Gleeson will work with the Collective to help bring together water experts from across campus and beyond to explore what could be achieved in water sustainability research through a more concentrated and multi-disciplinary collaboration.
Ultimately, Gleeson wants his works to have a meaningful and lasting impact.
"I love being outside in nature, I care deeply about people and the environment, and I love solution-oriented science," he says. "These three things led me to this passion for water science and water sustainability and give me the drive to do science and engineering that's useful for people and the planet."
Photos
In this story
Keywords: water, research, award, hydrology, administrative
People: Tom Gleeson
Publication: The Ring