UVic honours extraordinary service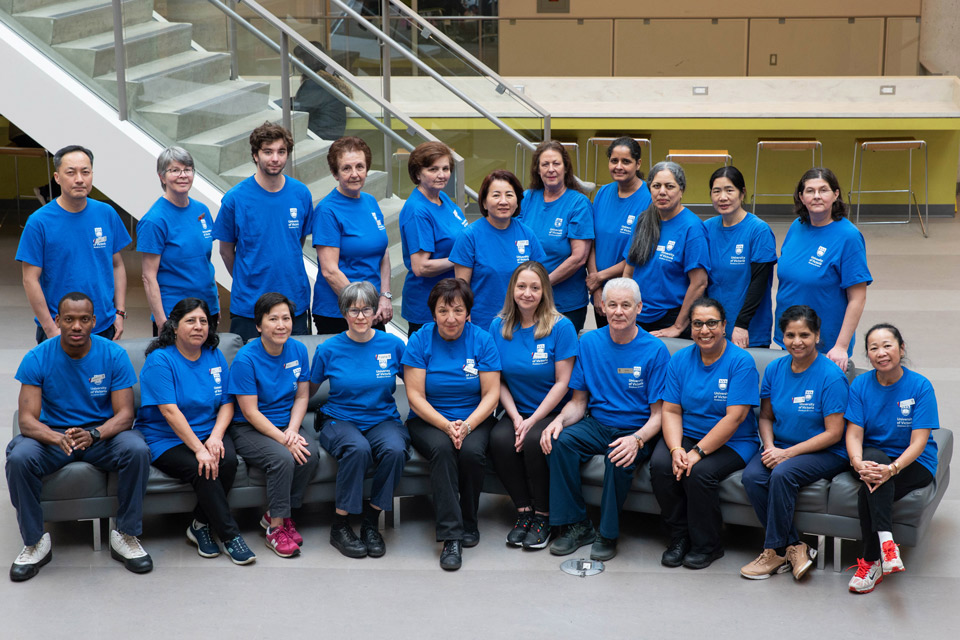 The President's Extraordinary Service Awards celebrate the outstanding contributions of UVic employees. Congratulations to this year's recipients—two individuals and two teams—who were chosen from among 16 nominations representing 100 employees. Due to the provincial physical distancing guidelines, the Cause for Applause event originally planned for April 23 has been cancelled.
"Every year I look forward to celebrating our remarkable employees at the Cause for Applause event," says President Cassels. "Although we are not able to celebrate in person together this spring, I want this year's recipients and nominees to know how deeply appreciative I am of their skills, talents, ingenuity and commitment."
In these uncertain times, reflecting on their extraordinary contributions and accomplishments is truly uplifting. I congratulate each of them for their dedicated service and I know the UVic community is looking forward to recognizing their achievements in person when we are all back on campus.
— President Jamie Cassels
Luca Piscetta, Navigator Award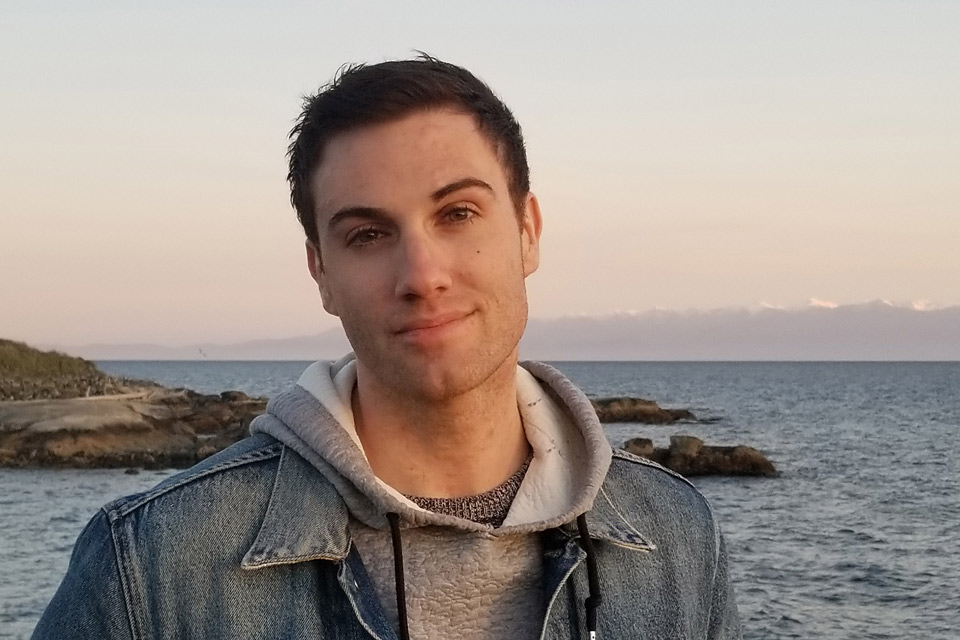 Luca Piscetta is a big-picture thinker.
In less than a year in their role at UVic's Office of Student Life, they have gone above and beyond their job as curriculum and assessment coordinator to identify program gaps, launch new initiatives and build relationships with student groups and stakeholders across campus.
The result has been a more supportive and inclusive campus community.
This year, Piscetta oversaw UVic's Wellness Week, bringing together more than 15 campus partners to run a seven-day awareness campaign focusing on mental health and wellness. Piscetta worked closely with First Peoples House to ensure an Indigenous perspective was present in Wellness Week, including an event with the first Inuk hockey player in the NHL, Jordin Tootoo.
Piscetta worked with community groups to launch a new program, QVic Life, to better support the LGBTQ2IA+ community. And although celebrations have been postponed due to the coronavirus, Piscetta spearheaded UVic's first Pride Week, which was scheduled for March.
Office of Student Life manager Alex Sterling says Piscetta has worked tirelessly to include the perspectives of diverse communities in planning, and is always asking, "who is missing from this conversation?"
"In a short amount of time, Luca has changed the face of the University of Victoria," Sterling says, "which makes us very lucky to have such an innovative mind, thoughtful person and generous heart as one of our own."
Tania Muir, Collaborator Award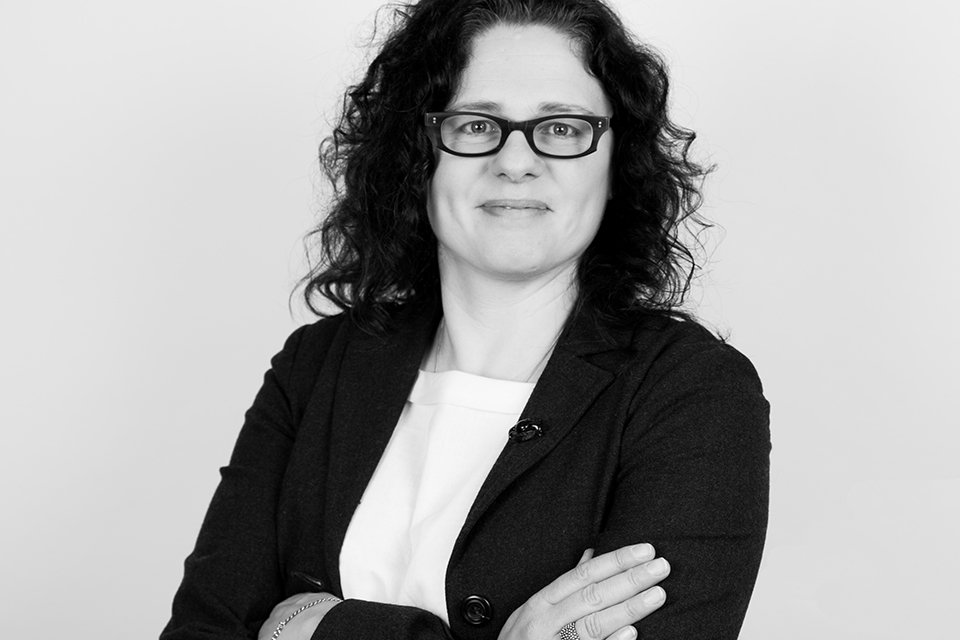 They say a person has mastered a particular skill when it looks effortless.
Tania Muir brings this kind of finesse to her role as program director in the Division of Continuing Studies, where she manages its most complex and diverse suite of educational programs.
Muir's portfolio includes overseeing foundational diplomas, such as the long-running Diploma in Cultural Resource Management and UVic's award-winning Certificate in Indigenous Language Revitalization, as well as professional certificates.
This year, Muir helped launch an innovative specialization in visitor and community engagement to meet demand in the museum and cultural sector.
Muir also oversees UVic's American Sign Language courses, TEFL courses and a range of interdisciplinary programs across the faculties of fine arts, humanities and education.
Known for her sometimes herculean efforts to navigate academic policies, systems and processes, Muir ensures that non-traditional learners find their way through the bureaucracy of a large institution.
She engages with a wide range of stakeholders, such as UVic faculty members, Indigenous groups— including a 30-year partnership with the En'owkin Centre—as well as community partners, governments, educational institutions and geographically dispersed learners, who often live in remote areas.
"Tania is one of those people who makes collaboration easy even when it is complex, challenging and changing," says Continuing Studies Dean Jo-Anne Clarke.
"This award acknowledges her endless commitment to building programs and initiatives that are revolutionizing the culture sector, intercultural practices and supporting the resurgence of Indigenous languages across Canada and abroad."
Giving Tuesday team, Innovator Award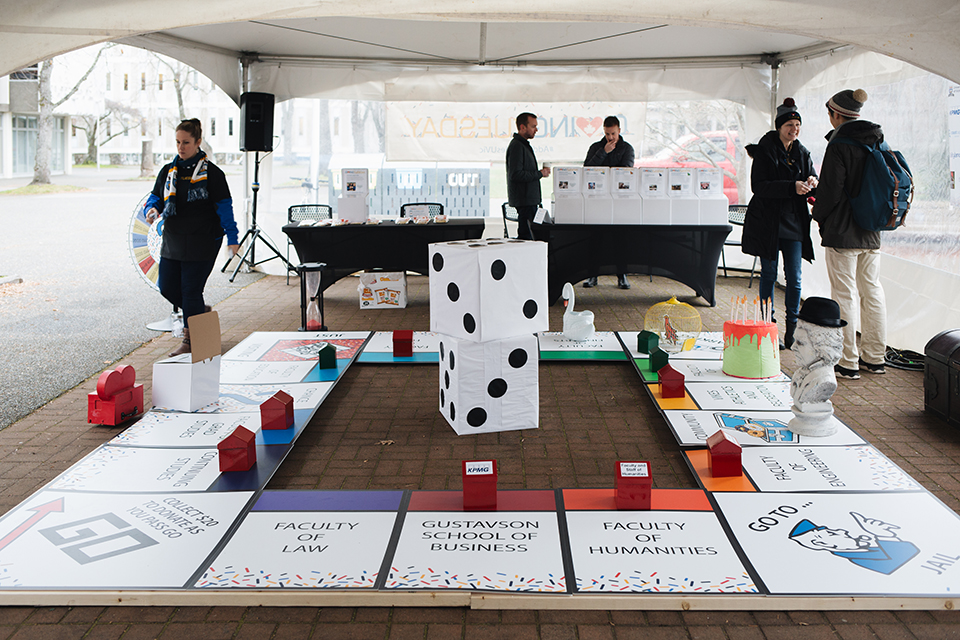 Last year's Giving Tuesday campaign added a lot more than sprinkles to UVic.
The fourth-annual drive raised $167,000—almost five times its stated goal—to support experiential learning and student-led initiatives at UVic.
Stellar teamwork and creative thinking from the Giving Tuesday team accounts for the initiative's success. Led by central annual giving officer Danielle Mulligan, the team of Charlene Smith, Erica Youds, Annie Taal and Liz Ausio is being recognized for their extraordinary effort to make last year's Giving Tuesday, held on Dec. 3, the biggest and best so far.
"The primary objective of Giving Tuesday is to raise funds for student support, but the committee went above and beyond to ensure that the campaign would also foster a culture of philanthropy and engagement across campus and throughout the UVic community," says Cheryl Hebb, director of fund development.
Besides showing the need and impact of experiential learning opportunities for students, Hebb says the campaign brought a spirit of philanthropy to the UVic community.
New activities included a larger-than-life game of Philanthr-opoly (based on Monopoly), coffee sale donations, Giving Gram cookie sales, and more than $20,000 in matching funds and sponsorships unlocked by donors, community businesses and participants.
The team worked with deans' offices to focus on faculty-specific, student-focused initiatives this year, which boosted donations. They also partnered with groups including Student Affairs, Food Services, VIKES and UVic Ceremonies and Events to make the campaign a campus-wide initiative.
The lesson learned: small acts of philanthropy can add up to make a big difference.
Residence facilities service workers, Cultivator Award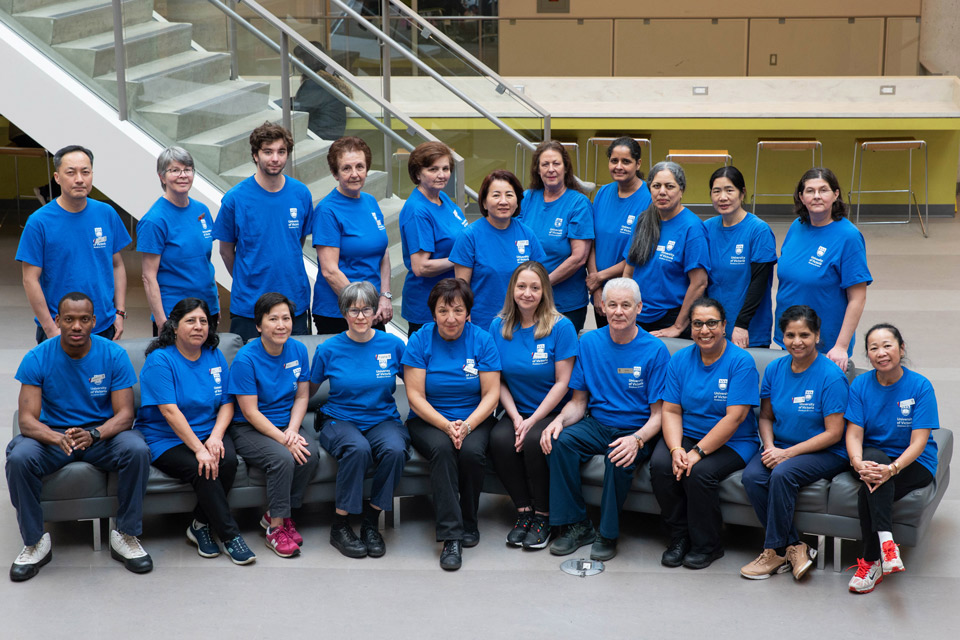 "Waste not, want not" is an apt motto for the residence facilities service workers who helped divert tonnes of usable unwanted items from landfill.
During last year's annual move out of campus residence, the team of service workers embraced a new "Dump and Run 2019" residence clean-out project proposed by UVic's staff sustainability network.
Everything from refrigerators and clothing to bedding and school supplies were kept out of the trash and off of UVic's lawns and other public spaces thanks to the initiative. And a local not-for-profit group sold many of the unwanted items to support community services.
Nominator Rachel Goldsworthy, from the Office of the Vice-President Research, said the efforts of the team of 33 service workers, led by Dinuk Dias, streamlined the cleaning of residences, and improved safety for others by removing potential tripping hazards from the rooms.
The team's efforts also contributed to maintaining UVic's beautiful campus, helping the university prepare for the busy spring and summer conference season.
Besides collecting the unwanted items, service workers went above and beyond what was asked of them and sorted the items into separate categories. Their organizational zeal even helped one student retrieve an expensive pair of sneakers they accidentally left behind.
"The residence service team members brought great enthusiasm to the project," Goldsworthy says. "They embody the best of UVic spirit."
Photos
In this story