How to participate in Orange Shirt Day 2020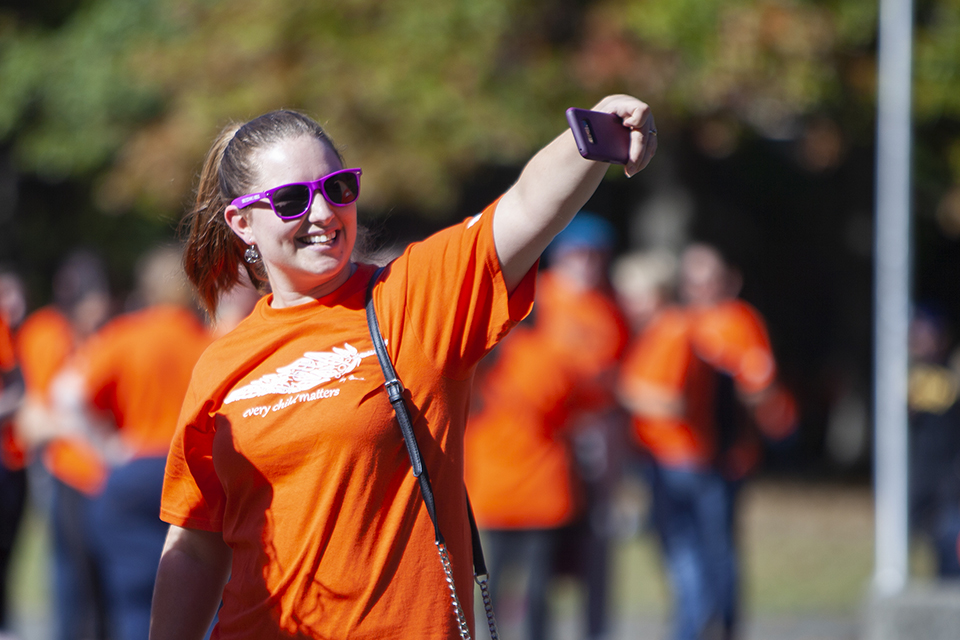 Online events to include a conversation between UVic Chancellor Shelagh Rogers and Phyllis Webstad, whose story sparked the drive to recognize Orange Shirt Day.
Hundreds of students, faculty and staff in orange T-shirts gathered on the UVic Quad on a brilliant September day in 2019 to commemorate and honour the healing journey of residential school survivors and their families. That wasn't the first year our community rcognized this solemn occasion, and it won't be the last. This year, COVID-19 safety restrictions will keep us from coming together in person for an annual gathering. It hasn't, however, disrupted plans for an extraordinary virtual Orange Shirt Day that will inspire UVic's students, faculty, staff and alumni living in every part of the world to reflect on how our educational systems can bring together Indigenous and non-Indigenous Canadians in the spirit of reconciliation.
Orange Shirt Day is a national movement that takes place every year on September 30. Since its inception, the event has inspired schools and universities across Canada to develop and implement curriculum and activities that recognize the damaging impacts on Indigenous peoples who were forced to attend the federally funded, church-run schools. Close to 150,000 Indigenous children and youth attended the schools from the mid-1800s to 1996, when the last school closed, and it's estimated that close to 6,000 died while attending residential schools.
One of the highlights of UVic's online event this year is a conversation between UVic Chancellor Shelagh Rogers and Phyllis (Jack) Webstad, whose childhood story about residential school inspired the Orange Shirt Day movement. The event will also include messages from Indigenous Elders and UVic community members, and a Lekwungen drumming presentation.
At a reunion in 2013 of former students of the St. Joseph Mission Residential School, Webstad shared the story of how she arrived on the first day of school wearing a brand new orange T-shirt—a gift from her grandmother—only to have it taken from her and never returned. The story resonated with the audience and soon people started wearing orange T-shirts in the fall to show support for Webstad and all residential school survivors.
The annual Orange Shirt Day opens the door to global conversation on all aspects of residential schools. It is an opportunity to create meaningful discussion about the effects of residential schools and the legacy they have left behind.
—Orange Shirt Day Society
Support on social media and T-shirt sales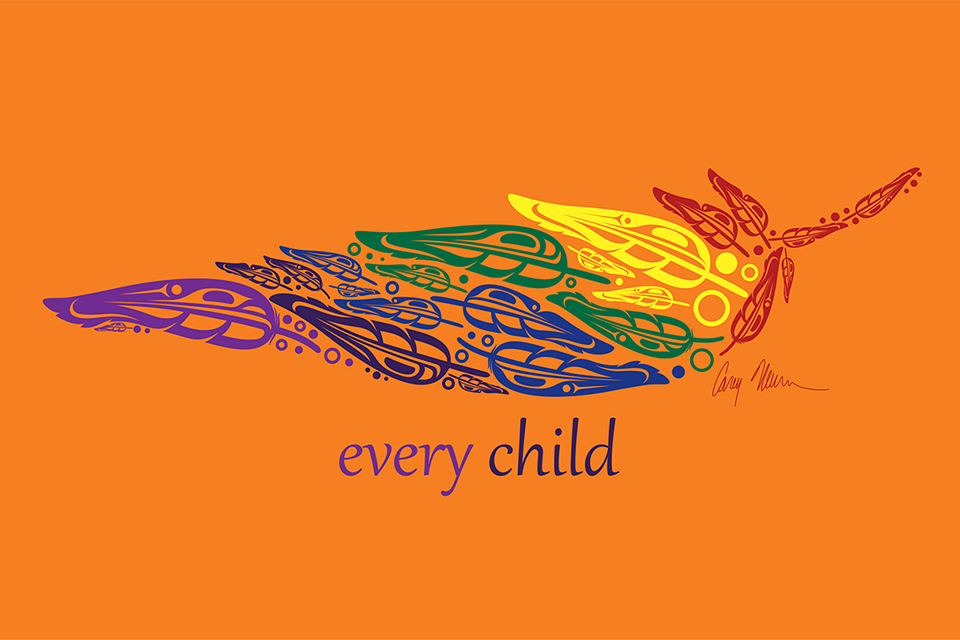 UVic faculty, staff and students are encouraged to wear an orange shirt on September 30, as a visual symbol of our awareness of the need for ongoing reconciliation. 
Show your support by sharing a photo of yourself wearing an orange shirt. You can upload your photos on the website, share them on social media using #OrangeShirtDayUVic, or email your photo to socialmedia@uvic.ca. Photos will be shared on UVic's OSD website and social media.
There are a limited number of T-shirts on sale at the UVic bookstore featuring a logo designed by Kwakwaka'wakw/Coast Salish artist and UVic faculty member Carey Newman. Proceeds from those sales directly benefit the UVic Elders Engagement Fund as well as the Witness Blanket Project. If you already have an orange shirt, please consider making a $20 donation to the Elders Engagement Fund this year.
UVic's Orange Shirt Day event will stream on Wednesday, Sept. 30 at noon on Facebook.
Photos
In this story