Connecting to the sḵwálwen through the land
- Sarah Tarnopolsky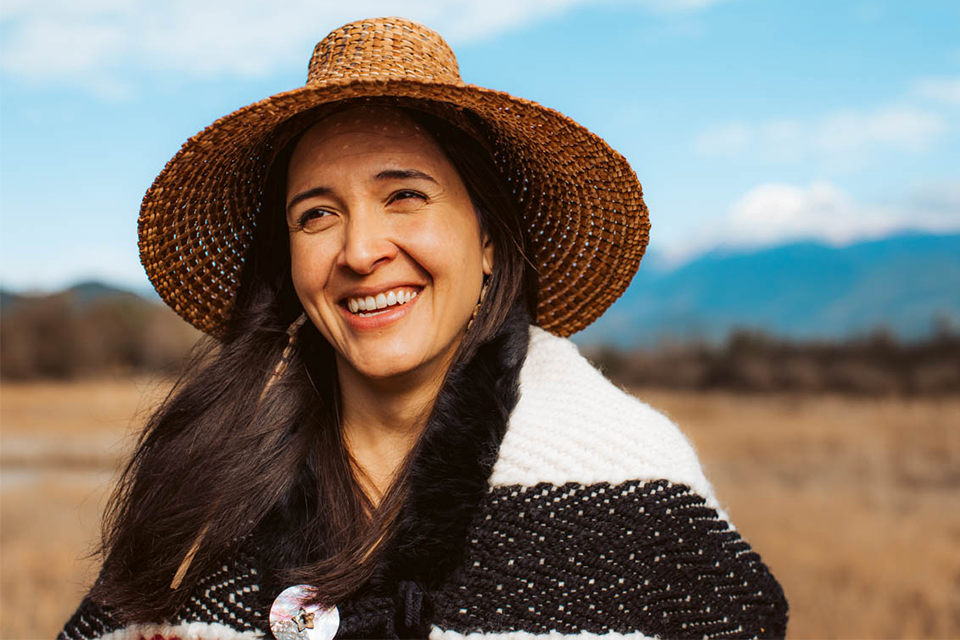 On a cool, misty morning in the Squamish Valley, Leigh Joseph meets her workshop participants by the side of an old logging road. She describes how to identify the thick stems and large maple-like leaves of the Devil's-club plant, and how to harvest the bark sustainably and respectfully. The group members disperse with their baskets and knives, returning an hour later to clean and process the bark. Right there, at the edge of the forest, Joseph teaches the group how to make infusions and tinctures from the bark. She explains how they might use these products to boost their immune systems, reduce inflammation or level their blood sugar. In one morning, the participants go from foraging for a plant through to making a product to nourish themselves and their families.
Joseph runs these workshops with the Skwxwú7mesh First Nations in British Columbia and the Tr'ondëk Hwëch'in First Nations in the central Yukon as part of her doctoral studies. Her research examines the links between healing, the renewal of Traditional Ecological Knowledge and practices related to ethnobiology. It also explores ways that traditional foods and medicines, along with culturally relevant interventions, may prevent and manage Type 2 diabetes, which is three to five times higher in Canadian Indigenous populations than in the general population.
A graduate award that invites reflection
In 2019, Joseph was the inaugural recipient of Sandra Ann Chisholm MacLean Aitken Graduate Award, which helps fund her research in these two geographically distant communities. She says she feels an emotional resonance with the donor's story of intergenerational connection. Claire Aitken created the award in honour of her mother's incredible respect for the environment and its ability to invite personal reflection.
Joseph reflects that her relationship between food and culture began when she was a young girl. She has special memories of her childhood summers with her great aunt and uncle. Memories of fishing in Nanaimo River, returning home to hang salmon in the smokehouse. Or picking fresh carrots, beets and peas that would be shared at family meals, where Joseph would listen to her relatives speaking their Indigenous language.
"Although I didn't understand what they were saying, I remember an overall feeling of being nourished and safe," says Joseph. "These early experiences showed me how people connect to the land through food and instilled in me a deep respect for the natural world."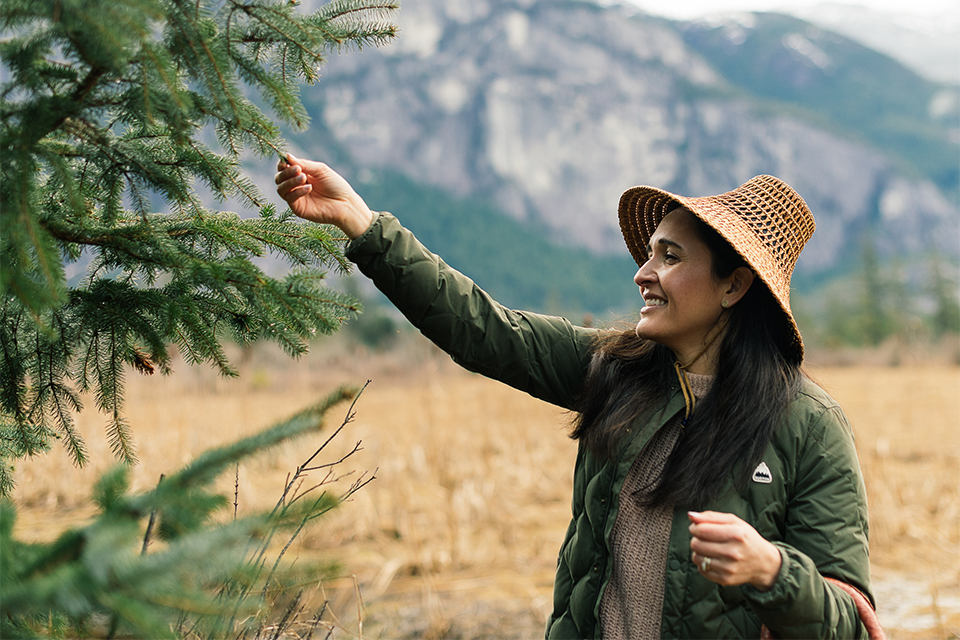 Researching and publishing responsibly
"The land drew me back," says Joseph, "like a relative we've come home to."
She and her family moved to Squamish in 2017, when she began feeling a pull to learn more about the plants her ancestors used (her father is from the Skwxwú7mesh First Nation). Shortly after, Joseph began her PhD. "Carrying out research in my home community has brought a whole different level of context and meaning for me," she says. 
Joseph's collaborative approach to research starts by asking what the community needs or is already doing, then integrates her skillset to that work. Through that work she is building a broader understanding of the resilience being shown by communities to renew plant knowledge, often in the context of healing and moving towards an Indigenous conceptualization of health, while paying attention to the impacts on that knowledge.
The responsibility I carry as a researcher is to not only make contributions that are meaningful and tangible for the communities I am working with, but also to really consider how I publish, and what information stays with the community.
—Leigh Joseph, UVic PhD student
A business grounded in culture and ethnobotany
Like Claire's mother, Sandra Aitken, Joseph understands her environment's ability to invite personal reflection, and sees how plants offer her children a connection to the land and traditional knowledge. Her desire to continue to learn from hands-on experiences with plants—creating teas, tinctures and salves—led to her small business, a skincare line named Sḵwálwen Botanicals.
Working on her doctoral research by day and business in the evenings makes for some extremely busy days, but Joseph says the business is another expression of how connecting with the land can sustain us physically, spiritually and emotionally. "I really found that the place that I am most grounded and at peace is out on the land and working with plants," she says.
Photos
In this story
Keywords: community, graduate research, health, Indigenous, philanthropy, environmental studies
People: Leigh Joseph, Sandra Ann Chisholm MacLean Aitken, Claire Aitken
Publication: The Ring