Engaging the head and heart
- John Threlfall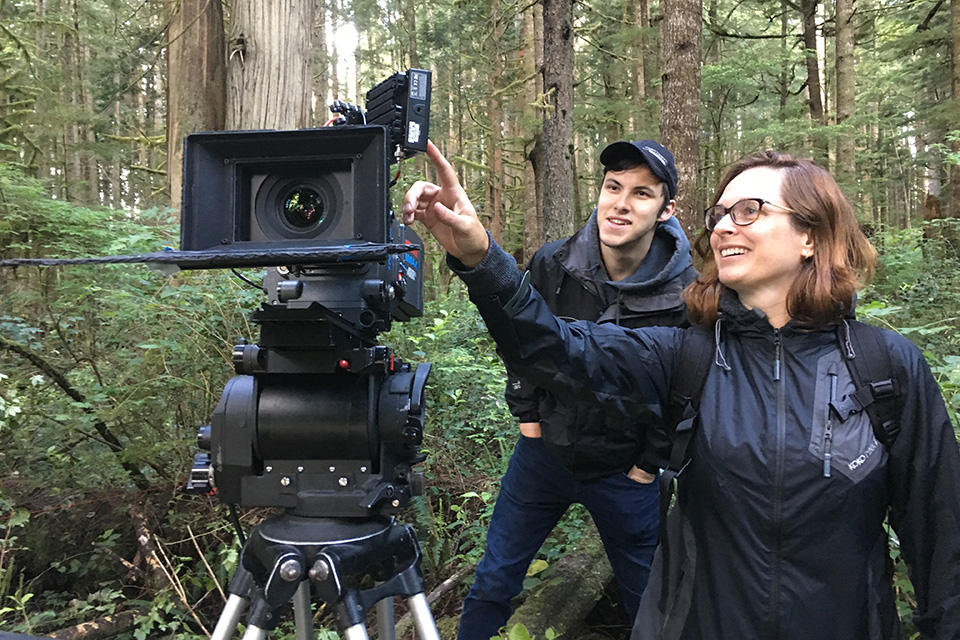 Visual arts connects art, science and the environment
From Emily Carr's paintings to the materials used by Indigenous artists for centuries, Vancouver Island's old-growth forests have a long history of artistic representation. Now, they're getting a 21st-century treatment through the digital media creations of University of Victoria visual arts professor Kelly Richardson. Beyond creating art reflecting our changing world, Richardson is raising awareness around the plight to protect these ancient ecosystems.
Richardson was one of five Canadian artists recently commissioned for a national project to celebrate the IMAX camera's 50th anniversary. Her 2019 piece, Embers and the Giants, was filmed in Port Renfrew's Avatar Grove / T'l'oqwxwat with the cooperation of the Ancient Forest Alliance, Pacheedaht First Nation and a team of UVic visual arts faculty and staff, including undergraduate student Jordan Hill of the T'Sou-ke Nation.
Richardson fuses 19th century painting, 20th century cinema and 21st century scientific inquiry to create works with strong environmental themes, asking viewers to consider what the future might look like if our current trajectory continues. The resulting combination of hyper-real digital films offer rich and complex landscapes manipulated using CGI, animation and sound.
Whether presenting a despoiled Martian landscape in her 2012 Mariner 9 project (which combined NASA data with scenery-generation software used by film and gaming industries) or speculating on the future of forests in Embers and the Giants, Richardson uses science-fiction concepts to visualize the risks of our global environmental crisis.
"That perception allows us to view ourselves in our current situation with some measure of hindsight and clarity—and hopefully realize what we're doing, where we're headed and why," she says.
But it wasn't until her first visit to Vancouver Island in 2016 that she realized such ancient forests still existed. "I was overwhelmed by my experience, which was a huge influence in my decision to apply at UVic," says Richardson, then a lecturer at England's Newcastle University.
At first glance, Richardson's film seems to document a group of fireflies—known as a sparkle—thriving in an old-growth ecosystem. Later, it becomes evident they are actually a swarm of high-tech drones, programmed to simulate a sparkle. Inspired by her visit to Avatar Grove—and dismayed by the surrounding clear-cuts—Richardson became intrigued by how spectacle is used to convince the public of an area's natural worth. Her research led to an article about an old-growth grove in Mexico saved through a population of fireflies.
"It was only because fireflies are on the verge of global extinction that the public came on board—it wasn't the old growth itself," says Richardson. "And here, it was the idea of the big trees that captured imaginations. I found that really interesting: two charismatic species convincing the public to save two areas of old-growth."
Funded by the Canada Council for the Arts, Ontario Arts Council and Arts Council England, Richardson is internationally recognized as a leading representative of a new generation of artists working with digital technologies.
"Scientists now realize the way to get people to change is to get them to invest emotionally," she explains. "That's what I try to do in all of my work: engage the head and the heart. People act when their emotions are triggered."
---
EdgeWise
By working with organizations like NASA and Arizona State University's Centre for Science and Imagination, Richardson's creative work bridges the gap between data, art and environmentalism. Her Mars piece, Mariner 9, was created using unreleased NASA data and consultations with the High Resolution Imaging Science Experiment (HiRISE) at the University of Arizona and the head of NASA's Jet Propulsion Laboratory.
Embers and the Giants was co-produced by Christian Kroitor—grandson of Canadian IMAX inventor Roman Kroitor—and debuted at Toronto's Cinesphere, the world's first permanent IMAX cinema.
There are only seven IMAX cameras in the world; immediately after filming Embers and the Giants, the two cameras Richardson used were rushed off to film Avengers: Endgame.
Highly in-demand as an international artist, since 2017 Richardson has participated in over 15 solo and group exhibitions across North America and in China, France and the UK; she has five international exhibits set for 2020. Her large-scale installation, The Erudition, appeared at the Art Gallery of Greater Victoria in 2018.
Photos
Videos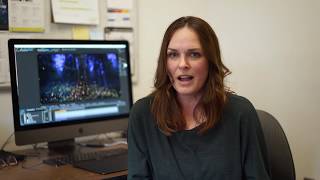 In this story
Keywords: art, environment, film, research, technology
People: Kelly Richardson
Publication: knowlEDGE