Lifetime of giving culminates in an endowed chair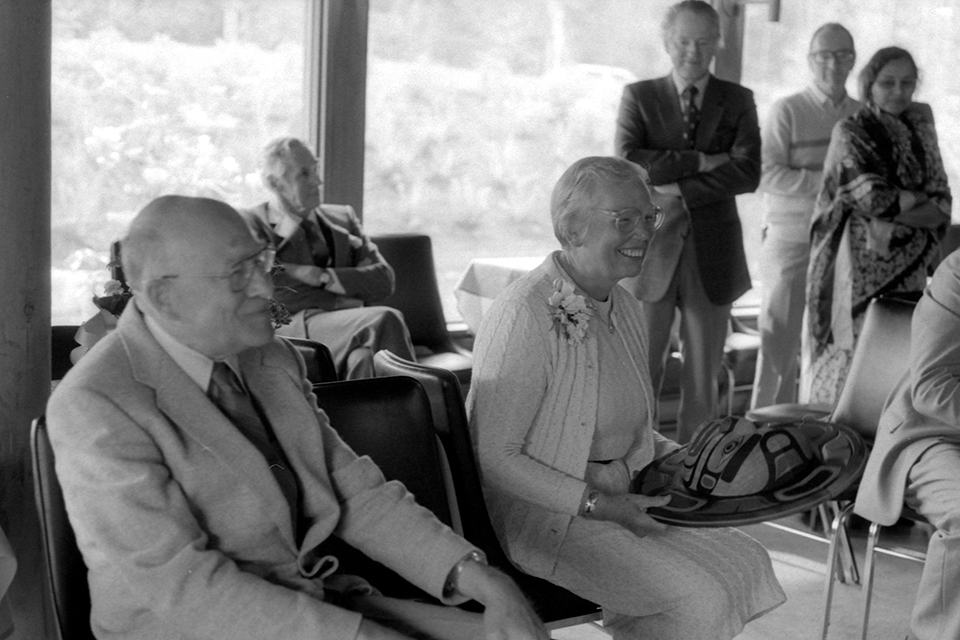 Over the course of her life, mathematician Betty Kennedy contributed to the University of Victoria and the community in so many ways that to a non-mathematician they may seem countless. It is fitting with so much of the generosity that characterized her life that in her passing in 2019, Kennedy bestowed UVic with a $3.6-million gift. 
Through this gift in her will, Kennedy has created a $3 million endowed chair in mathematical biology, allowing the Faculty of Science to further develop an expertise in this critical intersection of subjects. The remaining $600,000 will be added to the existing Betty and Gilbert Kennedy entrance scholarships in engineering, law, math and music, which when asked, she said she endowed because, "I love music, I taught mathematics, my husband was a lawyer and my father was an engineer." 
Any additional funds that are received from the gift will go towards creating endowed graduate scholarships within the Department of Mathematics and Statistics, as well as support existing awards created by Kennedy.
Kennedy may be best known for her contributions as a teacher to hundreds of mathematics and statistics students, first at the University of British Columbia before coming to UVic where she taught for nearly three decades. 
"She was a keen mentor to both students and colleagues," says Professor Emeritus Pauline van den Driessche, who was a colleague and lifelong friend of Kennedy. "In addition to supporting and empowering generations of mathematicians and statisticians, her leadership played a pivotal role in starting the university's much lauded co-op program." 
Kennedy was also an instrumental leader in the early development of UVic and was pivotal in the founding of the schools of nursing, social work, and health and information science. "Betty remained a confidante of many of UVic's presidents over the years," says Rob Lipson, former dean of science, who developed a longstanding friendship with Kennedy over the course of his nine-year tenure. 
Her contribution to university governance was recognized through an honorary doctorate in 1988, and her many years of teaching were honoured through the 2018 renaming of the Betty and Gilbert Kennedy Math & Stats Assistance Centre, where undergraduate students receive support for coursework. 
After retiring in 1983, Kennedy served with numerous community groups including the Friends of the Royal BC Museum, the Family and Children's Services, the CRD Hospital and Health Planning Commission, the Victoria Rhododendron Society, the Oak Bay Board of Variance, the Galiano Island Parks and Recreation Commission, and the Galiano Community Loan Fund Association. She was a valued board member, known as much for her sense of humour as for her ability to run an efficient meeting. 
"Betty was unique, feisty, funny and kind," says Lipson. "She lived her life on her own terms. A true original." 
She and her husband spent most of their time at their Galiano cottage, where she was able to more fully nurture her garden. At the same time, Kennedy remained deeply involved with UVic, particularly as a loyal friend and supporter of Finnerty Gardens, as an organizer of the university's annual plant sale. 
It was at her property on Galiano where she started more closely considering the interactions between the subjects of mathematics and statistics and biology, conversing with her lifelong friend van den Driessche. 
"At the intersection of mathematics and biology is a critical area of study that allows us to better understand the impact of climate change, pest control and economics," says van den Driessche. "But perhaps none of these applications is so prominent these days as that this area allows us to understand pandemics." 
van den Driessche is at the centre of a small but prolific research team working in this area, and the university recently created a joint mathematics and biology degree option in response to student interest. The impact of these researchers has been particularly evident over the course of the COVID-19 pandemic, working to understand how the disease spreads and estimate hidden cases. 
"An endowed chair in this area will provide an anchor to mathematical biology at UVic," says Peter Loock, the dean of science. "Betty Kennedy contributed so much to the university over the course of her life, transforming the lives of those whom she taught, worked with and mentored. With this endowed chair, her contributions will be felt well beyond our community, creating a truly global impact on the scientific community."
A media kit containing high-resolution photos is available on Dropbox.
-- 30 --
Photos
Media contacts
Vimala Jeevanandam (Communications Officer, Science) at 250-721-8745 or scieco@uvic.ca
Jennifer Kwan (University Communications + Marketing) at 250-721-7641 or researchcomm@uvic.ca