Victoria Forum explores bridging divides in the wake of a global pandemic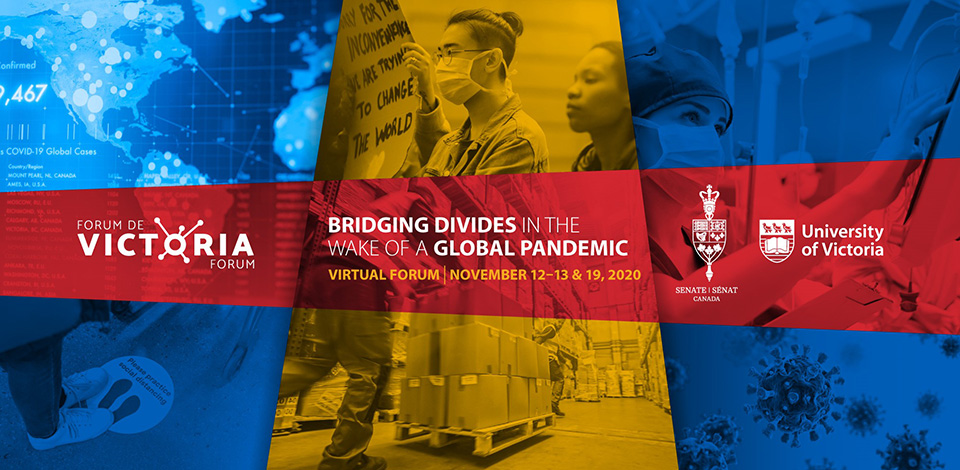 In partnership with the Senate of Canada, on Nov.12, 13 and 19, the University of Victoria is bringing together change-makers to help generate solutions to some of the planet's most divisive problems.
The COVID-19 pandemic is exposing the limitations of existing institutions, structures and systems and deepening existing divides and vulnerabilities in Canada and around the world. At the same time, the pandemic appears to be providing short-term relief to the environment through reduced emissions and consumption.
The Victoria Forum provides a gathering place for much-needed conversations about these global challenges and the opportunity to devise and recommend real-world solutions.
The forum program includes more than 90 speakers, in 19 sessions, from more than 23 countries. The opening plenary on Nov. 12 will be moderated by CBC host of Ideas, Nahla Ayed, and features the following panellists:
Akinwumi A. Adesina, President of the African Development Bank Group
Hakima Elhaite, President of Liberal International
Elizabeth Dowdeswell, Lieutenant Governor of Ontario
Register to join the conversation
Victoria Forum thanks its founding sponsors: TELUS and Vancouver City Savings Credit Union (Vancity)
Photos
In this story
Keywords: international, business, community, COVID