Indigenous leader joins UVic Libraries in reconciliation role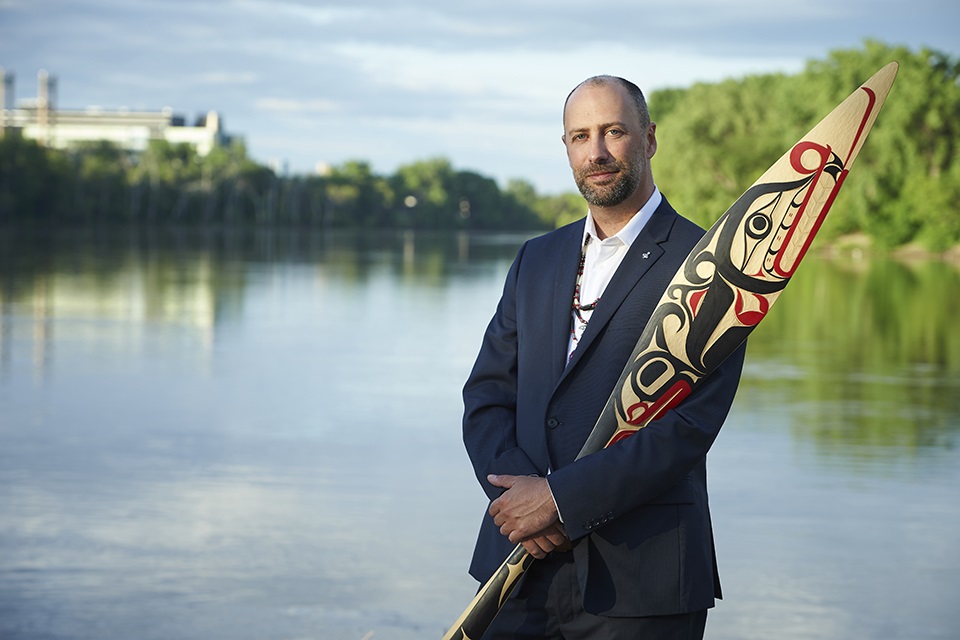 A dynamic Indigenous leader who guided the creation of a national archive that includes thousands of stories from residential school survivors has been appointed as the inaugural associate university librarian – reconciliation at the University of Victoria to help further educate and inform Canadians about the importance of memory and Indigenous knowledge in the national journey to reconciliation. The position is the first of its kind at a Canadian university. 
Ry Moran, a member of the Red River Métis and founding director of the National Centre for Truth and Reconciliation (NCTR) at the University of Manitoba, will take up the position at UVic this fall. Moran grew up in Victoria and graduated from UVic in 2002 with a bachelor's degree in political science and history. 
Moran will be a member of the UVic Libraries' senior management team, on the UVic campus that stands on the traditional territories of the Lekwungen peoples and in the traditional lands of the Songhees, Esquimalt and W̱SÁNEĆ peoples.
Moran will lead the efforts of UVic Libraries to decolonize approaches to the university's archives and collections, and integrate Indigenous ways of knowing and being into their work. More on this unique role
Ry Moran's appointment at UVic is unique and the first such position in Canada. His work will foster mutual understanding, and will greatly contribute to our university's goal of advancing respect and reconciliation. Ry will be instrumental in helping us to continue this work, so please join me in welcoming Ry back to campus.
– UVic President Jamie Cassels 
As a member of UVic Libraries and in collaboration with UVic's Office of Indigenous Academic and Community Engagement, Moran will work to deepen the university's commitment to respect and reconciliation. He will also support existing initiatives and projects at UVic including the Faculty of Law's groundbreaking joint degree program in Canadian Common Law (JD) and Indigenous Legal Orders (JID) and the national centre of excellence for the study and understanding of Indigenous laws; the Indigenous Law Research Unit; and a range of other initiatives and programs. 
Anchoring a position like this inside of a major repository of knowledge in UVic Libraries is going to directly help equip all students, faculties and learners with essential information that they need to pursue their own paths to reconciliation.
– Ry Moran, a member of the Red River Métis and the founding director of the National Centre for Truth and Reconciliation in Manitoba 
For the past five years, Moran has led the creation of a permanent home in the NCTR of a national archive for all materials gathered by the Truth and Reconciliation Commission (TRC) of Canada. On the TRC's behalf, he helped collect nearly 7,000 video- and audio-recorded statements of former residential school survivors and others affected by the residential school system. He was also responsible for gathering millions of records that document the residential school system from more than 20 government departments and nearly 100 church archives. 
The TRC's calls to action are the foundation for a vision of a better collective future in Canada. We are delighted that Ry Moran will take a leadership role in helping to guide us along the path towards truth and reconciliation.
– University Librarian Jonathan Bengtson 
A backgrounder capturing Moran's talents and experience—as a teacher, trainer, advisor, award-winning writer and broadcaster, producer and musician—is available here.
A media kit containing high-resolution images, as well as select audio clips and short video commentary, is available on Dropbox.
-- 30 --
Photos
Media contacts
Ry Moran at Ry.Moran@umanitoba.ca
Lisa Abram (Libraries Communications) at 250-418-5766 (cell) or lisaabram@uvic.ca
Tara Sharpe (University Communications + Marketing) at tksharpe@uvic.ca
Click here for the backgrounder.
In this story
Keywords: Indigenous, libraries, archives, truth and reconciliation
People: Ry Moran