$1M gift honours values of family, education and hard work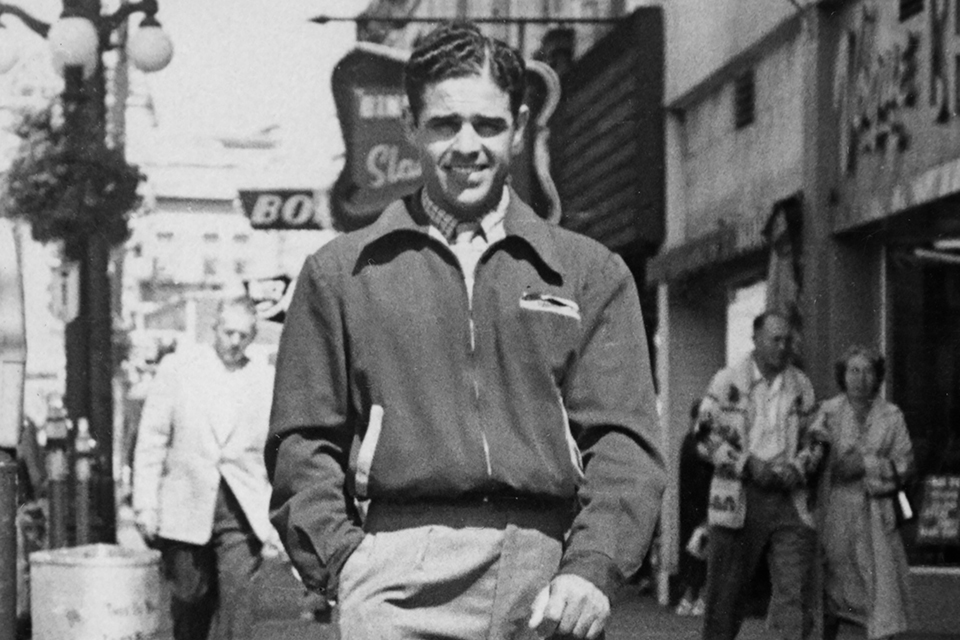 The family of a carpenter from a small village in Cyprus whose dreams brought him to Victoria where his ambition, determination and hard work built the successful Kasapi Construction Co. Ltd. has made a $1-million gift to the University of Victoria that will fund two new student scholarships. 
The Kasapi family made the gift in memory of Kasapi Construction's founder, Agamemnon A. Kasapi, with the proceeds from the sale of a parcel of land on the corner of Leighton Road and Bank Street in the South Jubilee neighbourhood. This property has been purchased by the City of Victoria to create a new park.
"We wanted this gift to be significant in size and impact. This is how we are honouring our father's values—hard work, family and education—while also showing our family's gratitude for what Victoria, and the University of Victoria, has meant to us."
—Mario Kasapi, son of Agamemnon A. Kasapi and current president of Kasapi Construction Co. Ltd.
Agamemnon Kasapi passed away earlier this year at the age of 95.
"We're incredibly grateful to the Kasapi family for choosing our students as the recipients of this gift. The Agamemnon Kasapi and Family Scholarship will have a transformational effect for some of our highest achieving students, acting as an incentive, a reward for hard work and a reprieve from financial concerns over the course of their degree."
—Peter Loock, dean of UVic's Faculty of Science
Victoria residents may not necessarily know the name Kasapi Construction, but chances are high they live in or close to a house built by Kasapi during the 1960s building boom when he focused on affordable single-family houses that are still a familiar sight in Gordon Head and Oak Bay. 
As a young man, Kasapi left Cyprus and a successful carpentry business he had started with his brother to seek new opportunities. Arriving in Victoria in the mid 1950s with no higher education, Kasapi experienced challenges that made him determined to be his own boss. He started saving money by sharpening tools for other carpenters at the end of his shift until he was in a position to start his own business in 1958. 
Kasapi and his wife Eleni impressed on their four children—Athos, Mario, Steven and Marina—an appreciation for their life in Canada and the importance of education. Two generations of Kasapis have attended UVic, including Mario's two daughters who recently graduated from the university.
"My father was very intelligent, and I think he felt he missed out on his chance for higher education, but he was determined that we wouldn't. He encouraged us to work to get scholarships, seeing them as interim rewards before the long years of academia would pay off. Now, through these scholarships, his legacy will be extending that opportunity to students at UVic far into the future."
—Mario Kasapi, Agamemnon's son and current president of Kasapi Construction
The gift establishes an endowment to fund two new student awards: the Agamemnon Kasapi and Family Scholarship is worth a total of $75,000 for each recipient over three years, making it the largest amount per year for an undergraduate scholarship in the Faculty of Science; the second scholarship will also recognize academically outstanding undergraduate students in the faculty. 
See backgrounder for further information on Kasapi and the endowment. 
A media kit containing high-resolution photos is available on Dropbox.
-- 30 --
Photos
Media contacts
Tara Sharpe (University Communications + Marketing) at tksharpe@uvic.ca
Sarah Tarnopolsky (Donor Relations Communications) at donorcomm@uvic.ca
In this story
Keywords: philanthropy, scholarship, community, student life, administrative, science