Jim Pattison named 2020 Distinguished Entrepreneur of the Year
Peter B. Gustavson School of Business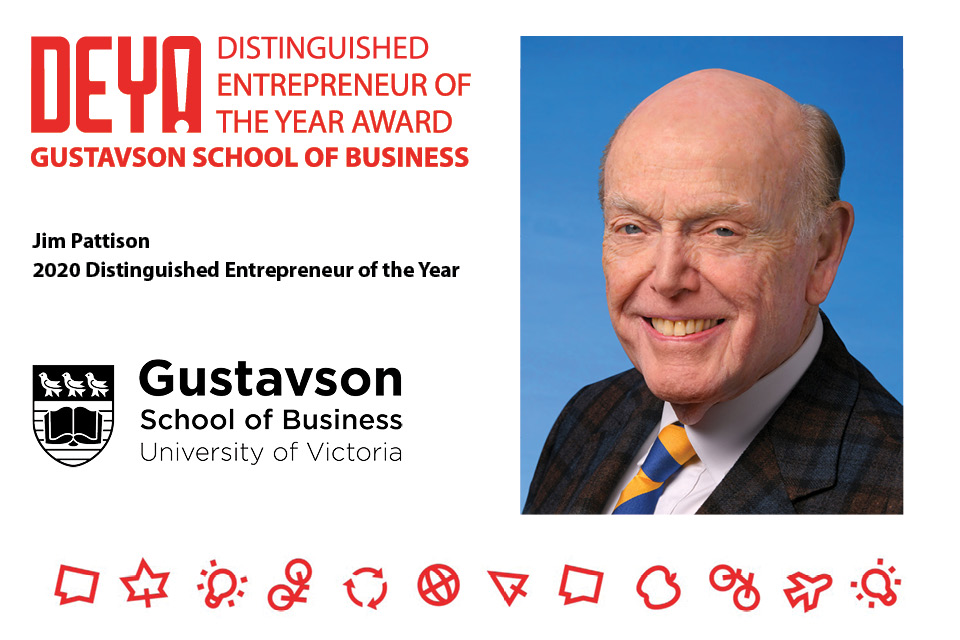 Business mogul and visionary Jim Pattison, chairman and CEO of The Jim Pattison Group is the Peter B. Gustavson School of Business' 2020 Distinguished Entrepreneur of the Year (DEYA). 
"We are delighted to recognize Jim as our 2020 recipient," says Peter Gustavson, chair of the DEYA committee. "He has set the standard for innovation in entrepreneurship and this award is a testament to his business acumen, ingenuity and vision." 
Pattison will receive his award on May 27, 2020 at the Distinguished Entrepreneur of the Year Gala at the Victoria Conference Centre. 
In May 1961, Pattison purchased a General Motors automobile dealership by borrowing $40,000 from the Royal Bank of Canada and placing his home and life insurance policy with the bank as collateral. This was the beginning of The Jim Pattison Group. 
Now, it is Canada's second-largest privately held company with 46,000 employees world-wide, annual sales of $10.6 billion and operations in 541 locations. With activities in Canada, the US, Europe and Australia, The Jim Pattison Group is involved in a wide variety of industries including: food services, packaging, distribution, manufacturing, communications, entertainment, transportation, agricultural equipment, forest products, export services and real estate. 
In addition to serving as the CEO of The Jim Pattison Group, Pattison has served as a director on a number of public company boards on both the New York and Toronto stock exchanges, and serves as a trustee on the board of the Ronald Reagan Presidential Foundation. He held the unpaid position of chairman, president and CEO of Expo '86, a world-class exposition held in Vancouver in 1986.    
"Jim's ability to grow and transform a business is truly something to be celebrated," says Saul Klein, dean of the Gustavson School of Business. "His entrepreneurial skills are an inspiration to our students and community leaders, and we're delighted to be able to celebrate him." 
Pattison was appointed to the Order of Canada in 1987 and the Order of British Columbia in 1990. He is also the recipient of the Governor General's Commemorative Medal for the 125th Anniversary of Canada. Pattison is an inductee of the Canadian Business Hall of Fame and the Canadian Professional Sales Association Hall of Fame. He was awarded Entrepreneur of the Year Lifetime Achievement Award in 2000 and the Young Presidents' Organization Canadian Icon Award in 2007. In April 2012, by command of Her Majesty The Queen, Pattison received the Diamond Jubilee Medal commemorating her sixtieth anniversary of ascension to the throne. In June of 2014 he was given the Freedom of the City Award from the City of Vancouver. 
Full biography of Jim Pattison and list of previous DEYA award recipients
-- 30 --
Photos
Media contacts
Krista Boehnert (University Communications + Marketing) at 250-721-6246 (cell) or boehnert@uvic.ca
In this story
Keywords: business, entrepreneurship, DEYA
People: Jim Pattison