Exploring identity through art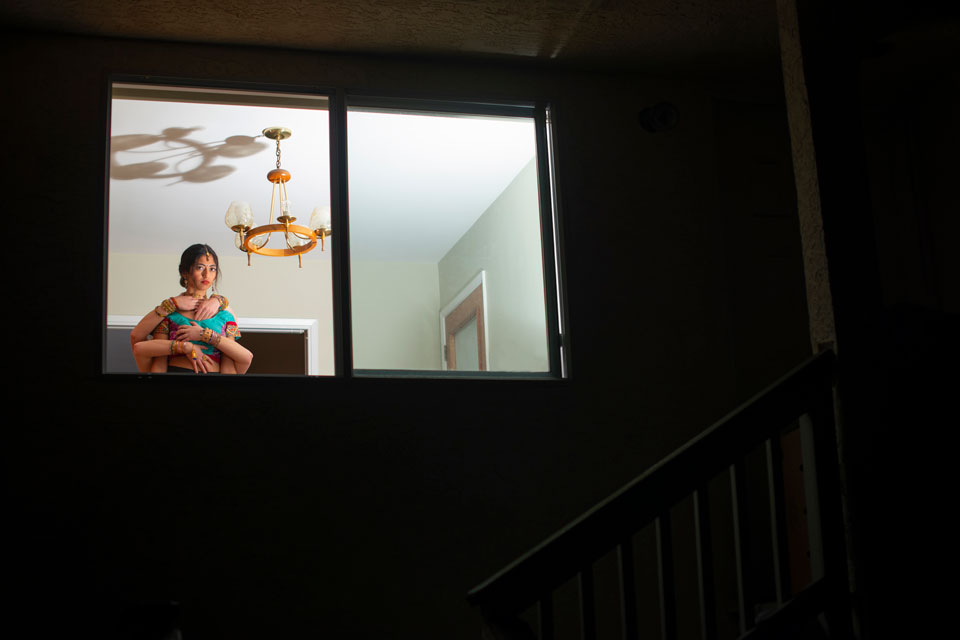 Honours BFA student Rudra Manani explores her Indo-Canadian identity through art
For most people, a visit to the yoga studio simply adds a bit of metaphysicality to their workout: a chance to breathe, stretch and realign their chakras with a few oms and namastes. But for Visual Arts undergraduate Rudra Manani, it's an example of the widespread spiritual whitewashing that not only drives her art practice but also her identity as a first-generation Indo-Canadian.
"There's a fascination with Hindu practices, but it's gotten so disconnected that people don't often realize where it all began," says Manani, who was born in India but raised in Calgary before coming to UVic to train as an artist. "Think about yoga and how commercialized it's become: not just Lululemon but all the retreats and studios with statues of deities . . . it's more associated with hippie culture than Hindu culture, especially on the Island."
Despite the fact that Hinduism is the third-largest religion (after Christianity and Islam) and is considered the world's oldest faith, it's rarely associated with the mainstream yoga practiced by over 300 million people worldwide, resulting in an estimated $80 billion annual spending on related clothing, activities and equipment.
"I have nothing against white people doing yoga, obviously, but I think there should be more recognition and acknowledgement of the traditional practices and how old yoga actually is," she says, noting its ancient history in both African and Buddhist cultures. "A lot of my work stems from this, and it's something I've been building towards during my whole degree practice . . . being on the Island and feeling disconnected from that culture to begin with, then seeing glimpses of it in everyday society, led me towards this."
Critical standpoints in practice
A multidisciplinary artist with a focus on photography and painting, Manani describes her art practice as taking a critical standpoint on the self-care industry in the West—specifically in its appropriation and fetishization of Hindu practices for profit, while simultaneously disconnecting Hinduism from its roots.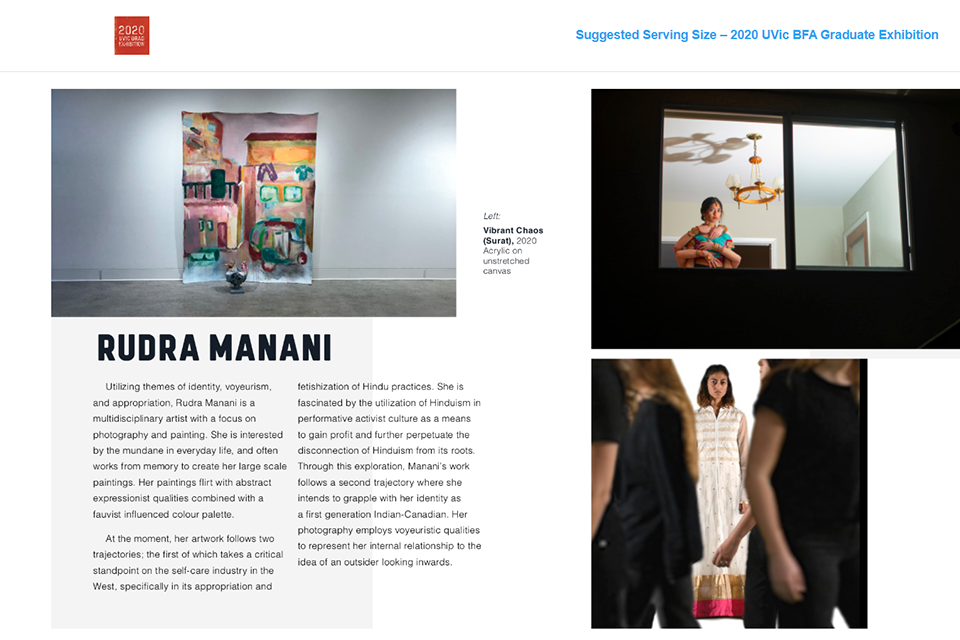 Consider the self-portrait "Get Your Om On", which is part of the 2020 Visual Arts BFA graduation exhibit Suggested Serving Size: Manani's photograph puts a voyeuristic spin on her Indo-Canadian identity with the idea of an outsider looking inwards.
I was inspired by a contemporary video of traditional Indian dancing featuring the goddess Durga, where the dancers lined up and had all their arms seemingly coming out from one person. I wondered how I could reference the religious aspect of it, but also make it feel kind of off-putting, like there's something wrong with it.
—Honours BFA student Rudra Manani
It's no coincidence that Manani is pictured in a white room of a typical suburban Canadian home, wearing traditional dress but wrapped in arms that are more groping and smothering than supportive or celebratory. "It speaks to my experience as someone living in a predominantly white city who often has to deal with cultural appropriations . . . I've gotten some backlash for it, but I often do feel like I'm outside looking in at my own roots, trying to figure out where I stand."
Visual arts professor Rick Leong, whom Manani cites as being influential in the development of both her painting and multimedia practices, characterizes her as "a deep thinker who listened well, and certainly wasn't afraid to take risks."
Photos
In this story