Aspiring teacher has passion for French culture and language
- Stephanie Harrington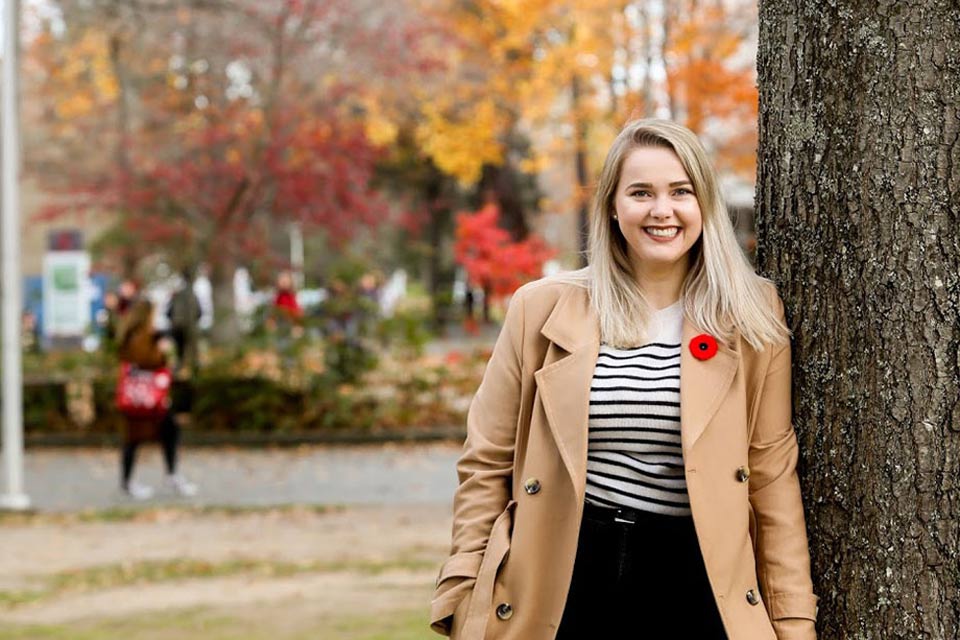 A year living in a Francophone village in Quebec instilled a life-long love of French language and culture in UVic graduate Pamela Fraser.
Fraser, who graduates in July with a master's degree in French, credits her parents, especially her dad, for passing along an enthusiasm for French culture and language. Although she was enrolled in French immersion classes as a child, Fraser's father discovered she could attend Victor-Brodeur, Victoria's French first-language school, if she lived in a Francophone community for a year.
Off the two of them went. Fraser spent fourth grade at a school in Chicoutimi.
"It was a big experience and a good memory that we share," Fraser says. "I have a strong passion for the French language and I would trace it back to that year."
Fraser won an Andy Farqhuarson Teaching Excellence Award for Graduate Students this year in recognition of her work as a teaching assistant in the Department of French, specifically for the skill and enthusiasm she showed guiding new French learners. Her teaching efforts included playing music videos at the start of class to pique students' interest in French culture, creating fun games to practice verbs, and fostering a safe space for students to practice their speaking skills.
French Chair Catherine Caws says Fraser stands out as one of the best teaching assistants the department has ever had.
Students are typically very shy about speaking another language, and so it takes a lot of support and creativity in encouraging students to take risks and to understand that making mistakes is a natural process when learning.
—French Chair Catherine Caws on Fraser's support for her students
Fraser also advanced to the finals of UVic's Three-Minute Thesis competition. There, she spoke about her research on theatrical representations of the École Polytechnique massacre, in which 14 women were killed by a male gunman in 1989 in Quebec.
Called, "Misogyny & antifemism: Why theatrical representations of the polytechnique massacre matter," Fraser found that the plays she studied tended to focus more on a "crisis of masculinity" and men's feelings about the massacre, rather than the experiences of the women affected.
Fraser plans to take her experience as a graduate student into a career as a secondary school teacher. She's enrolled in UVic's post‑degree professional program in teacher education in the Faculty of Education.
As for her dad, Fraser says he's proud of her accomplishments. Fraser hopes she'll be able to teach French immersion in the city she grew up, helping pass on her love of French language and culture to other Anglophones.
I love Victoria. I think it would be really interesting experience to teach French immersion here. I like teaching Anglophones. I can really relate and understand the issues that may come up.
—Pamela Fraser, UVic class of 2020
Photos
In this story
Keywords: convocation, teaching, student life, languages and linguistics, education, philanthropy
People: Pamela Fraser, Catherine Caws, Andy Farqhuarson
Publication: The Ring