A glance back as Cassels presidency winds down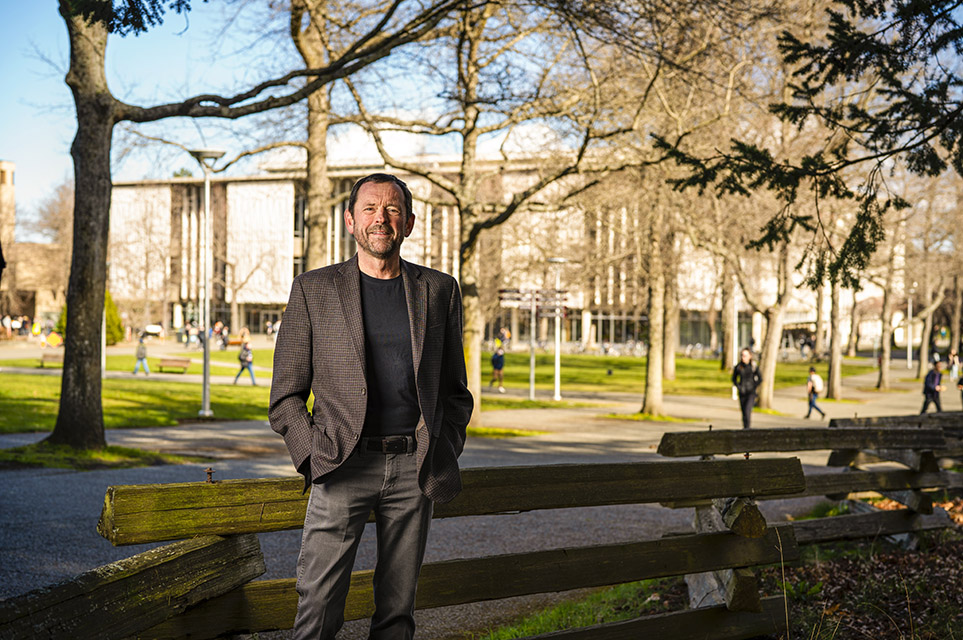 Even when the opportunity that came knocking was an invitation to become the president of the University of Victoria, Jamie Cassels had to really think about whether he was prepared to give up teaching.
He loved seeing his law students fired up by what they were learning. But Cassels also recognized that as president, he'd be helping shape the education of every UVic student, not just the ones who passed through his law classes. He'd be helping shape a collegial, collaborative and inclusive workplace, too, "the kind of place that I'd like to work at."
So he said yes. And eight years on, his many admirers at UVic are very glad he did.
Cassels will end his term as president in November, when incoming president Kevin Hall takes the helm. It's a time of reflection for Cassels, who has taught and worked at UVic for almost 40 years in roles ranging from law professor to Vice President Academic and Provost, and on up to president.
Cassels doesn't like the word "legacy," but does hope that his time as president has helped the university identify and tap into its authentic strengths.
UVic's research culture—along with its focus on students, engagement with community and work tackling global challenges like climate change and reconciliation—was already well-established. These weren't things I imposed. They were in the DNA of the university. Perhaps my legacy has been helping the university shape its own narrative around these things, and for me its been a chance to live out my own values through my work.
— UVic President Jamie Cassels
Spending the final months of his presidency in the grips of a global pandemic has brought unprecedented challenges, with COVID complicating every facet of UVic operations. "It has turned the lives of our students, staff and faculty upside down," says Cassels.
But at the same time, he notes that there couldn't be a more vivid example of the importance of life-long learning, one of the tenets he most values.
"Just think about how much we've all learned through this," Cassels emphasizes. "The pandemic has shown us the importance of higher education, of having researchers ready to respond to the questions we need answers to, and students on pathways to adapt to a changing future. It demonstrates that what really matters is not what you know, but having the skills to go find the answers. Education is the bridge over the gap that we are currently looking across."
In 2009, when he was Vice President Academic and Provost, Cassels' commitment to UVic's distinct integration of research and teaching led to the creation of a program of undergraduate research awards that were subsequently—and to his great surprise—named in his honor as the Jamie Cassels Undergraduate Research Awards (JCURA).
The annual financial awards encourage third- and fourth-year undergraduates to pursue innovative and original research to enhance their learning, an experience that prepares them for graduate studies or a research-related career. More than 100 students receive a JCURA every year.
"Jamie has identified the strengths of UVic and given them a structure to further themselves," says Helga Thorson, a UVic professor in the Department of Germanic and Slavic Studies. "JCURA is part of that. For faculty, he implemented the Strategic Framework Impact Fund, which is helping us come together across faculties with a common goal."
Cassels feels grateful to work at an institution that shares his commitment to building the continuity from the classroom to the world. He appreciates that UVic's diverse co-op education options, field schools and lab experiences give students "the opportunity to get their hands dirty in their field of knowledge."
COVID has complicated that effort, he acknowledges. But the limitations imposed by social distancing requirements are also helping the university understand where it most needs to step up to meet new challenges.
"What are the experiential learning opportunities that really do require us to push back on COVID? How can we safely deliver field schools and lab experiences? We're asking those questions," says Cassels.
Cassels values any chance to connect with students, whether it's a casual chat on the number seven bus, or in more formal ways, such as interacting with student government or in consultations during the run-up to a new strategic plan. But honours events remain his favourite venue to engage students.
"The students are just on fire at those events, and you get a sense of what they want, what they need, what they worry about," says Cassels. "Every single one of the posters at the event defines a problem that's important to all of us."
UVic staff also appreciate Cassels' open way of engaging. Karissa Sovdi, UVic's human resources program and projects manager, has been struck by his genuine interest in everyone he meets.
"He's always professional and never pretentious. Humility is the word that comes to mind for me," says Sovdi, who has worked with Cassels throughout his presidency. "You always hear him saying 'Our greatest resource is our people,' and that's never just a line for him. For staff, that's so important."
A half century ago, universities were elite institutions serving students who were overwhelmingly white and wealthy. Those days are happily over, says Cassels. A culture based on equity, diversity, inclusion and mutual respect is now the "foundation of excellence" for any university.
Achieving that goal starts with making room for everyone's voices, he adds—even the ones that cause discomfort.
"I don't believe that social change can be accomplished just by condemning or shutting out ideas," says Cassels. "University should be a place that is on the cutting edge of social change, but where you also can hear divergent views, and make mistakes. We can change the world through research and education, but that requires an environment where mistakes and failures are accepted and treated as opportunities for dialogue and learning."
Long before reconciliation was a common topic, Cassels was a champion for Indigenous education, supporting efforts that have dramatically increased the number of Indigenous students and graduates at UVic and programs to empower Indigenous communities. Those efforts are broad, including innovative programs in Indigenous languages, history and culture, social and economic capacity building, and Indigenous law and governance. And throughout Cassels' career, the initiatives have been personal, too.
As dean of law, he helped launch the northern Akitsiraq law program for Inuit students. As provost, he played a key role in securing funding and helped convene the group effort that would become the LE,NONET student support program—and saw UVic's Indigenous enrolment more than double, to make up six per cent of our overall student population. During Cassels' time as president, UVic established the world's first joint law program in Indigenous legal orders and Canadian common law, as well as a university-wide Indigenous Plan and the Strategic Framework—reaffirming the university's commitment to act on the recommendations of Canada's Truth and Reconciliation Commission to enhance educational opportunities for Indigenous students.
In a world coping with so many complex challenges, UVic's long-standing commitment to leading change and supporting lifelong learning has never been more vital, says Cassels.
We use the word 'impact' a lot at UVic, because what we're doing makes a difference. We're responding to what the world needs. What I hope students take away from my time as president is to have the curiosity and aptitude to keep on learning. It's not what you know now, but being empowered to keep on learning.
— UVic President Jamie Cassels
Photos
In this story